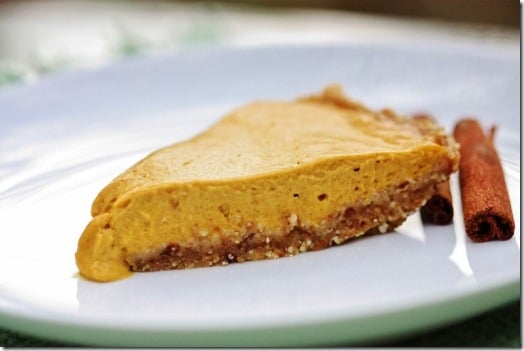 Oh yes I did.
Remember how I ate at Elizabeth's Gone Raw a few weeks ago, and I loved it? One of the many highlights of that meal was the raw, vegan pumpkin pie. After close examination of the ingredients, I realized that the pumpkin pie actually didn't have any pumpkin in it, which explains why it was so amazingly good: raw pumpkin, in my experience, is just too starchy and slimy to ever be very good.
It seemed that the color and taste of the raw pumpkin pie was mainly derived from the spices: cinnamon, nutmeg, and so on. I was so impressed that I vowed that night to figure out a way to make my own all raw, all vegan pumpkin-less pumpkin pie. And since I have now developed a love affair with Irish moss, I knew that it would be one of my featured ingredients (don't worry, folks: I list Irish moss alternatives for you at the end of this post).
I have to say, this came out much better than I expected. In place of pumpkin, I took a tip from Matthew Kenney and used some carrot juice. I also used cashews, nut milk, spices, and, of course, the moss as a thickener. What resulted was a decadent and authentic spin on one of the most traditional Thanksgiving desserts. Minus the eggs, white sugar, white flour, milk, and butter.
And minus the pumpkin, too. Oddly.
Raw, Vegan Pumpkin Pie (raw, vegan, gluten and soy free)
Serves about 10-12
For the crust:
1 cup cashews
1 heaping cup dates
For the filling:
3/4 cup carrot juice
1 cup Irish moss gel (see my tutorial on making Irish moss gel here)
1 cup cashews
1/4 cup nut or seed milk (substitute soy or rice if you like)
8 pitted dates
1 tsp cinnamon
1/4 tsp nutmeg
Dash cloves
Stevia to taste
1) Place cashews and dates in a food processor and process till they're all broken down and uniformly mixed (as if you were making a homemade Larabar). Press into a pie pan to make crust. Set aside.
2) Combine all fillint ingredients in a Vitamix or other high speed blender and blend till the mix is very, very smooth.
3) Pour filling into crust. Place in freezer for about 2-3 hours. Transfer to fridge and serve at any time. Marvel at deliciousness.
This pie is sweet, light, and in spite of being quite rich, it's also full of some good stuff, like beta-carotene, healthy fats, and beneficial compounds from the spice. Even if none of that were true, I would suggest you eat this immediately.
A few important recipe notes:
Freezer time is essential to help this set. And after it does, and you're ready to take it out, you'll still want to keep it in the fridge. Raw pie filling gets softer than the baked stuff, so be sure to keep this nice and cold.
8 dates offer quite some sweetness, but you may want to add a little more. As per my instructions above, go ahead and use Stevia. If you don't have any, agave, maple syrup, or more dates are fine.
The moment you've all been waiting for: How can you substitute the Irish moss in this recipe if you don't have access to any? Well, I'm not 100% sure—I did write the recipe to use the moss, so I haven't modified it extensively yet—but I do have some suggestions. They are:
Omit the moss and try increasing the cashews to 1 1/2 cups, and keeping the rest the same
Omit the moss and substitute 2 tbsp soy or sunflower lecithin (or more—you'll have to experiment and tell me what works, but usually this stuff is powerful)
Omit the moss and add about 1/2 – 1 tsp xantham gum (again, increasing the quantity as needed)
There are surely more ways to go about doing this, but that's what I've got for now. As always, use your kitchen intuition to see what works!
So: my exam is over. I do not want to talk about it, but it wasn't any worse than the other exams have been. And the great news is that, starting tomorrow at 2 pm, when I leave the hospital, I am on Thanksgiving break. I'll be spending Weds+Thurs in D.C., eating with my family and playing full-time kitchenista for once! And on Friday morning, I head home to NYC, from whence I will blog with jubilation.
And, remember how I said I didn't have time for a full T-Giving complilation this year? I still don't, but on each day from now to Thursday, I'll be sharing a few seasonal and appropriate recipes to savor. Check out:
My savory polenta stacks with beans and greens:
Roasted Barley, Corn, and Radicchio Salad with Balsamic Reduction:
Raw Butternut Squash and Apple Soup: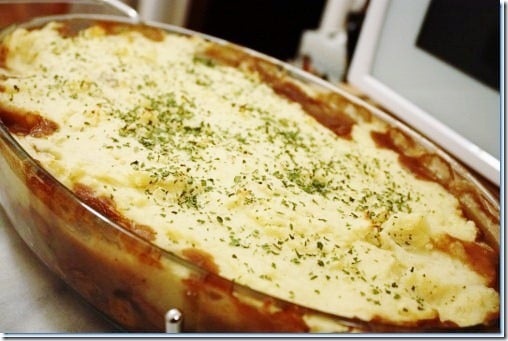 OK, time to sleep off the exam stupor. Gnite all!
xo