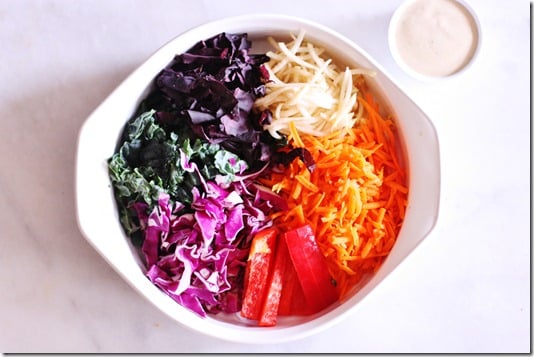 Hi all! Hope the week is going well.
Before I share the delicious "slaw" recipe pictured above, I wanted to encourage you all to head over to writer, historian, and activist James McWilliams' wonderful blog today, where I've written a very honest account of why I became vegan, and how my motives have evolved. If you're a regular CR reader, then you've heard this story before: the IBS, the quest for improved health, the love affair with raw food, and the ultimate move toward a lifestyle that is animated by compassion toward animals.
If you've just started reading, though, you might not really know why I went vegan in the first place! And it might surprise you to learn that my veganism today is quite different from my veganism four or five years ago. I'd love it if you'd read the post, and please feel free to leave a comment on it, sharing why you first became vegan, and whether or not your journey has expanded, evolved, or taken any unexpected turns. You guys know so much about me, and my experience with the vegan lifestyle, but I want to hear about you—and so does James, I'm sure!
By the way, if you're not familiar with James McWilliams, now's the time to get to know him. James, a historian of American history at Texas State University, is a brilliant and insightful champion of vegan lifestyle, but beyond that, he's also a sharp analyst of food politics and agriculture. His books include A Revolution in Eating: How the Quest for Food Shaped America (Columbia University Press) and Just Food: Where Locavores Get It Wrong and How We Can Truly Eat Responsibly (Little, Brown). Though I'm fascinated by his early work as a historian of the American colonies, it is Just Food—recommended to me originally by my friend Jasmin—that got me hooked on James' hard hitting, tightly researched, and bold work. If you've ever found yourself stumbling over the question of "why don't you just eat stuff that's grass fed and local?", I highly recommend subscribing to James' blog.
I hope you enjoy my "vegan conversion" narrative!
And now, back to the usual CR subject matter: food! Today, in an attempt to clear out the produce I've filled my mother's fridge with before I head south again, I whipped up a delicious, colorful lunchtime salad. I'm sure you're quite familiar by now with the idea that we should "eat colorfully." If you're not, the idea is that the powerful antioxidants in various foods—the anthocyanins in blueberries, for instance, or the lycopene in tomatoes—are also what give these fruits and veggies their brilliant colors. If we take care to eat a diet with many shades of red, blue, orange, green, and yellow, we're far more likely to get a broad array of antioxidants and phytochemicals in our diet. This means more protection against pesky free radicals, and consequently, against the aging process.
I tend to eat a very colorful diet. But it's always nice when one particular dish seems to showcase the true range of plant-based dishes—their variation of color, texture, and taste. This slaw has it all: red, green, orange, purple, and, well, black-ish from the dulse, which isn't the prettiest color I could have added, but remember: sea veggies are veggies, too. And if variety is your goal, it's important to include them in your meals, too—especially since they add crucial iodine to your vegan diet! I love dulse, and I think it adds a wonderful, salty flavor to meals. But if you don't have any on hand, this slaw will be delightful without it.
Raw, Vegan Rainbow Slaw with Creamy Dressing (vegan, raw, gluten free)
Makes 1 large or 2 smaller servings
1/2 cup shredded carrot
1/2 cup shredded red cabbage
1/2 cup shredded apple
1/2 cup slivered red bell pepper
1/2 cup packed, thinly sliced dinosaur kale
Small handful dulse strips
Gena's Slaw Sauce:
1/4 cup tahini
2 tbsp balsamic vinegar or lemon juice (depends what kind of a taste you're in the mood for!)
1/4 cup water
1/4 tsp garlic powder
1 tsp maple syrup (optional; I like the sweet/tangy combo)
1 tsp dried dill weed
1 tbsp tamari or nama shoyu
1. Whisk all dressing ingredients together with a fork.
2. Mix all slaw ingredients together. Dress to taste; you should need about 1/4 cup dressing for the whole salad. Dig in!
I'd serve the slaw with a half cup or full cup beans (depending on appetite), a cup of cooked whole grains (quinoa, millet, rice, etc.), a serving of raw crackers and hummus, or a slice of Ezekiel bread with a hummus or nut pate on top.
This slaw sauce is one of my simple home standbys. If you want to make it a little more authentic, you can use Veganaise, which I assure you will fool anyone who loves traditional mayo, in place of the tahini. If you do that, reduce the water to 2 tbsp. Hope you enjoy this tasty, antioxidant-packed slaw!
And hope you have a good evening, too.
xo