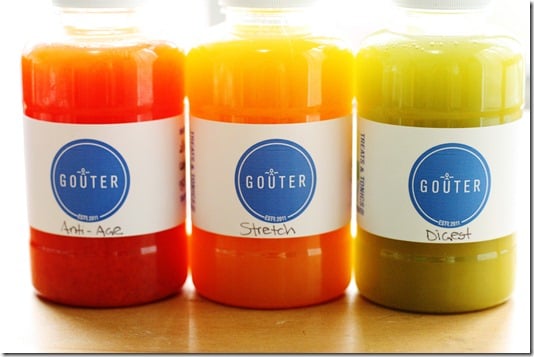 For the last few months, I've been hearing all about a local raw and vegan snack and elixir brand called Gouter—French for "to taste." The company was founded and is run by a husband and wife team, V and Steve, who are devoted to bringing the highest quality raw, vegan snacks, elixirs, and education to the D.C. area (and, I hope, beyond!). D.C.'s raw food scene right now is pretty modest—Elizabeth's Gone Raw for fine dining, and some options at Great Sage, but not too many dedicated eateries—so I was really thrilled to hear that a company specifically specializing in raw and vegan cuisine was emerging here in the District.
Now that I've met the charming and energetic V, and tasted Gouter's treats, I am even more excited to watch them grow. V and Steve are dedicated to wholesome and healthy food and drink, but they are also—as the name of their brand suggests—absolutely committed to good taste. Their chocolate barks, macaroons, and tonics are some of the tastiest I've tried, and the products are also highly progressive, using new ingredients and techniques, rather than drawing from the standard pool of raw food methods. I love when purveyors of raw and vegan food are as culinarily inspired as they are attentive to health!
Steve and V's mission is to "bring a new approach to healthy foods by making it accessible to everyone, keeping it simple and most important, tasting delicious! We want to educate the community and make people realize that healthy food can be good for you and taste great too."
This philosophy is evidenced in their efforts to do local outreach, teaching raw cooking classes via LivingSocial, and even participating in D.C.'s "growing healthy schools" week:

The Gouter tonics are full of energy-boosting nutrients, antioxidants, and vitamins—fresh turmeric, goji berries, kale, and aloe. They're made with alkaline water (alkalinity of 9.5). I'm not a big believer of the health benefits of this, but I will say that Gouter is one of the few companies who offers it, and whether you believe it or not, the resulting drinks are absolutely delicious and healthful for reasons that go far beyond the alkaline water. As you'll see in a second, V and Steve are using ingredients and a technique that is totally unique. The drinks work beautifully before a yoga class or work out, as an afternoon snack, or a dessert, and the company also offers packaged "cleanses" (not my favorite word, as you know, but Gouter does offer food and elixir packages in addition to all liquid).
When V reached out to me recently and offered me a sampling of treats and tonics, I wrote back enthusiastically saying yes. I was grateful when she offered to deliver them to me, but hardly surprised: I had seen photos of her delivering her packaged food bundles to clients right as Sandy struck D.C.!
And I've seen many images of her perched on her bike, poised to deliver food to her local clientele:
I've noticed that everyone who meets V gushes about her, and now I'm one of those people. She's lovely:
V arrived at my place last Friday, bringing with her a wonderful sampling of Gouter's products: 3 of the healing tonics, a container of macaroons, a container of raw-nola, and a container of raw chocolate bark. Lucky, lucky me: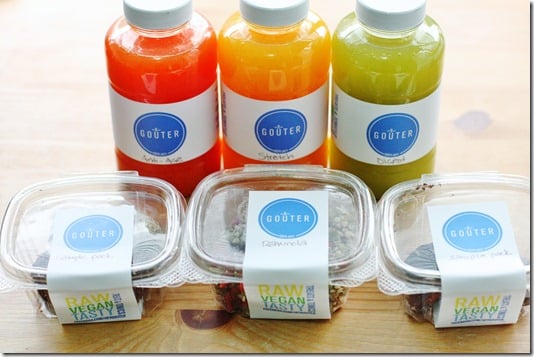 I've had a chance to sample some of the Gouter products already; they are sold at my D.C. yoga studio, Epic Yoga. I've tasted the kale tonic, which is touched with a hint of lemon and ginger and totally delicious, and I've also tried the raw-nola, which is crunchy, chock full of tasty goji berries and buckwheat, and sweetened oh-so-subtly with coconut nectar (which is the Gouter sweetener of choice, rather than agave) and cinnamon. V gave me the three tonics I hadn't yet tried: anti-age (a goji and cinnamon tonic), stretch (a turmeric and cardamom tonic) and digest (an aloe, mint, and ginger tonic).
Honestly? They're all amazing. The truest indication of my enthusiasm is the fact that I savored every sip of "digest," having readied myself to hate it. I have despised aloe juice every time I've ever drunk it, no matter how beneficial it is to digestion, and I was shocked to find that I loved a drink that featured it. That said, the "anti-age" and "stretch" were tied for first place in my book. The goji is sweet and appropriately autumnal because of the cinnamon; the turmeric tonic is a little sassy, warming, and spicy. It's a nice complement to my recent enthusiasm for turmeric, and my turmeric and pumpkin seed pate, which is now a favorite!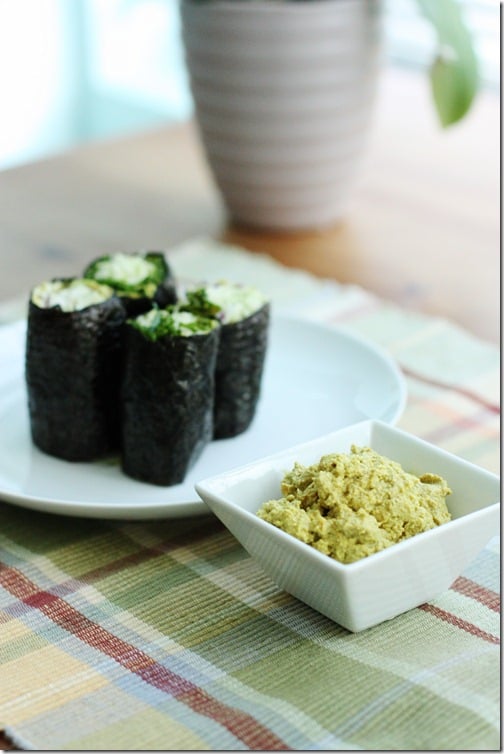 V and I had a chance to chat a little about the tonics, and she mentioned that, when they were developed, she and Steve had wanted to offer something a little more unusual than the standard vegetable juices—something medicinal, she said, featuring potent and healing herbs and superfoods. As someone who really adores juice, I actually could not agree more that it's refreshing to see a different kind of elixir, which can feature ingredients (like nutrient dense berries or spices) that don't necessarily lend themselves easily to juicing at home. The drinks feel exotic, energizing, and, when you consider the healthful ingredients, they feel like good medicine indeed. Speaking of medicine, they saw me through some long and lonely hours this week: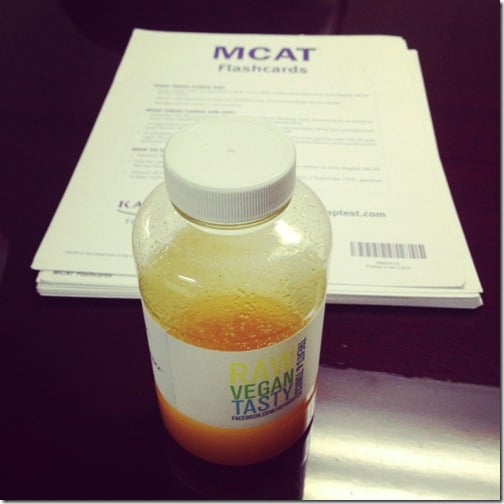 Of course this review would not be complete without a mention of Gouter's tasty sweets! The chocolate bark, which came in two flavors, a superberry bark (raw cacao with gojiberries, goldenberries, and mulberries) and a bark with buckwheat. They were both melt-in-your-mouth smooth and delicious:
And the macaroons were also a delight (they went fast, too!). There was a chocolate chip flavor, a vanilla bean flavor (specked with real vanilla) and a chocolate. I noticed that all of the macaroons were sweetened just enough to be dessert, but not enough to tasty sugary. Turns out, they're sweetened with date paste, which explains why it was such an organic, subtle flavor.
The delicately flavored barks and macaroons are a far cry from your average chocolate or cookie; even by creative raw food standards, they stand out.
In all, I couldn't have been more impressed by my Gouter gifts. I am so grateful to Steve and V for their generosity in sharing, and I hope this will be the first of many chances I get to sample Gouter's innovative raw and vegan cuisine.
It's worth saying that, though Gouter doesn't have a website quite yet, they are extremely responsive on Facebook and Twitter (@heygouter). If you're local (or even if you're not), go ahead and reach out, requesting more information, asking questions about a raw food or drink package, or to find out which yoga or fitness studio is going to carry Gouter next. I hope you'll check the company out, and be as delighted as I have been to get to know them.
xo