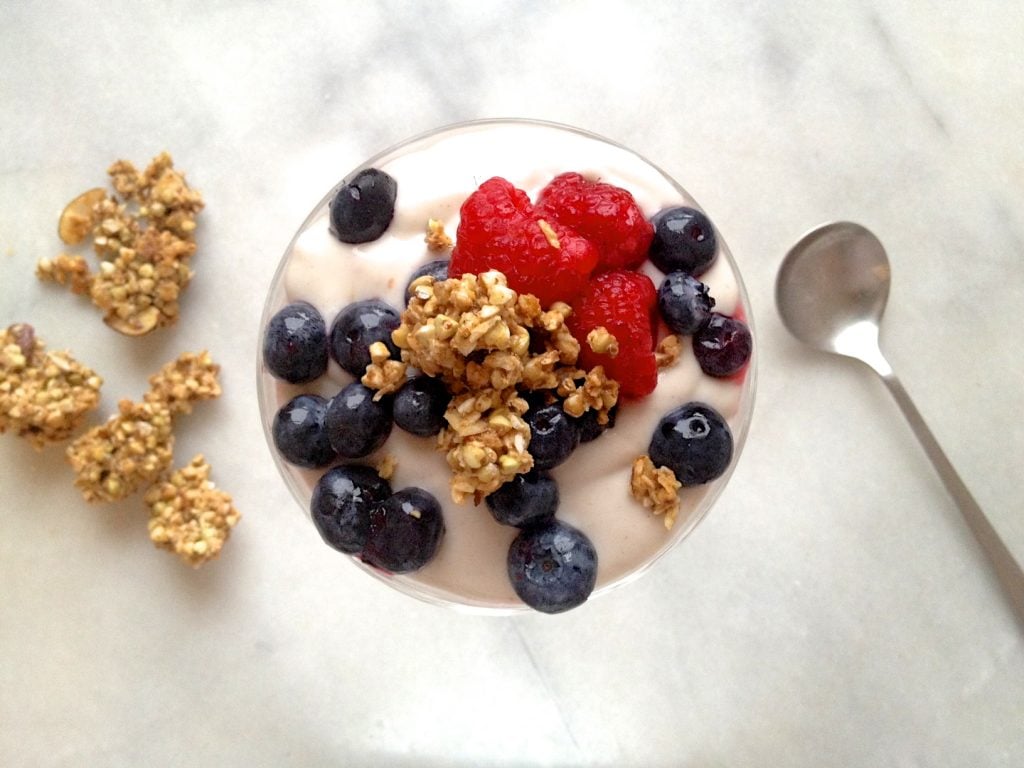 The last time I made coconut yogurt, I fermented it with probiotic powder. The process was easy enough, but it involved leaving the yogurt underneath my radiator for at least 24 hours, then skimming off the "skin" that formed on top.  Hardly a savory procedure! Today, I'm sharing a shortcut version of coconut yogurt. It's not fermented, so it isn't bursting with all of those friendly bugs we love , but it's quick, easy, and incredibly delicious. If you can get past the part where you have to hack open young Thai coconuts, you'll be delighted at what results. I promise.
Thai coconuts are one of my favorite ingredients, but I don't use them very often because I kind of dread opening them. Each time I purchase one, however, I realize that the process wasn't nearly so difficult as I imagined it to be. I have ironically written a whole tutorial on how to easily get these delicious little drupes open, so perhaps I should take my own instruction more often. For details on how to open a young Thai coconut, then scoop out the flesh for yogurt (or pudding, or smoothies, or sauces), check out this post.
And once you do that, it's time to get moving with this incredible recipe. It's highly reminiscent of the creamy, thick consistency of Greek yogurt, and it involves only a few ingredients. So, so good.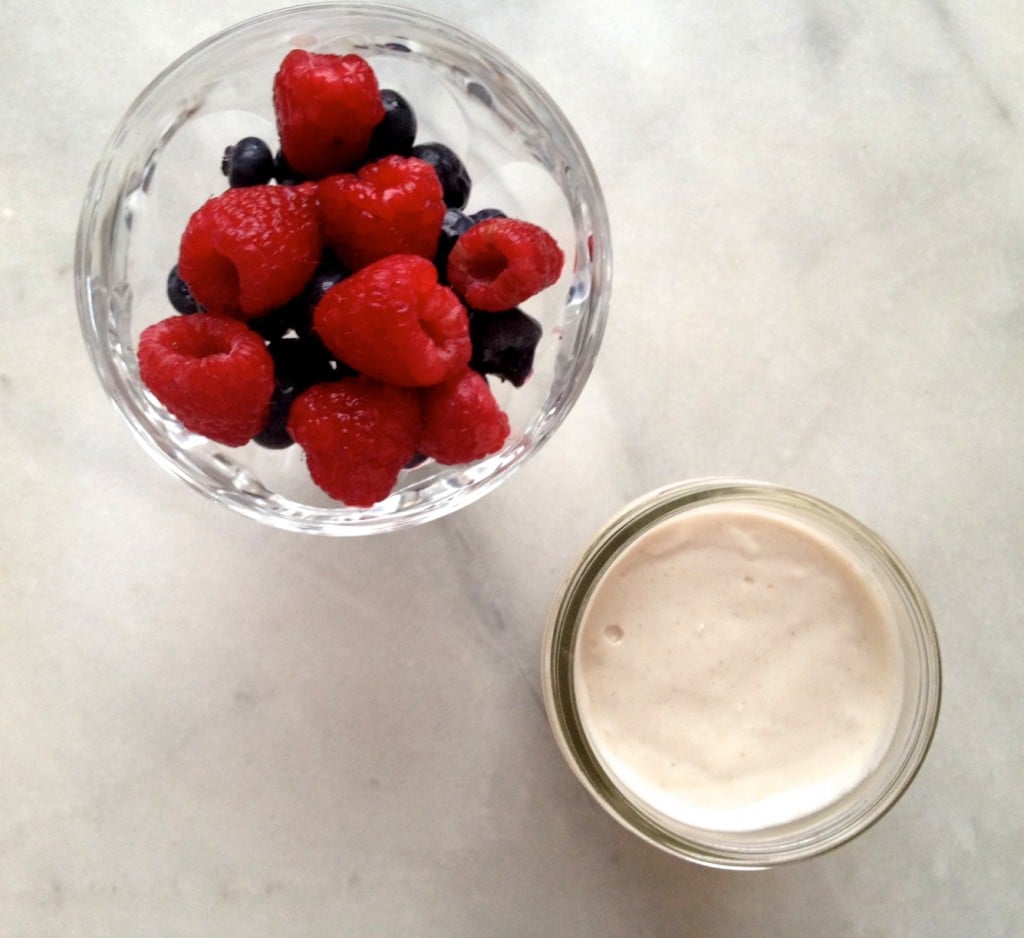 Raw, Vegan Vanilla Coconut Yogurt (Made with Young Coconut Meat)
Author -
Flesh of 2 young Thai coconuts

about 2 cups

1/2

cup

coconut water

2

teaspoons

maple syrup

1-2

teaspoons

freshly squeezed lemon juice

to taste

1

teaspoon

vanilla extract
The yogurt will be wonderful with berries or fruit: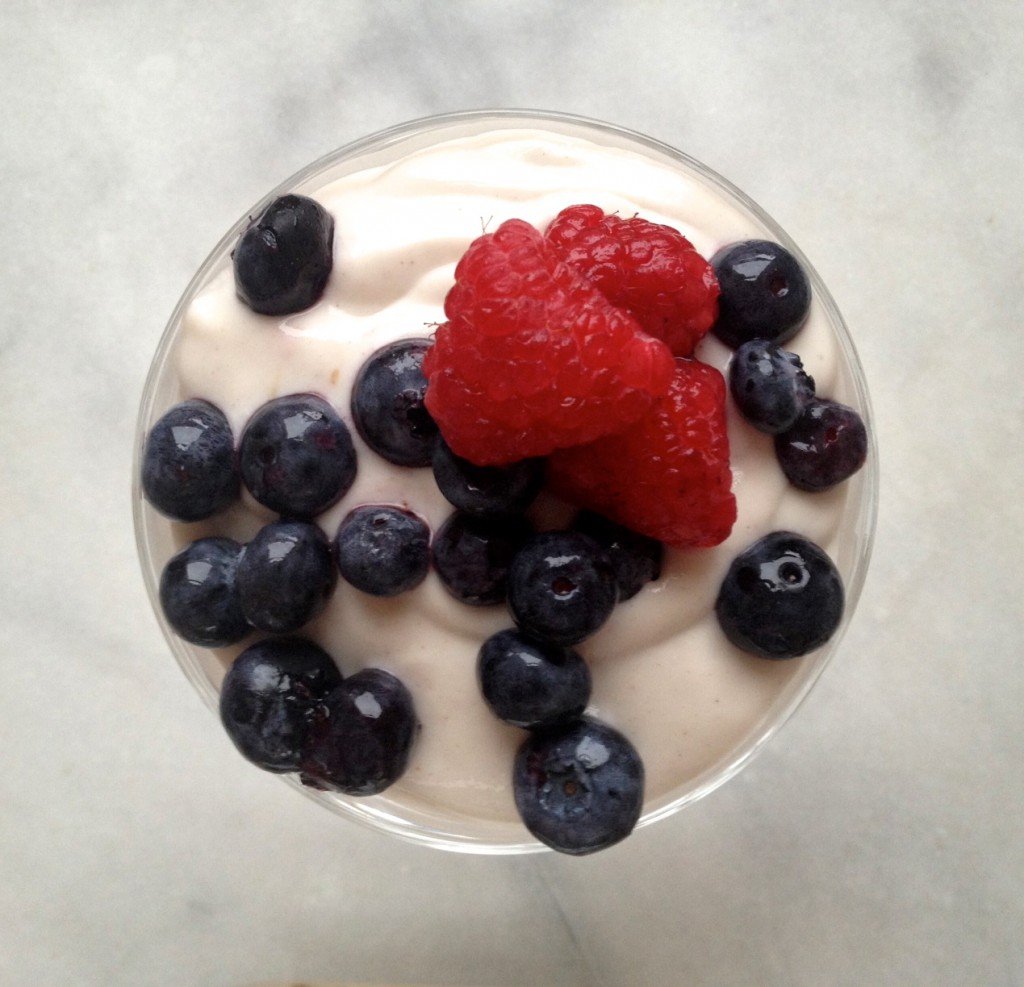 …or you can dress it up with some of your favorite granola (or raw-nola)! It would be great with some of this raw-nola (my go-to recipe). I served it this week with a new favorite raw-nola recipe, which is infused, appropriately, with coconut. And that will be coming to you soon 🙂
Young Thai coconuts can be purchased at health food stores and Whole Foods. The best place to shop for them, though, is your local Asian grocery. They will be much, much less expensive, and they're often sold by the case. The flesh of the coconut can be either thin or thick, and a slightly purple hue is fine. They're a wonderful source of healthy fat, and they can be used in so many different ways.
Before I go, a big thank you for all of the thoughtful comments and insights shared in Monday's post. I am so grateful. I also wanted to mention that the issues we were discussing are given an individual voice–and a very articulate, thoughtful voice, at that–in Laura C's Green Recovery story. This is a great one to revisit or discover, if you are so inclined.
And speaking of Green Recovery, the door is always open for submissions. If you are a little nervous about sharing your story, there are lots of ways that we can work together to make it more comfortable for you. I can give you a pseudonym, keep your name anonymous, or just list your first name. Photos are certainly not mandatory. And if your recovery is still ongoing, you can submit a "recovery-in-progress" story, too, detailing the steps you are taking toward a recovered place. Of course, this isn't something you should ever rush: these narratives should emerge when the time is right, and only then.
Till tomorrow, friends!
xo