Good morning, everyone! Welcome to day one of the Raw Wednesday Challenge!!
I am so excited to hear about your experiments in the kitchen today! I want lots of feedback: email me jpegs of meals, say hello, tell me how great your lunchtime salad was–whatever! I hope you'll find the day as fun and rewarding as I know Jenna and I will.
In the spirit of community, I want everyone to treat the comments section of this post like a forum today. Go ahead and leave comments with your updates, impressions, or recipes, and feel free to respond to each other and start conversations! I'll do my best to check in frequently and see how everyone is doing. And I'll be back tonight with a raw dinner recipe.
Switching gears, I have a really fun event to re-cap for you all!
By now you've heard me talk about Beam Green and its wonderful founder, Ms. Mary Boehmer. Last night, members of Beam Green were given the chance to attend a very special cooking class at the Natural Gourmet Institute in the Flatiron district. To all you New Yorkers who aren't familiar with the Institute, I encourage you to check out the website! It's a wonderful local resource. The Institute host cooking classes with famous natural chefs, from flexitarians (Myra Kornfield) to raw foodists (Jennifer Cornbleet). The classes include hands on work in the kitchen with the chefs, followed by a four course sit-down dinner and wine. Some of the classes are pricey (Melissa and I have lusted and resisted in the past), but it's really a slim price to pay for the experience of learning from master chefs, not to mention the pleasure of a gourmet meal.
Last night, as a member of Team Green Beam (more on that soon!) I was invited to join in the fun. The menu? A Cinco de Mayo celebration, naturally! Our guest chef was the energetic Myra Kornfield, author of The Voluptuous Vegan (a favorite of mine!) and The Healthy Hedonist: More Than 200 Delectable Recipes for Relaxed Daily Feasts. Myra used to be a chef at one of my favorite New York restaurants, Angelica Kitchen, and I've been an admirer of her work for a long time. Her emphasis is on global flavors, bold spices, and robust flavors. Who better to walk us through making a Mexican feast?
On the menu last night:
Appetizer:
Yucca cakes with mango mojo
Salad:
Romaine and Watercress Salad with radishes, jicama, and strawberries.
Avocado-cumin-lime Dressing
Main Course:
Coconut-Cornmeal Crusted Tilapia with Tomatillo-Pumpkin Seed Mole
Sweet and spicy polenta
Sautéed spinach with red chile salsa paste
Roasted asparagus with ramps
Cider braised sweet plantains
Dessert:
Coconut sorbet with Mexican chocolate banana sauce and pecan lace tuilles
Pretty incredible, no? Of course, this meal was not all raw (or even mostly raw), nor was it vegan. But I think it's important for all of us raw foodists to keep our cooking skills as sharp as our un-cooking skills: I like to know that I can prepare cooked meals for family and friends who aren't comfortable with raw foods, and I frequently do: my favorites are grain dishes, risottos, and soups.
This said, when we had a chance to choose the dish we would participate in (fish, dessert, sides, etc), I made a beeline for the predictable station: the salad! I was delighted to find that Myra's dressing closely resembled the one I made for my Spicy Thai Salad, and that the dish was almost 100% raw. Always thrilled to handle a giant bowl of greens, my friend Cassie and I got to work:
Here's Cassie, manning the salad station: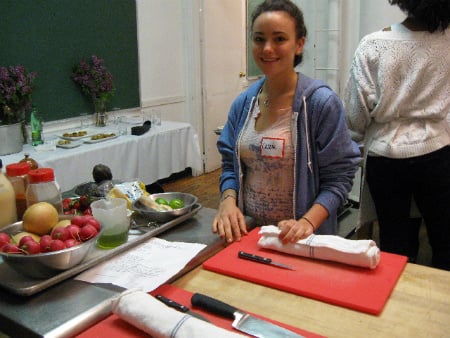 First, we made the dressing: a blend of avocados, olive oil, freshly toasted and ground cumin (this made all the difference!), lime juice, salt, pepper, and garlic. I reserved a non-garlicky portion of the dressing for myself (fun fact about Gena #1: I don't like garlic!). It was totally delicious! I can't wait to make this at home–the cumin gave the whole thing and incredible kick.
Then we tossed together our giant salad: watercress, romaine, radishes, jicama, and strawberries. Here's our finished creation, pre-tossing:
And the proud chefs: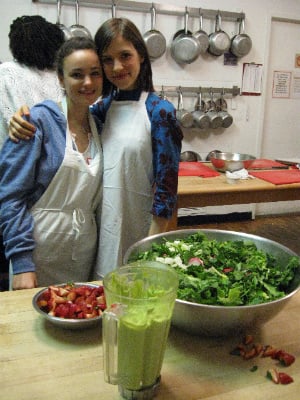 Sadly, I was on editorial deadline last night, so I had to duck out before all the food was finished and plated. I wish I could have observed how all of the dishes were made: I could smell them in various stages of prep, and I was very impressed! I was particularly intrigued by the polenta, which used carrot juice as its liquid.
Of course I also wish that I had gotten photos of all the intricate cookery. Here's what I did get:
The Institute's well-equipped kitchen: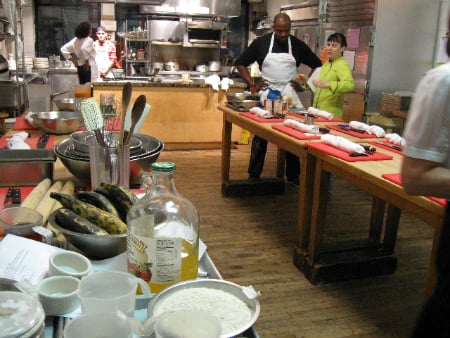 Mary, taking charge of pan-seared plantains!
A close up of her work:
Here's the polenta, in its orange splendor:
Ladies of Beam Green, wilting spinach: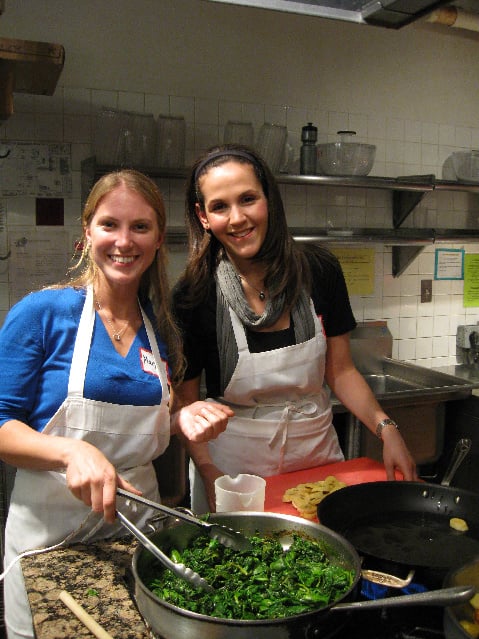 More happy chefs:
And a group shot of Myra (in green) and the dinner team! I'm crouching in the first row:
Myra was kind enough to bring a handout with the evening's recipes for all of her guests. Naturally, I have to share the amazing salad recipe with you:
Creamy Avocado Dressing (makes 1 cup; recipe (c) Myra Kornfield)
1 tsp whole cumin seeds
3 Tbsp fresh lime juice
3 Tbsp EVOO
1 ripe avocado
½ tsp salt
¼ tsp Dijon mustard
1 garlic clove, minced
¼ to ½ cup water (depends how thick you like it)
Black pepper
To make the dressing, dry toast the cumin seeds in a heavy bottomed skillet until fragrant. Grind into a powder using a spice grinder. Add the cumin, lime juice, oil, avocado, salt, mustard, garlic, and water and blend in a blender until very smooth. Sprinkle with pepper and season to taste.
Simple! Throw this over any salad, use as a dip, or serve it on the same salad we made, which was:
1 head romaine, chopped
1 head watercress, thick stems removed
3-4 radishes, sliced thin
1 cup jicama, cut into ½ thick cubes
1 cup strawberries, sliced thin
Enjoy it!
I was also so impressed by the polenta that I couldn't help but share that recipe with you all, too. This would make for a wonderful weekend dinner alongside a fresh salad and another side dish.
Sweet and Spicy Polenta (serves 4-6; recipe (c) Myra Kornfield)
Ingredients:
Chile Paste:
2 dried chipotle chilis
2 Tbsp EVOO
Pinch salt
Polenta:
2 cups carrot juice
2 ½ cups water
1 ½ cups polenta
2 Tbsp EVOO
1 tsp salt
Procedure:
Chile paste:
1)      Remove stems and seeds from chiles. Place in a small pot, cover with water, and bring liquid to boil. Turn of head and let chilis sit in the hot liquid for about 15 minutes until softened. Drain, reserving liquid.
2)      Place chilis in a blender along with ¼ cup soak liquid, olive oil, and salt. Puree till smooth.
Spicy Polenta:
1) Oil a 9×11 baking pan.
2) Whisk the carrot juice and water with the salt, cornmeal, and olive oil in a medium metal bowl. Take a 4 qt. saucepan and fill it two thirds with water; bring to a simmer. Cover the bowl with foil, set it over the water, and cook 30-40 minutes until the polenta is thick and stiff. (Alternatively, use a double boiler insert on top of a medium saucepan). Stir 3 or 4 times wihile the polenta cooks and add water as needed.
3) Pour polenta into the baking pan and smooth with a spatula. You have to do this quickly: polenta sets fast. Immediately spread a thin layer of the chili paste over it. Let sit at room temperature until cool, or refrigerate for ½ hour.
4) Cut polenta into desired shapes. Preheat oven to 350 degrees and cook polenta until heated through. Sprinkle with parsley and enjoy!
Phew!! All of that typing reminds me of how complicated real cooking used to be! I'm always amused by the fact that people presume raw food is more time consuming than cooked; that has definitely not been my experience. I used to spend so much more time in the kitchen than I do now with uber-simple raw dinners.
But I realize, of course, that the labors of a cooked feast offer their own rewards: togetherness (if you're cooking with family and friends), pride in one's effort, and the joy of seeing a hot meal come together from scratch. All of the Beam Green ladies had a wonderful time last night in the kitchen with Myra, and I'm sure that the feast after was great. I'm so glad I had a chance to participate! A big thanks to Mary for organizing the event, and for seeing the tremendous value in helping women learn to prepare healthy food at home.
On that note, it's un-cooking time! Have a wonderful raw Wednesday, friends. I've got to get working, but I'll be checking in. See you later!!
xo