Hi all! Taking a quick midday break to draw your attention to three articles in the news of note. If you haven't read these guys yet, you may want to fill up your lunch hour with them.
1) Elizabeth Kolbert reviews Jonathan Safran Foer's Eating Animals.
2) Nicholas Kristof on the state of American health.
3) With apologies to my beloved readers for citing a news source of which I am not fond, Al Gore is asked why he's still eating meat.
And a raw Wednesday recap!
Julia sent me the following photos: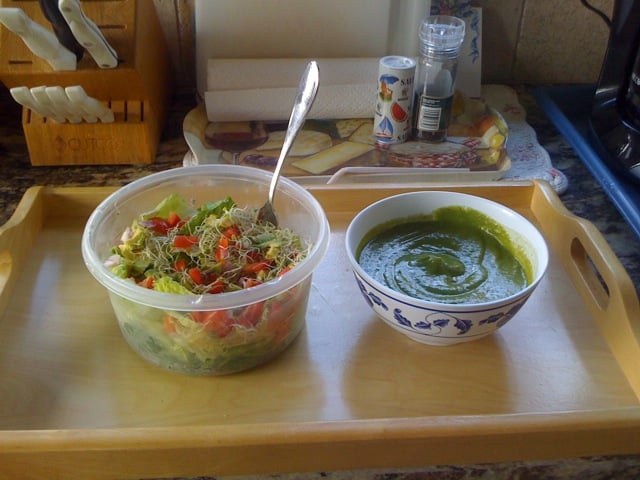 "A blended salad (avo, zuke, spinach, and basil–so delicious.  That blended salad post changed my life) and then a romaine and spinach salad with sprouts, avo, and red pepper with lemon juice."
"A young coconut smoothie that I made (young coconut blended with cinnamon)  and I almost drank all of it before I remembered a picture!"
Aletheia sent me three photos:
Rawvioli
Banana Collard Wrap
Triple C Threat: Cilantro, Carrot, Cauliflower salad
The lovely Katie sent me this drool-worthy shot:
"Here's my 1st attempt at Raw Wednesday. 🙂 In the picture is my own take on your tortilla soup featuring… whatever I had leftover in my fridge. Tomatoes, cucumber, cilantro, garlic, spices… and guacamole lettuce roll-ups! I wasn't impressed w/ my first raw soup attempt – but that just means I need more practice!"
Another lovely Katie shared her raw lunch, which looks amazing:
Two weeks ago, Lauren said a few words about her juicing adventures: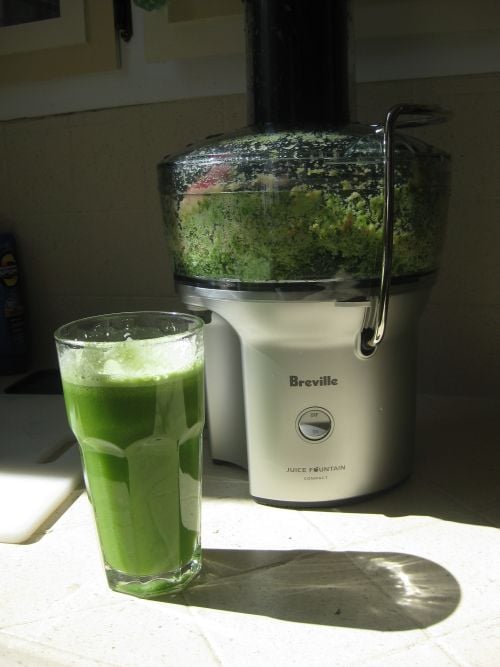 "I just moved to San Francisco and when I arrived, my boyfriend had a bday present waiting for me – my first juicer!!! Attached is a picture of the green smoothie I made for Raw Wednesday (though I've been trying to have them more often). I started with some that were a little too green for a newbie, but this one is just romaine, celery, apple, cucumber, and ginger … and it was totally refreshing and deliciosa!
Hope this helps your post. I have really been enjoying your blog and am making a slow transition to eating more raw, and more vegan, largely as a result of your inspiration."
And this week, she shared the following smoothie, which I humbly re-post:
Rejuvenating Breakfast Smoothie
Ingredients:
2 handfuls spinach (bagged, pre-washed)
1/4 cucumber (peeled and cut into chunks)
1 banana
water
Instructions:
Blend all items together on the puree setting. Enjoy! I find I really only need half a banana at this point, but I prefer it to taste a little more veggie-like. Made with the full banana, it's nice and sweet, with a cooling and replenishing taste from the cucumber. You won't even taste the spinach but your body will sure feel the difference. Hope some of you give this a try!
I've tasted those macaroons, people, and they rock.
Thank you, readers, for your participation!!! I love seeing what you make, so please keep the tradition alive!
I also woke up this morning to an amusing comment on my last post from a reader who referred to him or herself as "meatosaurus," informing me that I am "an idiot." I would suggest that the rapacious Animal Eater try really, really hard not to sit around reading and commenting on my blog. Just sayin.
xo