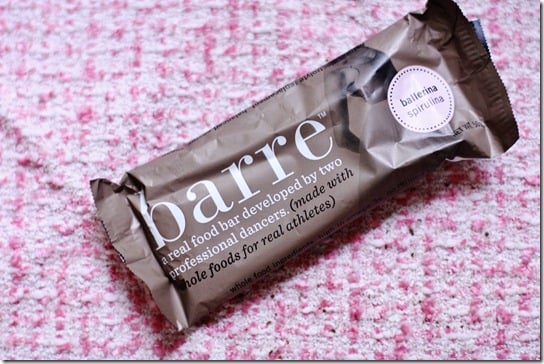 It's raining bars lately. I say that not only because I've been offered quite a few to review, but also because I'm in the middle of summer school, and when I'm on campus nearly all day, bars are my favorite snack. They're portable, easy, and tasty. And, in spite of the fact that I don't favor them for meal replacement, I do love them for a bite in between meals. This year taught me all about the importance of snacking when one is on-the-go; whereas I needed less snacks when I worked full time in an office setting, I certainly do need them as a student, mostly because I can't always make my lunches as voluminous as I like. Snacks compensate for that, and keep my appetite steady.
Two weeks ago, I was at Whole Foods, and a nearby food sample caught my eye. I overheard the man who was presenting the samples say "raw and vegan." That's usually all it takes for me to make a beeline to a freebie table. So there I scurried, eager to see what new vegan treats were for the offering.
As it turns out, they were Real Food Barres, a line of raw, vegan snack bars developed by professional ballet dancers Julia Erickson and Aaron Ingley (who are also husband and wife). The couple conceptualized these bars in response to the nutritional needs that their careers in dance created. In Julia's words, "When I set out to create Barre I did so to address my exacting needs as a dancer: it had to fuel me without weighing me down, it had to be sustaining yet easy to digest with the proper mix of nutrients, it had to contain only the finest all-natural whole foods, and, of course, it had to taste sublime. Basically, it had to be just right."
A few tastes of the three flavors, black swan chocolate berry, pirouette cinnamon pecan, and ballerina spirulina, showed me that Julia had succeeded in her mission. The bars are delicious, nutritionally balanced, and feature simple, whole foods ingredients. Check out each bar's ingredient list and label:
Black Swan Chocolate Berry:
Dates, agave nectar, walnuts, pecans, sunflower seed butter (sunflower kernels, sunflower oil, molasses, salt, citric acid), cranberries, cocoa powder, hemp seed, hemp protein, oats, ground flax seed, brown rice protein, sea salt, peanuts.
Pirouette Cinnamon Pecan:
Dates, walnuts, pecans, agave nectar, hemp seed, rolled oats, hemp protein, ground flax seed,brown rice protein, vanilla, cinnamon, sea salt, peanuts.
Ballerina Spirulina
Dates, walnuts, pecans, agave nectar, hemp seed, hemp protein, rolled oats, ground flax seed, dried coconut flakes, brown rice protein, spirulina, vanilla, sea salt, peanuts.
I especially like the addition of a touch of brown rice protein in two of the bars!
I hear a lot about the lives of professional dancers, because a lot of my readers come from dance histories. Sadly, many of them also credit dance with having exacerbated or catalyzed eating disorders. I took a little dance as a child–I was younger than the age of ten–but even then, I was painfully aware of my body, and the mirrors were too much for me. I dropped it, but I've loved dance as a spectator ever since.
It saddens me that so much body pressure should accompany this beautiful art; it also saddens me that so many former dancer friends report having fueled with less-than-wholesome food and snack bars, rather than whole food options. So it makes me particularly happy that Aaron and Julia are bringing these wholesome, plant-based snacks to the dance community. Aaron mentioned that dancers are their biggest market at the moment, but that the bars are branching out. I certainly hope that the bars become widely available very soon!
So, where do you find the "barres"? You can use the locator form on the Barre website. They're carried in 130 retailers nationwide, and you can also place a request. If you're curious about the tasty snacks, please let Aaron and Julia know!
I really enjoyed all three flavors: the cinnamon pecan tasted just like a gingerbread cookie (perfect for Nutcracker season)! It made for some ideal in class snacking (along with a bit of fruit).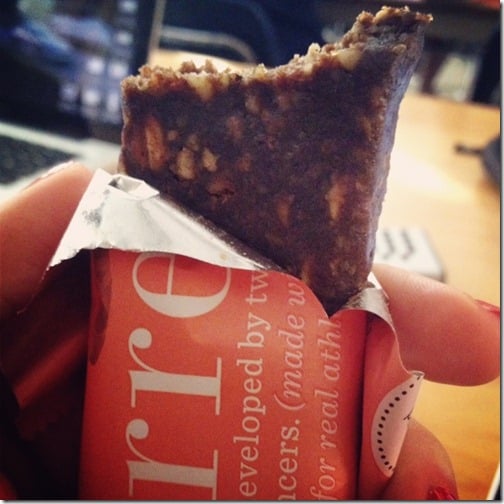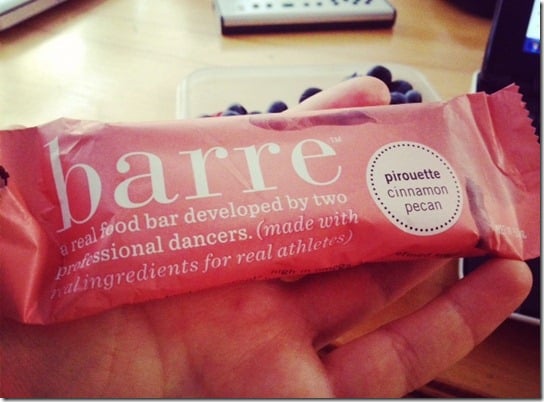 The spirulina was salty, sweet, and also featured a touch of hemp–my favorite! But taste wise, the black swan chocolate berry was probably most delectable.
It makes me so profoundly happy when I see more and more vegan companies popping up and exerting an influence on the communities around them. Kudos to Julia and Aaron for bringing healthful ingredients like hemp, spirulina, and brown rice protein to other dancers. I hope these snacks fuel many beautiful practices and performances. And I hope you all check the bars out for yourselves: it's so important to support fledgling brands!
I'll see you, CR readers, tomorrow.
xo