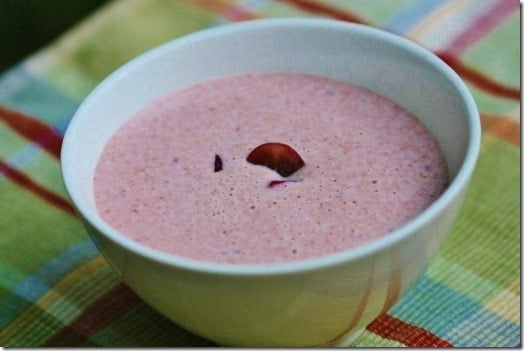 Fabulous conversation we're having about the link between professional life and EDs, particularly among adult women. Join in!
A month or so ago, I was treated to one of the finest meals of my life by my friends at VegNews. The location? Portobello restaurant in PDX. The highlights of the meal? Where do I begin! There was a gnocchi from heaven, garnished with sweet corn cream; there were Italian cookies crispy and crumbly enough to make the folks at Veniero's genuflect. And, most of all, there were soups.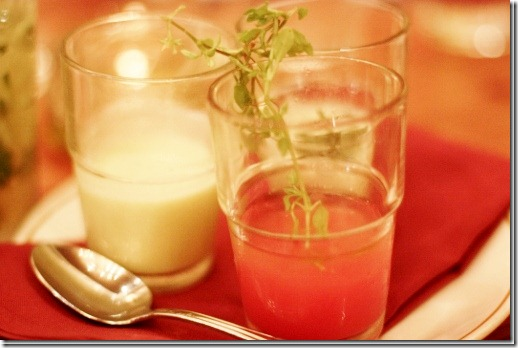 A trio of soups, each more delicious than the last. For me, there was a clear highlight, and that was the grape and almond soup (it's the creamy looking one to the left). I'd never heard of such a combination before, and I was astounded by how delicious it was: sweet, of course, but also subtly tart and a little salty (sweet, tart, and salty: it's my holy trinity).
I vowed that night, at the table, to recreate this dish. Since it's now officially autumn (happy October, people!) and the season of farmer's market grapes is upon us, I figured now was the right moment to try.
As it turns out, there are quite a few recipes for white grape and almond soup or gazpacho floating around out there on the internet. But most of them are not raw, and most of them are a little complex. Per my norm, I decided to keep mine very, very simple. All you need are fresh grapes (OK I'll be honest: I did not use the farmer's market variety; I used seedless ones from Whole Foods. You can too.) soaked almonds, apple cider vinegar, salt, and a willingness to try something wonderful and new.
Red Grape and Almond Gazpacho (raw, vegan, gluten and soy free)
Serves 2, or 4-6 as soup shooters
1 1/2 cups red seedless grapes (or pitted red grapes)
2 tsps apple cider vinegar
1/4 tsp sea salt
A dash of black pepper
1/2 cup grape juice (I made fresh grape juice from the juicer, but you could certainly purchase an organic juice from a brand you like)
2/3 cup almonds, soaked 8-12 hours
Water to thin (about 1/4 – 1/2 cup, depending on your consistency)
Handful raw almond slivers and 1/2 cup halved red grapes for garnish
1) Blend all ingredients in a high speed blender till smooth. Check seasonings (add more salt if needed) and check the consistency: at this point (depending on how plump your grapes were) you might need quite a bit more water, or not very much at all. I needed no more than 1/4 cup.
2) Garnish soup with almond sliver and grapes. Mine sunk to the bottom of my bowl, which is why they're largely invisible in my photos. A professional food stylist I shall never be.
This is a great soup to serve as a small appetizer. It's very rich, so you don't need much to feel sated and delighted. If I were you, though, and I were serving this to guests, I'd take a cue from the folks at Portobello and I'd serve the soup in shooter glasses; it's a fun way to have a mini-appetizer or an amuse-bouche that's easy to prepare and highly unusual. And the creaminess and richness of this soup will lend itself well to such a presentation.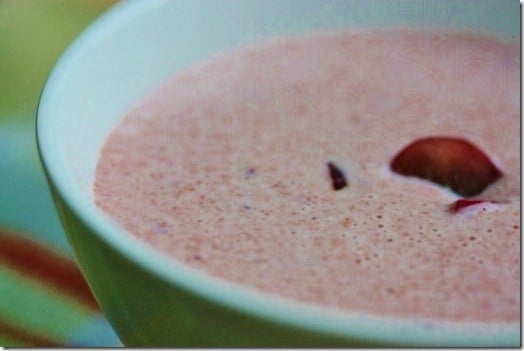 The color, as you can see, is a beautiful but subtle pink/purple.
This soup serves as a reminder that the most unlikely of food combinations can prove to be stunningly tasty. And as far as raw soups go, it's one of the more palatable and mild. I urge you to try it for yourselves! And since it's a very simple recipe, I urge you to play around with the acid, salt, and consistency: I had to experiment quite a bit before I hit the right combination.
On that note, I have a hot date with this guy:
Have a fabulous Saturday, guys!
xo