Ah, fall. Season of soups.
You guys know by now that I love raw soups. Which is a little funny, since I was never a fan of cooked soups. Or rather, I was never a fan of cooked soups with lots of stuff in them: chicken noodle, minestrone, miso, vegetable barley, whatever. I could handle the blended, creamy ones: butternut squash, cream (ew) of leek, cream (ew) of mushroom, carrot—but that makes sense, since those are the soups that raw soups most closely resemble.
To make a long and not very cool story short: I like creamy soups. I really like them even better when they're raw. The end.
Why are raw soups so great? Well, for one thing, they're chock full of enzymes, nutrients, and fiber, but their blended texture makes them highly digestible. This means they're great for anyone who suffers from impaired digestion, or simply for any occasion when you need to give your digestive system a little TLC (illness; pre- or post-workout; when you're rundown). They're also quick and easy: raw soups don't require making a perfect roux, waiting for vegetables to soften, or spending hours watching a pot simmer. And for most of us, soups evoke sweet childhood memories of simplicity and comfort.
If the thought of eating soups cold upsets you, don't be deterred: it's perfectly OK to heat them gently over a very low flame until they're room temperature. If you're not strictly raw and don't care to be, go ahead and warm them up as much as you'd like!
You'll be seeing a ton of soups—probably more than you'd like to see—as the weather cools down. I'm starting my soup marathon with a new recipe I tried out last week (my friend Cassie is finishing off my leftovers!): red pepper and hemp soup.
I wasn't sure about this one: hemp is such a distinctive flavor that I worried it might overpower the peppers. But after my success with creamy hemp basil sauce, I figured it couldn't hurt to try. And it didn't. Quite the contrary. This soup is sweet, creamy, and a little nutty tasting, but what really makes it shine is the kick from lemon juice and turmeric. It's quick, nourishing, and—for those of you who are hung up on that whole protein thing—rich in protein, too. Enjoy it!
Red Pepper and Hemp Soup
Ingredients:
2 extra large (or 3 regular) red peppers, seeded and roughly chopped
½ cup hemp seeds
½ tsp salt
2 tbsps lemon juice
½ tsp curry powder
¼ tsp turmeric
1 tsp Braggs liquid aminos
Black pepper to taste
2/3 cup water (or to taste – this will depend on how thick or thin you like your soup)
Procedure:
Place all ingredients in a blender. Blend until smooth and creamy. You may want to begin with ½ cup water and adjust based on texture as you go along!
You can add garlic or onion to the soup. If you're into that.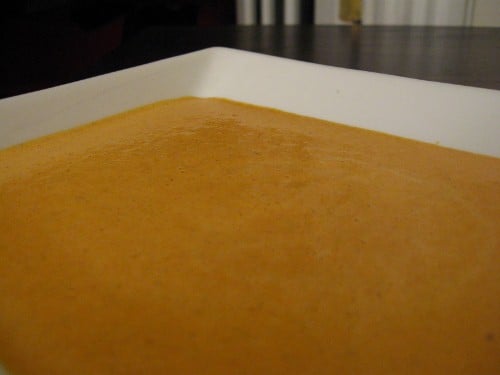 Of course, soup is lonely without a giant salad by its side: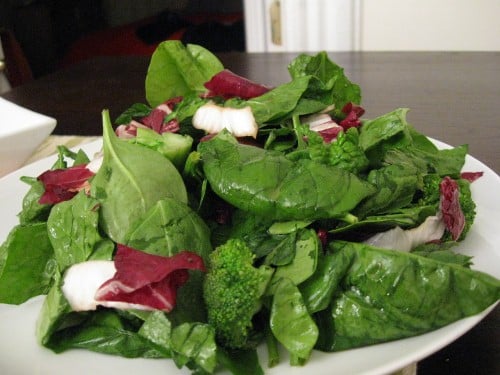 Spinach, radicchio, broccoli. All together now:
Hope you all had a great weekend. I'll be back this week with a cooked recipe, a question of the week, and more!
xo