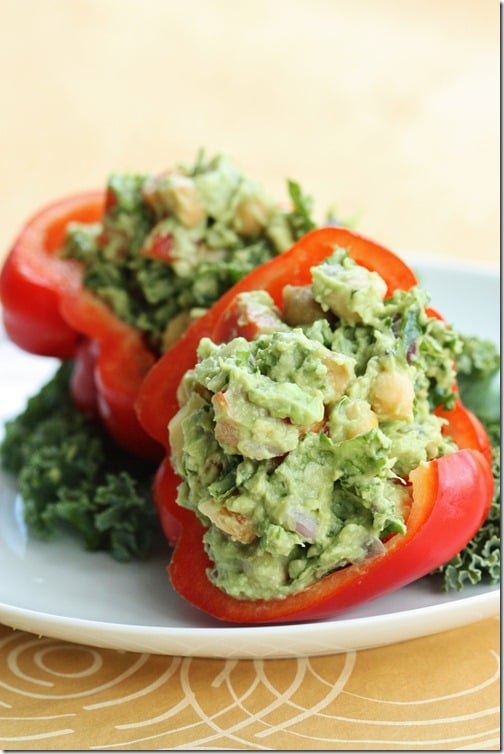 So, I guess the Super Bowl is on Sunday. Though I cannot pretend to understand the excitement that attends this game on a personal level, I can certainly understand everyone's enthusiasm about the food! Any celebration that involves eating, drinking, and making merry is a winner in my book.
Traditional Super Bowl recipes tend to be smothered in cheese, sour cream, and ground beef. Over the years, I've made some tasty modifications to traditional favorites, and tomorrow, I'll do a round up of my top picks. But today, I'll share my newest addition to the game day family: raw red peppers stuffed with confetti guacamole. Quick, fresh, and delicious.
What the heck is confetti guacamole, you ask? I don't know. It's the name that came to me as I was mixing creamy avocadoes with tons of veggies, including kale, onion, jalapeno, and zucchini. The little flecks of bell pepper and kale looked like shreds of confetti in a sea of pale green. But you could call this "fully loaded" guacamole, "veggie-stuffed" guacamole, "rainbow" guacamole, or just "guacamole with kale, bell pepper, onions, zucchini, and chickpeas." That would sum it up, too.
Whatever you want to call it, this fiber-rich, flavorful guacamole is a winner, and it makes for a very filling appetizer or snack!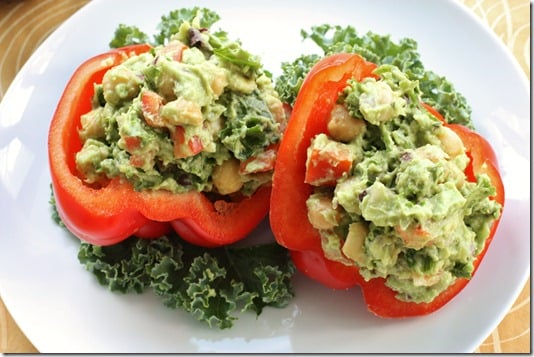 Red Peppers stuffed with Confetti Guacamole
Serves 6 as an appetizer, 10 as a party dip
4 medium sized Haas avocados (or 5 small)
Juice of 2 limes
Sea salt to taste
1 tsp maple syrup
1 1/2 cups (packed) shredded curly kale
1 sweet bell pepper, diced
1/2 cup zucchini, diced
1/2 cup diced red onion
1/2 jalapeno pepper, seeded and minced (optional–only if you want some heat)
1 1/2 cups cooked chickpeas
3 sweet bell peppers, cut in half, seeds and stem removed
1. Remove the pit from the avocados and scoop them out of their shells, into a mixing bowl. Mix them with the lime juice, sea salt, and maple syrup till they're mushy but have a little texture still.
2. Add the kale and mix it together with the avocados till it's incorporated. Add the pepper, zucchini, onion, jalapeno, and chickpeas. Mix well with hands to combine.
3. Scoop the guacamole into six pepper halves. Serve on top of a bed of kale.
If you like, you can also use zucchini "boats" in place of peppers. Or you could stuff tomatoes! No matter what, this is a colorful, crunchy, and oh-so-healthy party food to share. And if you're enjoying it all to yourself, you can feel free to cut the recipe in half.
Enjoy these delectable game day treats! And stay tuned for my upcoming round of of vegan recipes for Super Bowl Sunday. In the meantime, happy Friday, folks.
xo