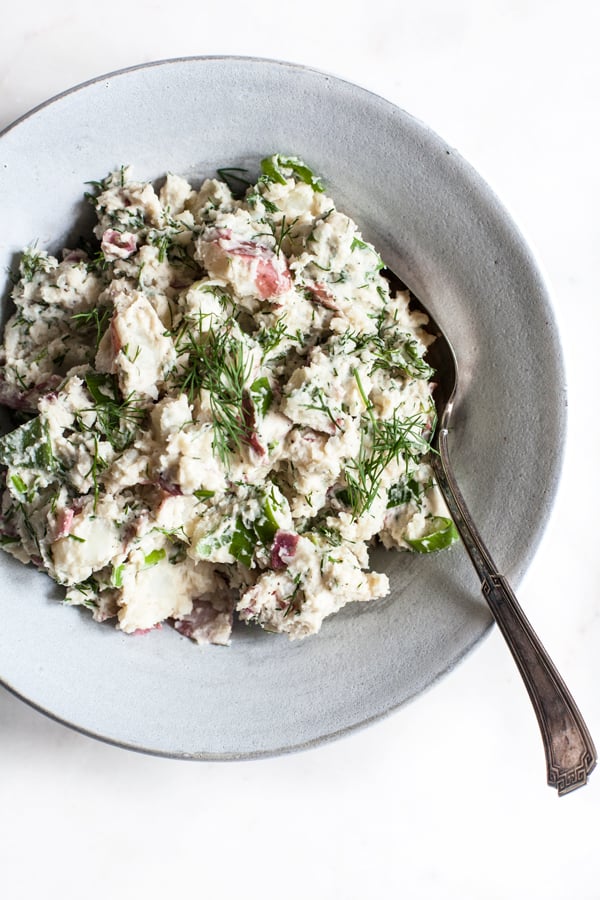 In my food science lab not too long ago, we made potato salad. Our professor noted that red potatoes are optimal for potato salad due to their low starch and high moisture content, which allow them to hold their shape better than, say, russets. It made sense, but I found it amusing because the thing I like best about red potato salad is smashing it up—and thereby ruining whatever shape the potatoes have held.
In any case, I love the moisture and lightness of red potatoes, and I couldn't resist sharing my new favorite recipe for them as we head into Memorial Day weekend. This red potato salad with creamy cashew dill dressing & dill is easy to prepare, flavorful, and a little more nutritious than the traditional potato salads you might find at potlucks or cookouts this weekend.
As we were breaking down the intricacies of starch molecules, our professor paused to tell us about the many heated debates that have broken out in her lab regarding the proper way to make a potato salad. It's cultural, she said: students who have grown up here might have very different opinions than students with German heritage, or students from Scandinavia.
I tend to think that there's really never one way to go about a recipe–we all bring unique tastes and heritage and health considerations to bear on our cooking. This salad captures all of the things I love best in potato salad: it's creamy, but it isn't dense or heavy; it's got plenty of mustard flavor, for kick; and it's packed with dill, which is an herb I have a special fondness for, in part because I'm part Greek (and my mom puts it in everything). It's also simple, which is a big consideration lately.
I've no idea how proper it is by canonical potato salad standards, but I think it's super tasty, and I hope you will, too.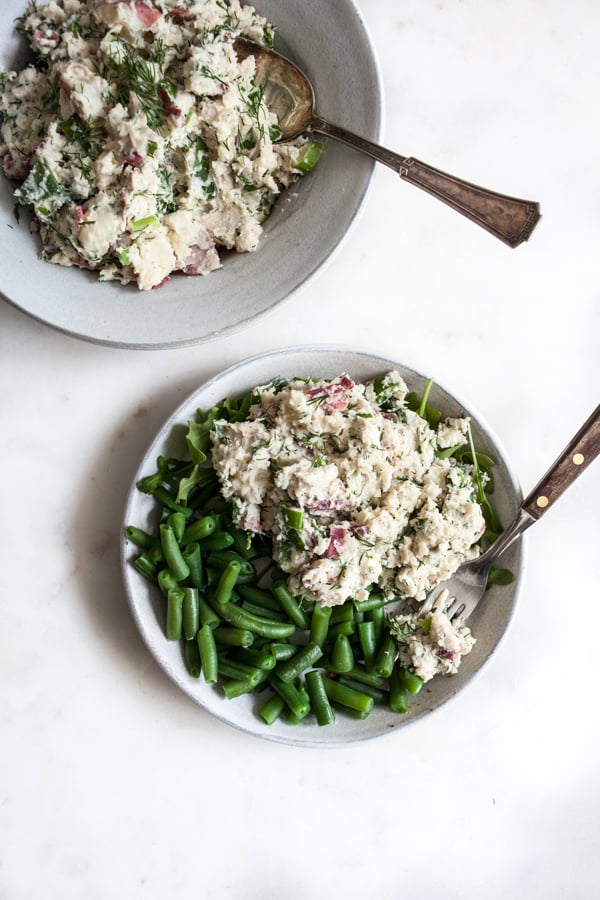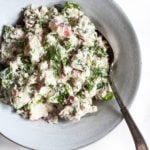 Red Potato Salad with Creamy Cashew Dijon Dressing & Dill
Author -
1 1/2

lbs

red potatoes

skins on, cut into 1-inch pieces

2/3

cup

raw cashews

soaked for at least 2 hours and drained

1/2

cup

water

2

tablespoons

Dijon mustard

2 1/2

tablespoons

apple cider vinegar

1/2

teaspoon

+ small pinch salt

1/4

teaspoon

freshly ground black pepper

1

small clove garlic

optional

1/2

cup

finely chopped dill

1/2

cup

chopped green onion tops
Bring a large pot of salted water to a boil. Add the potatoes and boil for 12-15 minutes, or until they're fork-tender. Drain.

While the potatoes cook, process or blend together the cashews, water, mustard, vinegar, salt, pepper, and garlic (if using), till the ingredients are completely smooth.

Pour the creamy sauce over the potatoes and use a large fork fold it all together. The potatoes should retain some shape, but the fork will partially smash them up as you mix. Fold in the green onion tops and dill. Taste the salad and adjust the salt, vinegar, and pepper to your liking. Serve.
Leftovers will keep in an airtight container in the fridge for up to 3 days. The salad can be prepared a day in advance.
The salad is perfect with some fresh green beans, your favorite veggie burger, or any other traditional summer fare. And I think the leftovers taste even better after a night in the fridge.
Whatever your plans are this weekend, I hope they involve good food and rest. I'll be checking in on Monday for weekend reading this week–till then, be well.
xo