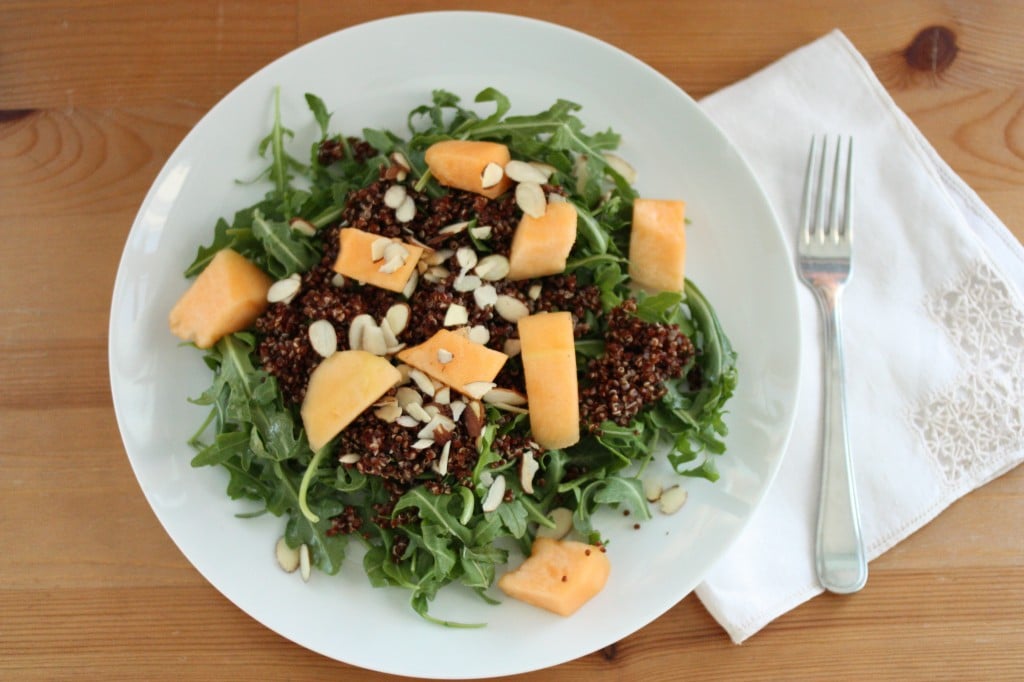 Good morning and happy Monday! I hope everyone had a nice and restorative weekend. I hope everyone feels jazzed up about green soup, and all of the wonderful variations that can emerge from it.
Last week, I found myself with an abundance of melon. Not only watermelon, which was teeming in my fridge and my freezer and very often being blended into a frosty, but also fresh cantaloupe. I tend to overlook melons a lot in the summer, largely because I'm so totally enchanted with berries that I can have eyes for no other kind of fruit. But cantaloupe is really lovely: sweet, light, rich in vitamins A and C, and very hydrating. I often snack on it during hot summer days, but I was randomly inspired to put it into a salad, and I was really happy with the way it turned out.
Originally, I was going to call this a "breakfast salad," since that's how I enjoyed it. But of course this could be an anytime-salad. You can make it more complex with the addition of hemp seeds, legumes, or fresh herbs, but it's very nice with this simple preparation, too. I love the way nutty, chewy quinoa contrasts with the juicy and mellow cantaloupe. Almonds add crunch and seem to bring it all together; they're a favorite for breakfast salads in general.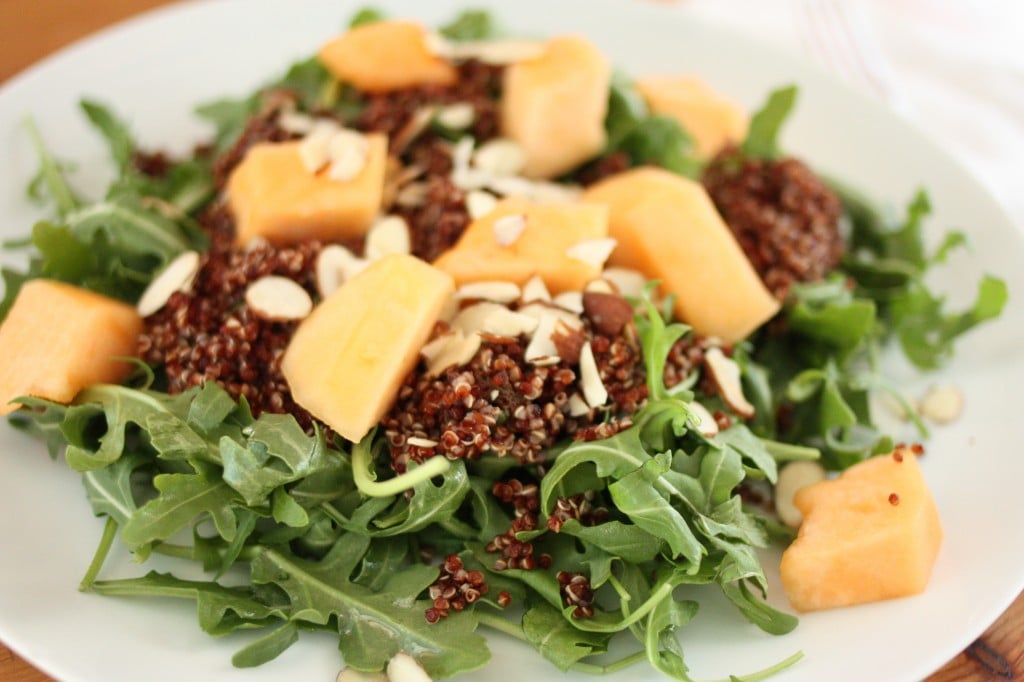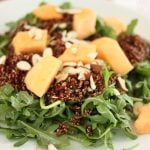 Red Quinoa, Almond and Arugula Salad with Canteloupe
Author -
1 1/2

cups

fresh cantaloupe

cut into 1 inch chunks

1 1/2

cups

red quinoa

regular quinoa is also totally fine

4

cups

arugula

1/4

cup

slivered

crumbled, or sliced almonds

2

tablespoons

flax

hemp, or olive oil

1

tablespoon

apple cider vinegar

1

teaspoon

maple syrup

Sea salt and black pepper to taste
1. Whisk together the oil, vinegar, syrup, and seasoning.

2. Divide the arugula, quinoa, and melon onto two serving plates. Sprinkle them with almonds and then drizzle the dressing over them. Serve 2.
Next time, I might add some parsley or mint to the salad (I've been putting mint into everything lately!). I love the texture of this dish:
I hope you enjoy this salad, at any time of day. This week, I'll be bringing you a summery new salad dressing, a bunch of quick lunch ideas, and a new restaurant review. I'll see you soon.
xo