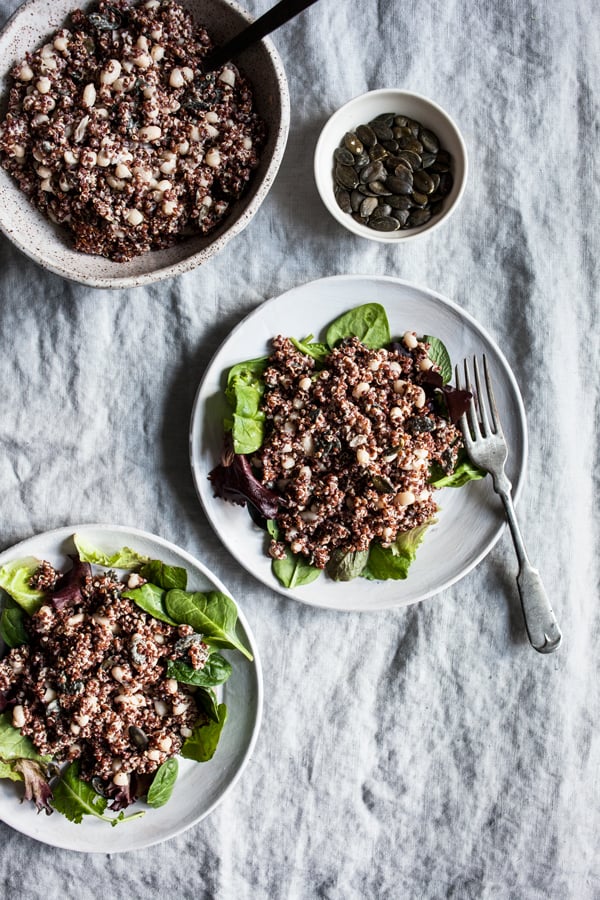 "Nutrient dense" is a term that gets thrown around a lot in plant based eating circles. This red quinoa, pumpkin seed, and tahini salad is a great example of a dish that's nutrient dense on many fronts–not to mention tasty, quick, and versatile.
Have you see the "ANDI" ratings at Whole Foods? That system is centered on the idea of nutrient density, but it's particularly focused on the ratio of nutrients to calories. Foods that provide more nutrients with less calories get higher ratings, and vice versa.
My own idea of a nutrient dense recipe or food is simply something that provides a lot of nutrition in one place. This might mean micronutrients, like vitamins, phytonutrients and minerals, or it might mean macronutrients, including protein, fat, and carbohydrates.
Thankfully, so many plant foods offer both micro- and macronutrient density in one healthy package. Take beans, for instance: not only a source of complex carbs and protein, but also packed with calcium, iron, and numerous vitamins. Or avocado: both brimming with healthy fat, and rich in fiber, Vitamin K, Vitamin C, Folate, Vitamin B5, and potassium.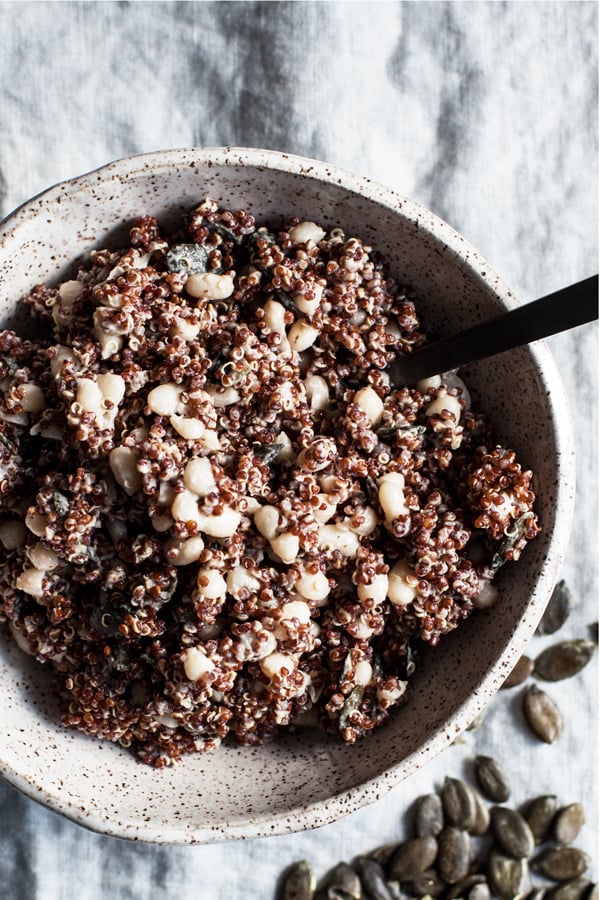 This grain, seed, and legume salad embodies plant-based nutrient density at its finest. It's rich in healthful fat, thanks to the tahini and pumpkin seeds, as well as both protein and carbs, thanks to navy beans and red quinoa. The pumpkin seeds provide phosphorus and zinc, while the quinoa is rich in folate. Both navy beans and pumpkin seeds are a good source of iron. And all of the main ingredients are rich in fiber.
You can scoop this salad over fresh greens and dig in. You can also serve it with toast, with sautéed leafy greens, or with a hot cup of soup. This recipe came together at a moment's notice: I'd just gotten back from traveling and had to throw together dinner with nothing but what was in my pantry. As usual, I had canned legumes, pumpkin seeds, tahini, and quinoa, and that's really all it takes to make a hearty, satisfying dish.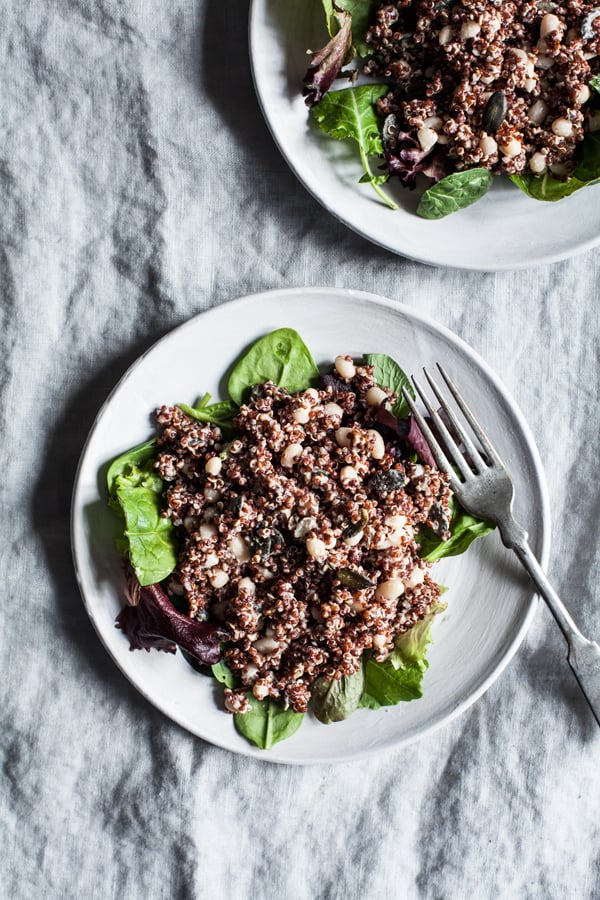 Red Quinoa, Pumpkinseed, and Tahini Salad
Cuisine:
vegan, gluten free, soy free, tree nut free
Author:
Prep time:
Cook time:
Total time:
1 cup red quinoa, dry (substitute regular quinoa)
1 1/2 cups cooked navy beans or chickpeas (1 can beans, drained and rinsed)
1/3 cup raw pumpkin seeds
1/4 cup tahini
1/2 teaspoon salt (or to taste)
2 tablespoons freshly squeezed lemon
1/4 cup water
1 small clove garlic, crushed
[i]Optional[/i]: 1-2 teaspoons fresh ginger, finely minced or grated, 1 teaspoon toasted sesame oil
Rinse the quinoa through a fine sieve. Add the quinoa and 2 cups water to a medium sized saucepan. Bring the water to a boil. Reduce the heat to low, cover, and simmer for 15 minutes. Remove the quinoa from heat, fluff gently with a fork, and re-cover. Allow it to steam for 5 minutes.
Whisk together the tahini, salt, lemon juice, water, garlic, and ginger and/or sesame oil, if using.
Mix the quinoa, beans, and pumpkin seeds together in a large mixing bowl. Pour the dressing over the salad ingredients. Mix well and serve as desired.
Leftover salad will keep for up to 3 days in an airtight container in the fridge.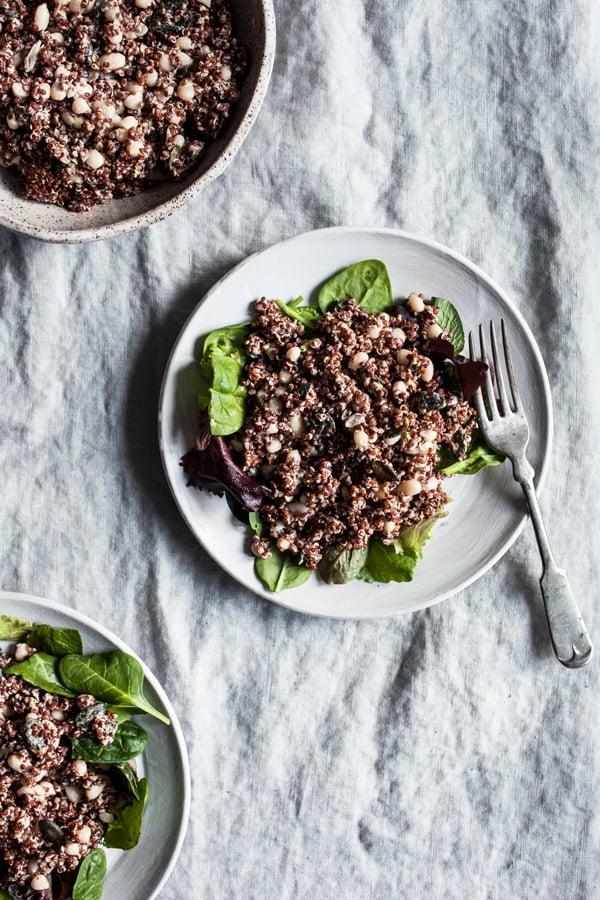 I'll see you back here tomorrow. And before I go, a quick note to thank you for a fantastic discussion yesterday! I've been meaning to write about supplementation and veganism for a long time, and I'm so happy that it seems to have been on other people's minds, too.
xo
Images for this recipe were updated in January 2017.