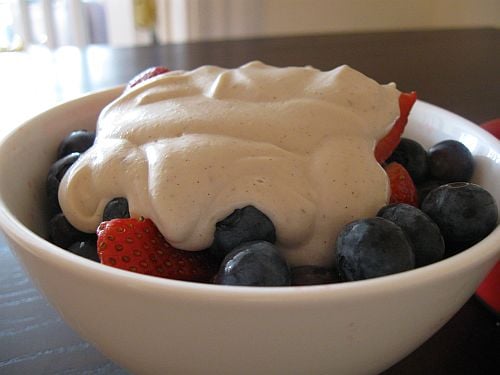 Happy 4th of July!
I'm taking a break from my exciting day of work, which will hopefully be punctuated by some fireworks later. As the scent of charred meat wafts up to my apartment from the Mexican restaurant below, I've been enjoying my favorite summer foods: fresh berries, jersey tomatoes, avocados, and lots of coconuts. With these colors in mind, and in honor of the day, I present a favorite summertime sweet treat!
My favorite July 4th ritual has always been spending the weekend with Chloe (my BFF, now living in NOLA) at her place in upstate New York, where we dutifully attend the local berry farm's strawberry shortcake festival. Work is keeping me in the city this year, but I can re-create at least that part of the experience: the Union Square farmer's market is bursting with summer blueberries and strawberries right now, and I have a fully stocked kitchen!
To make things a little more fun, I've concocted the following recipe for raw, vegan whipped cream. NB: this is no substitute for the airy, Cool Whip variety of whipped cream. Instead, it resembles homemade whipped cream, just before the thick peaks start to form and become fluffy: it's a rich, thick, and decadent concoction. The recipe is essentially a sweet spin on my savory cashew alfredo, and it's just as simple.
Raw Whipped Cream
Ingredients:

| | | |
| --- | --- | --- |
| Red, White, Blue, and Green: Berries and (Raw) Whipped Cream | | Print |
Prep time:
Cook time:
Total time:
Ingredients
1⅓ cup raw cashews, soaked 2 hrs
½ cup water
3 tbsp agave (or 2 dates)
½ vanilla bean (I threw the whole thing in my Vita; if you do this in a food processor, sub 1 tsp vanilla extract)
Instructions
Add all ingredients to a high speed blender and blend until absolutely smooth. Serve.
Notes
Whipped cream will keep in an airtight container in the fridge for up to 4 days.
This stuff is so decadent, it's hard to believe it's plant-based. Scoop over fresh berries or fruit, and enjoy!
Note the flecks of vanilla bean: mmmmm…
A nice alternative would be to serve the now-famous banana soft serve over your berries. Yum!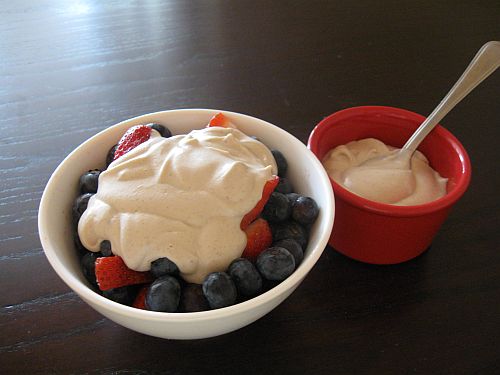 Have a great, celebratory night, everyone!
xo
P.S. …And thanks for the awesome responses to Melissa's interview! Keep them coming!