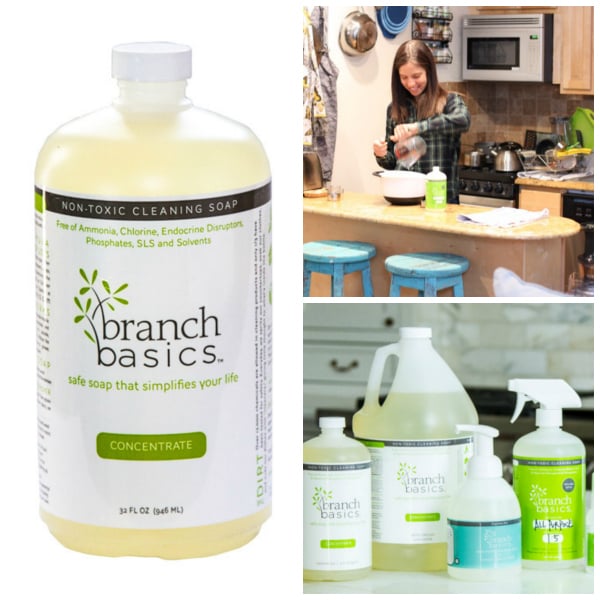 It's January, the season of squeaky clean resolutions. I'm not a fan of resolutions that involve detoxing or dieting or bikini body anything, but I am a big sucker for a clean home. In the last few days, I've had numerous urges to organize my apartment, to donate clothing, to finally put this or that up on eBay.
Whether or not I'll follow through with those things is anyone's guess, but house cleaning is a given. Fortunately, my cleaning routine has been given a fresh face in the last few weeks, thanks to Branch Basics and its incredible line of natural, plant-based cleaning products.
Growing up and in my early twenties, I never gave much thought to the household cleaners I used or what was in them. Like most people, I bought whatever seemed powerful and effective and made promises of disinfecting everything in sight. After I went vegan, I learned to be more conscious of my cleaning products, because I was scanning items for animal by-products or animal testing. I've tried a lot of so-called "eco friendly" household cleaners; some of them have been fine, others not-so-great. Branch Basics is the simplest, most effective, and most gentle product I've tested to date, and it's also one of the coolest companies I've come across.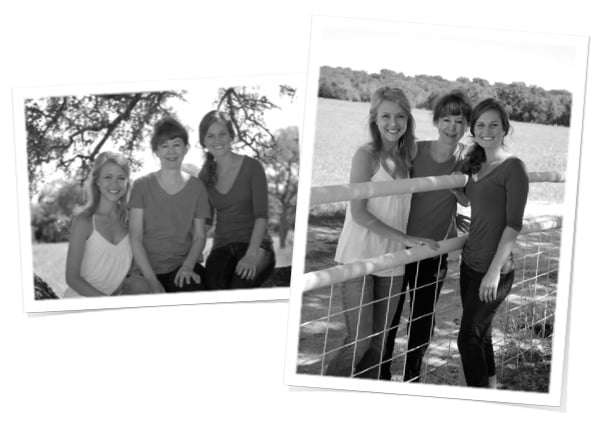 Branch Basics was co-founded by three passionate women: Marilee Nelson, her niece, Alison Evans, and Alison's best friend, Kelly Love.
Marilee was already a longtime advocate of clean, natural living. At a young age, she'd had a chronic kidney disorder, which left her facing dialysis and a kidney transplant. Lifestyle changes and healthful nutrition helped her to avoid those interventions. Years later, her ten-year-old son, Douglas, experienced symptoms of chemical sensitivity. Marilee deepened her knowledge of chemical exposure and pesticides, and helped her son to recovery (he's now a Naval Aviation Intelligence Officer, a father of two, and symptom free).
When Marilee's niece, Allison, started experiencing motor function loss and other mysterious symptoms as a college student, Marilee guided her through lifestyle and dietary changes–including avoidance of commercial household cleaners–that helped her to experience full healing. The experience had a tremendous impact, and Allison has dedicated her life to educating others about non-synthetic cleaners. Allison's best friend, Kelly, was inspired by her story and efforts, and she joined forces with Allison to help share the benefits of healthy living.
I love that this brand grows out of the shared passion of three women, and I love that their own healing stories inspired it. Branch Basics reflects the values and that Marilee, Allison, and Kelly have embraced in their own lives.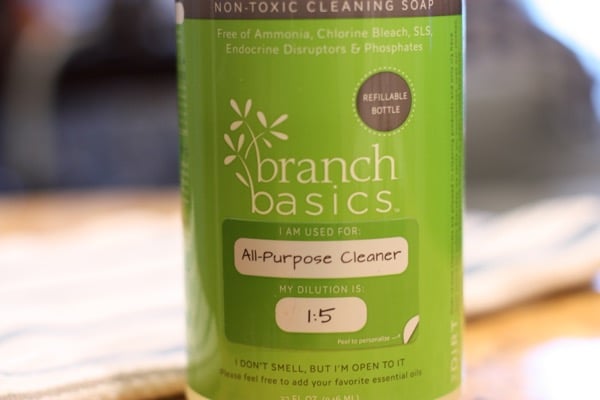 Branch Basics cleaning soap concentrate is a safe, all purpose, 100% plant-based formula designed to replace virtually every other cleaning product in one's home. You dilute the soap with water, and the plant enzymes get to work. They tackle dirt, dust, grease, grime, and residues from other household cleansers. The cleaning soap doesn't have to be kept out of the reach of children, and it's not harmful to lungs, eyes, or skin. It can even be ingested! The soap is made of food-grade, vegan ingredients. Check out the formula:
Purified water, fatty acids, coconut oil, minerals and enzymes derived from edible and seed-bearing plants.
The fatty acids and enzymes are all vegan–they come from edible, leafy green and seed-bearing plants!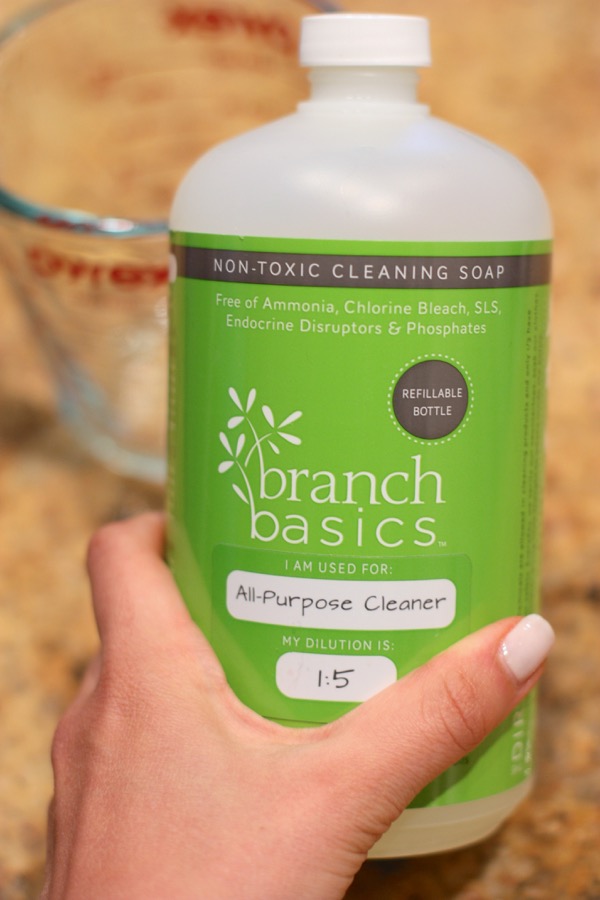 Here are some other highlights of the soap:
Versatility
Branch Basics can replace all cleaning products in the home. It cleans countertops, dirty laundry, showers, floors, stains, and even ovens.
Cost
The average cost of 32 oz "green" cleaners – many of which still contain chemicals – is $6.18 (or $0.20 per ounce) and their uses are very specific. A gallon of Branch Basics soap makes 24 all-purpose spray bottles (32 oz), costing $3.48 each, or $0.11 per ounce.
Efficiency
Branch Basic's plant enzymes penetrate oil and proteins effectively, and the product washes them away as soluble components. This enzymatic action allows Branch Basics to outperform many of the toxic solvents, detergents, and cleaning products it replaces.
Environmentally Friendly
The biodegradable formula uses purified water, and the plastic bottles it arrives in are reusable and BPA free. The product is non-GMO, too.
Safety
Branch Basics soap is free of dyes, sulfates (like SLS), foaming agents, colorants, solvents, preservatives, petroleum-based fragrances and other synthetic ingredients. It's also designed for people with chemical sensitivities and compromised immune systems, so it's 100% free of common food allergens (gluten, wheat, soy, dairy, corn, and tree nuts).
Pretty cool, right?
All of this information is impressive, but for me, the real test of the Branch Basics product was a few weeks of using it at home. As you can imagine, I work my way through a lot of splattered countertops and dirty dishes each week. I am happy to say that Branch Basics was an amazingly effective way to get everything clean. At first, I assumed I'd have to use a 1:2 dilution of soap to water (suggested for really tough grease), but the 1:5 dilution, which is the general suggestion, worked beautifully. I guess there is something to those enzymes!
Using Branch Basics is easy. You add 1 part cleaner (I usually used 1/4 cup) to a bowl (use something big enough to dip your sponge into):
Next, add your 5 parts water (for me, usually 1 1/4 cups–and yes, you can use kitchen measuring tools, because the product is safe!)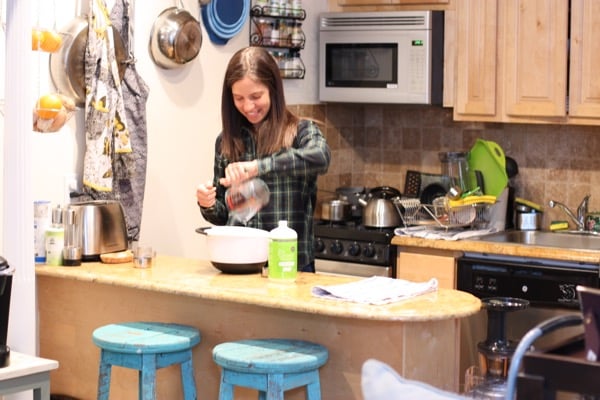 Mix it all together: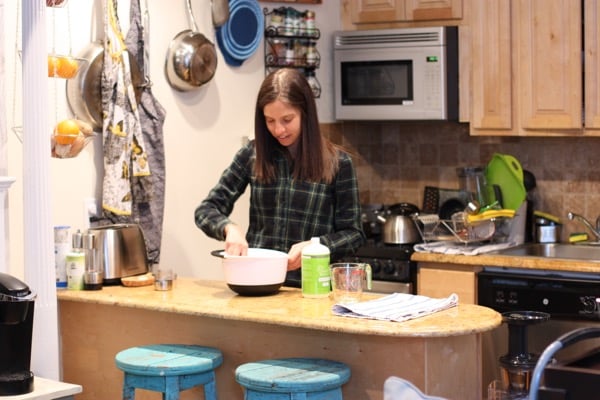 And then scrub your countertop or surface (or your dishes, or oven, or floors, or whatever!):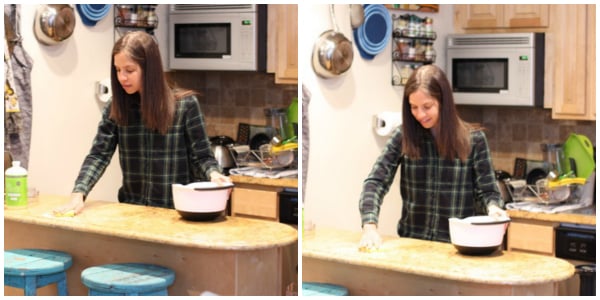 (Thanks to Steven for playing photographer while I cleaned!)
Using Branch Basics has been a great experience on a couple of fronts. First, it's a useful, effective, versatile cleaner, which is a win in and of itself. It's also not stinky, and it doesn't irritate my (uber sensitive) skin, which is also appreciated. Mostly, though, using Branch Basics has compelled me to think harder about my whole home environment and its impact on my health. In the last few years, as some of you know, my previously mild allergies went from occasionally bothersome to chronic and fierce. I assumed they were purely seasonal, until I finally saw an allergist and learned that many of them are actually indoor allergies (dust, roaches, and so on — which explains why my symptoms didn't usually "track" with those of people I know who are allergic to pollen and ragweed).
Since that experience, I've been more careful about dust and air quality, but I'm becoming more conscious of my home space overall, and a lot more determined to keep it safe for me and for Steven. (As an aside, the EPA has stated that indoor air can be between 1-2 and 100 times more polluted than outdoor air.) Using non-irritating, non-allergenic cleaning products is a part of that effort, and I'm happy to have it start and end with Branch Basics. I'd never have guessed that a product so simple could work so well, but it really does.
The folks at Branch Basics and I would love to give my readers a chance to peruse their products and check them out at a discount of 20%! If you buy anything from the Branch Basics website in the next week–including the large starter kit (concentrate, spray bottles, and hand foamer, an awesome value) or a single container of the gallon concentrate—you'll get a 20% discount with the coupon code of CR20.
To take advantage of this opportunity, simply enter the code CR20 at checkout anytime within the next week (now till 1/16). Start this new year off on the right foot with a clean, safe, and healthy home!
I'll be back later tomorrow with a new cookbook review. Till then, friends.
xo