Hey guys!
Glad you liked my autumnal menu, and glad (more importantly), that you'd like to see more. That's great!
I'm here to recap a very special event that I attended a few weeks ago, on October 19th. My friend Cassie asked me if I'd like to help volunteer at the Woodstock Farm Animal Sanctuary's annual Thanksliving event, which is held, perhaps symbolically, on a date that's somewhat distant from the actual holiday. The event is meant to raise money for the Sanctuary, to spread awareness about factory farming, and to strengthen the vegan community.
What's the Woodstock Farm Animal Sanctuary? Nestled in the Catskill mountains—in the town made infamous by peace, love, and rock n' roll—the Sanctuary is home to farm animals—turkeys, chickens, goats, pigs, cows—who've been rescued from neglect, abuse, and abandonment. The evils of factory farming are extraordinarily well documented online and in print, and they're being decried more and more each day, so I won't give a full account of the atrocity here. But for those of you who haven't read much on the topic, farm animals are the most abused and exploited group of animals in the world. Their death toll is 10 billion yearly—that's 19,000 per minute, if you can fathom it.
In 2004, Jenny Brown and her husband, Doug Abel, moved to Woodstock. Both worked in film; Jenny had been a TV producer, while Doug was (and still is) a film editor whose credits include work on The Fog of War and "30 Rock." Jenny was a longtime vegetarian and a vegan of several years, and she'd been volunteering for PETA and Farm Sanctuary since the 90's. As she developed more and more compassion for farm animals and their plight, she decided to learn how to run a sanctuary on her own. Jenny and a group of devoted, tireless volunteers began work on the Woodstock Farm Animal Sanctuary, taking in rescues from all over New England, while Doug edited and worked furiously to cover the cost of the mortgage.
Today, the farm is a refuge for one hundred fifty animals, and in particular for animals that are rescued from the over one hundred slaughterhouses and live kill markets in New York City. It's also home to some of the most dedicated and hard-working volunteers and staff members I've ever seen as part of any charitable organization. On top of all of that, it's scenic, beautiful, and harmonious; a beautiful place to visit, if only for the landscape.
So naturally, when Cassie asked me if I wanted to tag along and help, I responded with an enthusiastic yes!
I've known about Cassie's work on the farm for some time now; she volunteers often, and even leads tours for visitors. I've admired this work from the sidelines. Cassie is one of the most ardent vegans I know, and I really marvel at her devotion to the cause. As someone who's always been vegan for primarily nutritional reasons, rather than ethical ones(more on that below), I've sometimes felt a bit like a fraud participating in the kinds of activism that Cassie commits to. But one can never increase one's contribution to a good cause without taking a trepidations first step, and I was excited to learn more about the Woodstock operation under Cassie's encouraging eye.
Cassie, her boyfriend Andy, her brother David, our friend Jen and I drove up to Woodstock on a Saturday afternoon. We planned to spend the day helping to prepare the farm for what would be hundreds of guests on Sunday. I'll admit, I was a little scared: it was an unseasonably cold weekend in October, and the forecast had predicted snow! It wasn't snowing when we arrived in Woodstock, but it was pretty cold, and we all bundled up for an afternoon of farm work.
Before we did, Cassie took me around the farm to see the animals. First, we stopped in on the pigs. I had no idea that pigs are veritable giants! They're huge. Apparently, most pigs are never given the chance to reach full size, which is why we don't often realize just how enormous they are. Enormous or not, they're really adorable—even if all they did in my presence was sleep.
Next, we stopped in on the goats. Cassie introduced me to her favorite goat, Fern, while I did my best to remain standing in a flock of very friendly—perhaps overly friendly–goats who were trying to eat the dried alfalfa I'd brought with me to share. Some outtakes:
Next, we checked out the cows. Near to the cow field is an abandoned veal crate, along with a sign that details how veal is produced. I'd read this before, but a reminder about the abuses of veal production was still stirring.
Cassie and I lucked out with a warm job that night: we folded merchandise and sipped tea inside the farm office and store, while Andy and David did outdoorsy chores, and stopped in on us routinely to warm up. Jen made about four hundred vegan meatmalls in the kitchen. By 7:45, we were all tired, and I was becoming hangry, so we called it a night and drove into town to meet up with our friends Kathleen and her boyfriend, who had just gotten engaged at a bed and breakfast nearby! Dinner was at the Garden Cafe, an awesome vegetarian restaurant nearby. It was restorative, and we woke up the next morning ready to work.
When we arrived at the farm, we were broken up into different stations: Cass and Jen were selling merchandise, while David, Andy and I were put on the wait staff. This meant a lot of carrying trays and a lot of busing tables, but I knew it would also mean a lot of free food!
The menu for the event featured donations from Blossom and Candle 79, among other great New York City restaurants. The menu included homemade vegan meatballs, black eyed pea cakes from Blossom, dumplings from Candle 79, seitan skewers, roast autumn vegetables, faux turkey with cranberry sauce and vegan stuffing, and three cakes (pumpkin, peanut butter, and chocolate layer) for dessert. Hello, abundance. Can you imagine a better Thanksgiving feast?
The morning was spent in a blur of table setting and squatting in front of the giant heat lamps that had been brought in to heat the tent. We all waited for snow and cold – it was misty outside, but not quite bad – as the guests began to arrive. VIPs of the day were the MC, comedian Dan Piraro:
Nathan Runkle, Executive Director of Mercy for Animals, John Phillips of the New York League of Humane Voters, and Jenny herself. A giant raffle was set up in the center of the room, including more incredible vegan swag than I can do justice to here: I don't remember it all, but included a cool bat from Matt and Nat; an entire Dr. Bronner's basket; a cookbook basket; spa getaway weekends and free treatments; various bath and body products; a varied gift basket from Herbivore; and (the one I coveted the most) a free 30 class card to Jivamukti yoga!
As visitors piled in, my fellow servers and I began passing out the tasty appetizers. That's me with my fellow server, Sarah. (Thank you, Sarah, for saving my hind when I had no clue which table needed food and which didn't):
And a cute photo with Cass:
After the visitors had done away with vegan stuffed mushrooms, seitan and gardein skewers, the ridiculously tasty black eyed pea cakes, and the rest of the apps, we hunkered down for table service.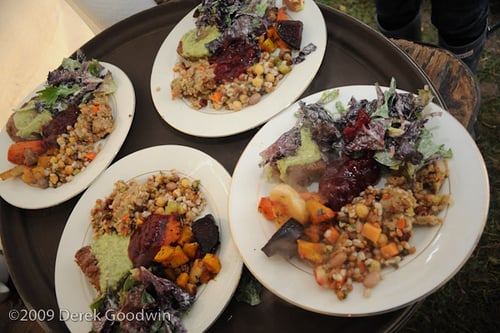 Who says vegan Thanksgiving isn't even better than the norm?
As lovely as it was to marvel at the food, the trays were heavy! And the appetizer trays had been twice as heavy. So that quizzical look on my face is not only me thinking "WOW, that looks a whole lot like real turkey, doesn't it??" but also me thinking "I'd better try really hard to look as though I'm not about to drop these four plates of food on the ground."
But I didn't.
As I served the hungry diners their tormenting fragrant and warm food, I got to hear John Philips argue eloquently about the need for legislation to protect animals
and Nathan Runkle describe the real atrocities of the factory farm system.
Finally, Jenny came up to bid her guests a good afternoon and to say a few words about the farm. After sharing a really poignant slideshow about the year's notable rescues (including Fern, who'd arrived with a very broken leg), Jenny reminded her audience of why veganism matters to her. "This isn't," she said, "about having a perfect bowel movement, OK? Veganism is about the animals."
This statement, of course, could have been written for me. While I've always felt very good about not contributing to animal slaughter, and while I take pride in the environmental impact of my veganism, I've always been a vegan for health reasons. My weekend at the farm didn't take away from my excitement about the health benefits of veganism, but it did compel me put my veganism in a different context, and it put animals at the forefront of my consciousness.
The weekend also made me think about how peculiar it is that our society values our pets on the one hand, and abuses and consumes farm animals on the other. As Nathan Runkle and Jenny both made abundantly clear, and as Jonathan Safran Foer is stating firmly in his popular new book, Eating Animals, farm animals are as sentient and deserving of compassion as our own dogs and cats. To lavish attention on pets, and consume animal flesh at without discrimination, is a contradiction in terms.
My weekend in Woodstock only gave me more compassion for farm animals (and the people who work to help them). And that compassion is certainly forcing me to redefine the terms of my veganism. What I know for sure is that I'm no longer comfortable saying that I'm vegan only for health (and personal taste) reasons; that felt honest a few years ago, but it doesn't feel honest now. I'm sure many vegans who began as vegetarians can recall the "slippery slope"—you think you're just giving up meat, but over time, you simply can't stomach or feel great about milk or cheese anymore. So too with the ethical dimensions of veganism; it's hard to do it for a long time without coming to terms with the fact that the lifestyle really is about compassion, as well as health.
In any case, I'm grateful to Cassie (and other vegan friends of mine) for helping me to confront some of the little inconsistencies and fears of commitment in my own vegan stance. Here in the blog world we so often talk about women and men who inspire us. Cassie inspires me as few friends do; she's as passionate bout animal suffering as she is about helping to alleviate human illness and suffering, and she's consistent in all ways vegan. I'm inspired by her commitment and lack of apology, and I want her to know it!
My friends and I left Woodstock on Sunday with happily full bellies; after an hour of busing tables, we finally got to devour the leftover food. I helped myself to mountains of perfectly roasted fall vegetables, a big mesclun salad with avocado and carrot dressing from Candle 79, and sampled the very extraordinary vegan peanut butter cake (YOWZA–check out the dessert table before we volunteers had had our way with it!).
As soon as I got back to the city, I dove into my amazing schwag bag from the event, which included vegan soap, herbamare (one of my favorite products, ever), an Alternative Baking Company cookie, Endangered Species chocolate (thank you, Jenny), a vegan keychain, natural tampons, natural dishwashing liquid samples, a gluten-free snack bar, vegan parmesan, and a whole lot more that I'm now forgetting. It also included one of the new mini-Larabars, which I imagine to be a nice dessert, but I really can't fathom as a snack—it's tiny!
I'm sending a huge thank you to Jenny and Doug for their hospitality at the farm that weekend, to Cassie for bringing me, to the guest speakers for inspiring me, and to the weather for not snowing on me, after all.
I'm leaving you with pictures taken by the lovely Derek Goodwin, who captured the event in perfect detail, and walked around with a sticker that said "vegan paparazzi" all weekend. Word. You can check out Derek's own website for more on his work.
To read more about WFAS, please check out their website here. It includes information about factory farming, about the farm's resident animals, and about volunteering.
Have a great night, all.
xo