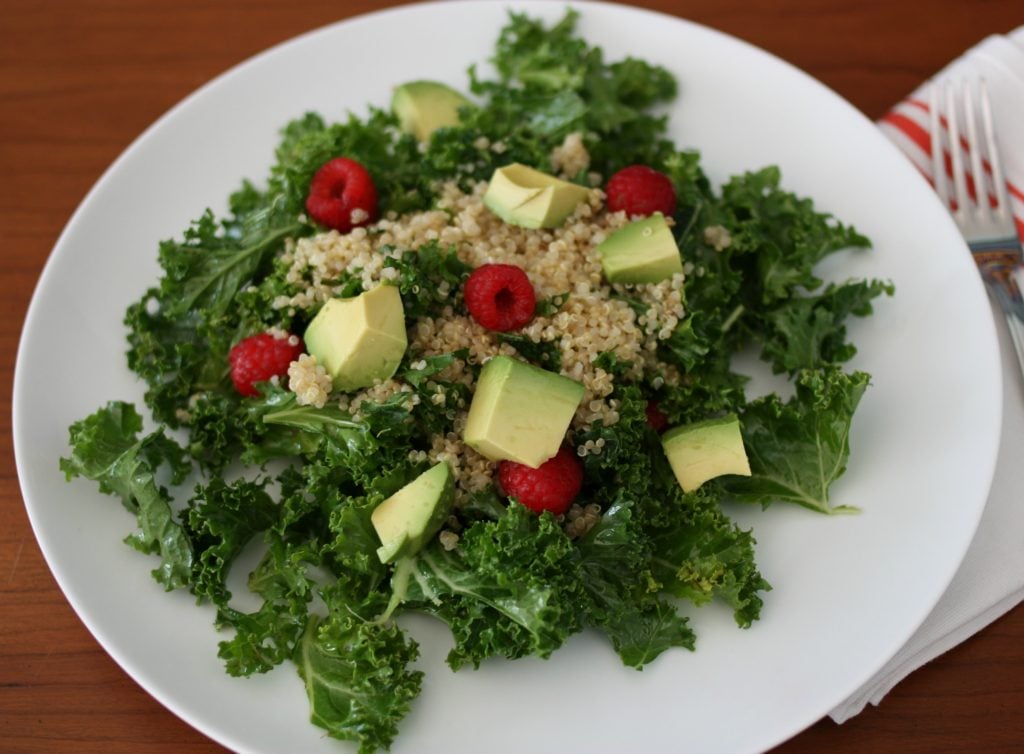 In spite of the fact that, as of Friday, days are now destined to grow shorter, it still feels as though summer is just kicking off. With that feeling comes delight in summer cooking (and uncooking). Berries, greens, stone fruits, and (my favorite) tomatoes: there are so many marvelous seasonal fruits and vegetables to put to use.
Like many folks, I love smoothies in the summer months. They're easy to prepare, wholesome, and a wonderful way to pack in greens, superfoods, protein, and healthy fat. That said, I'm also somebody who loves to chew, and smoothies, no matter how dense or filling, often leave me feeling slightly dissatisfied. On days when sipping isn't destined to satisfy, I turn to grains, warm cereal, chia pudding, and–especially in the summer–breakfast salads.
"Breakfast salad" sounds specialized, but it's just a fancy way of saying "a salad eaten for breakfast." You can use any of the ingredients you'd use in a regular lunchtime or dinnertime salad, though I personally often feature fruits in my breakfast salads. I also like to keep things seasonal: sweet potatoes and winter squash make for hearty winter and autumn breakfast salads, while stone fruits, berries, and avocado are wonderful in the hotter months. As with all of my meal sized salads, I keep an eye on getting a good helping of healthy fats, protein, and carbohydrates.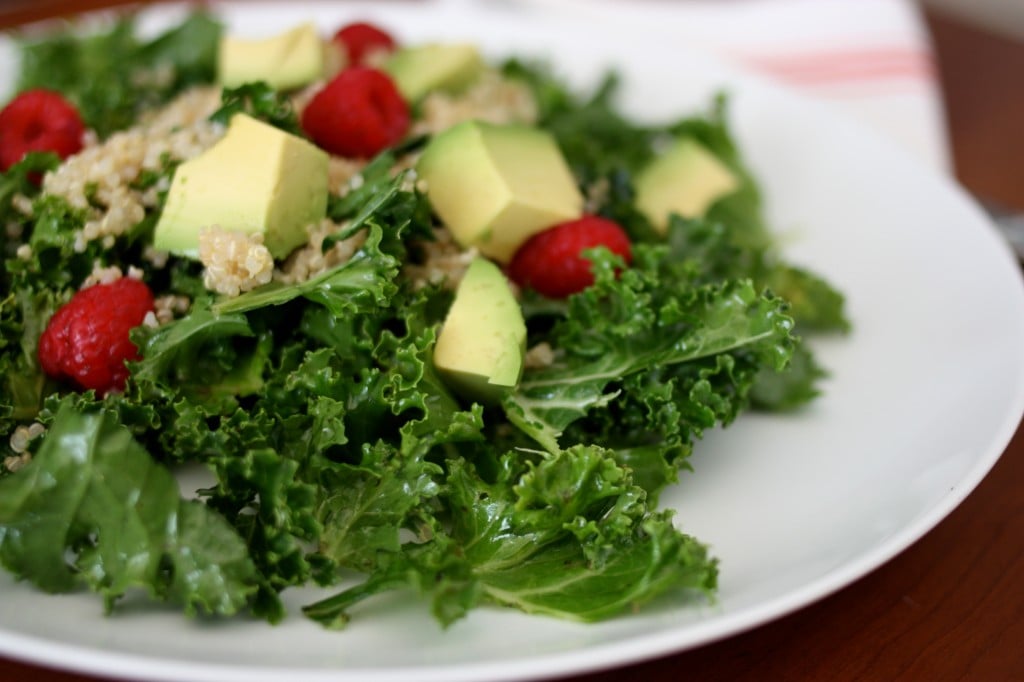 I often enjoy my quinoa confetti salad for breakfast, but yesterday, I was craving something a little more fruity. This salad, which features quinoa, raspberries, avocado, and kale, emerged. It's delicious, simple, and quick to prepare if you have some batch cooked quinoa handy.
Refreshing Quinoa, Avocado, and Raspberry Breakfast (or Anytime) Salad
Author -
6

heaping cups kale

stems removed, washed, dried thoroughly, and chopped into bite-sized pieces

2

tbsp

lemon juice

2

tbsp

olive

hemp, or flax oil

2

tsp

agave nectar

Sea salt and black pepper to taste

2

cups

cooked quinoa

1

pint

2 cups raspberries

1

large Haas avocado

pitted, flesh cut into chunks
Place kale in a large mixing bowl. Add the oil, lemon, agave, salt & pepper, and agave. "Massage" thoroughly with hands, till kale is softened.

Plate kale onto four plates. Top with half a cup of cooked quinoa, half a cup of raspberries, and a quarter of the avocado.

Serve 4 (recipe can easily be halved).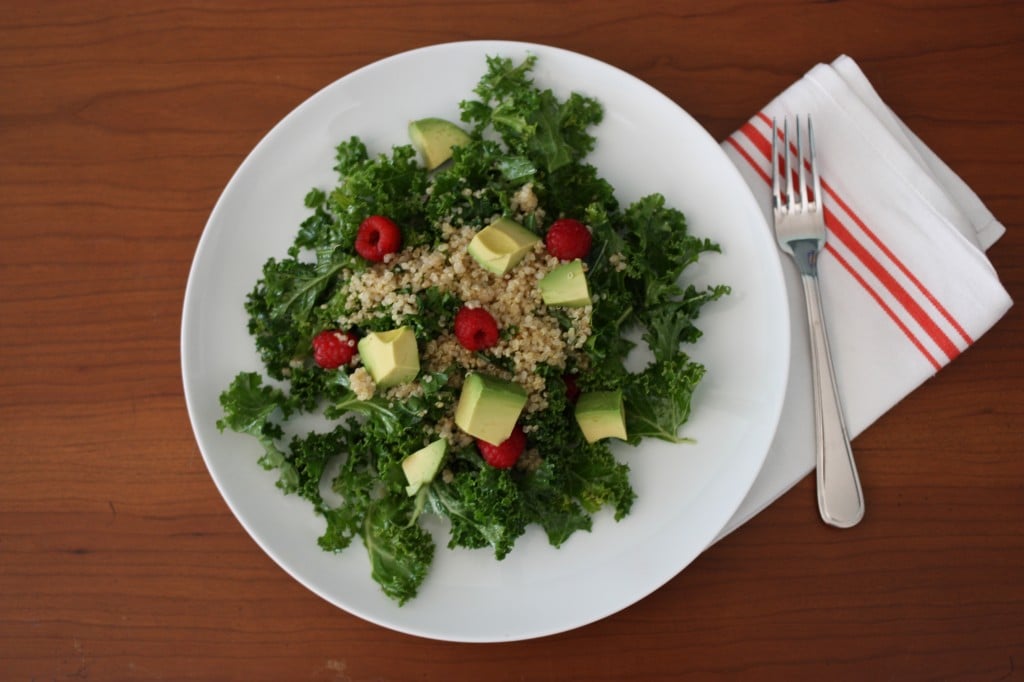 Hemp seeds, toasted walnuts, or sunflower seeds would all be good additions. And of course, you can swap strawberries for raspberries, add whatever kinds of produce you like, and modify it in other ways to make it your own. I hope you enjoy it, and needless to say, this salad is delicious at anytime. You needn't limit yourself to breakfast!
xo