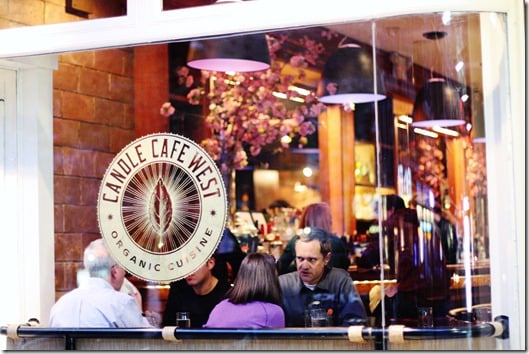 You may have recently seen a tweet or Facebook post from me that looked something like this:
"OMG!!!!!!!!!!! Candle Café is opening an UWS location!!!!! OMFG!!!!!!!!!!!!!!!!!!!!!!!!"
Sorry folks. It was hard to contain myself; you see, as you all know, the Candle empire is just about my favorite place to eat in NYC. Candle Café, the more casual, neighborhood flagship on 3rd Avenue, is home to some of the simplest and the best vegan food in NYC. Candle 79, located on 79th street, is a fancier, more "fine-dining" kind of spot. I love both restaurants for different reasons: Candle 79 is my favorite place to celebrate special occasions, and it's also my favorite place to show omnis how amazing vegan food can be. Candle Café, on the other hand, is the sort of place I could eat lunch at every day, book in hand.
Candle Café West is pretty much an amalgam of the two restaurants: the menu mixes items from both restaurants, and the atmosphere is neighborhood-y, but elegant nonetheless. Add to this the fact that the neighborhood in choice is my neighborhood, the Upper West Side of NYC, and you basically have a recipe for Gena-bliss—hence  the enthusiastic shouting on social media. Since I learned of the restaurant opening, I've been dying to go, and two weekends ago, when I was in NYC for Easter/Passover, I finally had a chance to.
My dinner date for the night was my friend Jordan, whom I've known since our days as Columbia undergrads. My experience of most college friendships is that they burn hot and bright for four years, and fade a little over time. Not so with me and Jordan: our friendship has actually grown and become much deeper over the years, in spite of the fact that we live on opposite coasts. Not only is Jordan one of the smartest and most hilarious people I know, but he's also one of the few people to whom I can text a random Woody Allen movie quote, and be confident that I'll get a text back with the punchline only a moment or two later. We're kindred spirits.
Jordan has been an enthusiastic supporter of CR just about since I started it, and he's always kind enough to eat vegan with me. A recent text exchange went something like this:
Gena: Do you mind if we eat at a vegan restaurant?

Jordan: Ugh. I had already made reservations at Peter Luger.
That was sarcasm, and I'm grateful it was, because it meant that Jordan got to test out Candle Café West with me.
I'm a bit of a boring restaurant diner in that I usually stick to tried and true dishes. There are exceptions, but I almost always get the same, simple stuff when I eat out: giant salads and sushi at Pure Food and Wine, and the "good food plate" at Candle. The latter is just a mix of four sides and two of Candle's amazing dressings. I'm also very partial to the Candle Café summer rolls (tempeh, avocado, veggies, rice paper, amazing amazing peanut sauce), so Jordan and I started with those:
Delicious as always!
And my "good food plate" of the night was roasted beets, quinoa pilaf, steamed broccoli, and steamed greens with carrot ginger and tahini dressings on the side. I polished it off with a smile.
See? Smile!
For his part, Jordan got the ginger miso stir fry (now available in the freezer section of a Whole Foods near you!) and thought it was great.
Being at any Candle location feels like home, and this was no exception. I was also really impressed with the service; our waitress was sassy, smart, and though she quickly realized that she had a devoted vegan on her hands, I heard her doing a lot of  enthusiastic Q+A with other diners who were new to veganism. She shared her obvious passion for the lifestyle with tremendous subtlety, and answered questions like "do you miss cheese?" with panache.
It's worth noting that all of the food at all of the Candles is organic and as local as possible. In addition, the restaurant is Green certified, and the Candle team partners with numerous activist organizations, including Farm Sanctuary and The Coalition for Healthy School Food. It's also worth saying that Bart Potenza and Joy Pierson, the owners, are beacons of light and activism within NYC's culinary orbit. They're wonderful people (I know, because I've had the pleasure of meeting them), as are their COO, Benay Vynerib, and their Director of Business Development, Mark Doskow (also a good friend). It's great to see such an intelligent, passionate, and altruistic team of people sharing good food with the world.
As usual, I'm honored to sit at a Candle table. I can't wait for my next visit—and you can be sure there will be many of them. New Yorkers, and those who visit: get there!
xo