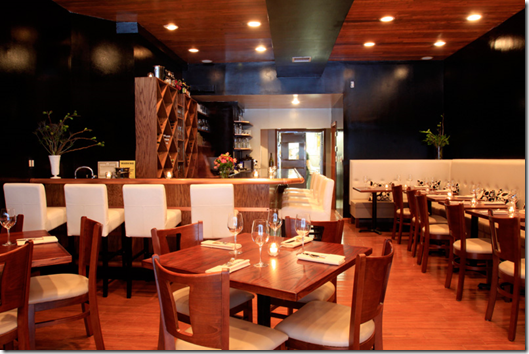 Hey all!
Thanks for the words of sympathy about the Vita. It did feel like a minor tragedy at first, but I'm continuing to enjoy my Vita-less time for its novelty. And I'm definitely still enjoying the pesto.
So, it's been a while since I wrote a restaurant review. A few weeks ago, M and I visited V Note on the Upper East Side, which is a sister restaurant to my regular favorites, Blossom and Café Blossom. I'd been meaning to go for a while, but my Groupon was a good excuse to get moving! (What a strange New Yorker I am; you have to force me to eat out, rather than dine in, and it's not just about finances.)
The décor at V Note is classy, and the mood is cozy, though the combination of a wet and blustery night and a door that kept getting blown open by the gusts outside made it hard for us to relax. I was also taken aback by the black, shiny walls, which made me feel as though I was 18 again, and listening to this single:
My usual MO in restaurants is to go with an appetizer and an entrée, because I assume that most portion sizes will be stingy. On this night, I rolled the dice and hoped that V-Note's portion sizes would be adequate, and went with two appetizers. First was the wilted spinach salad with corn, shitake, tempeh, cashews, and a warm balsamic vinaigrette: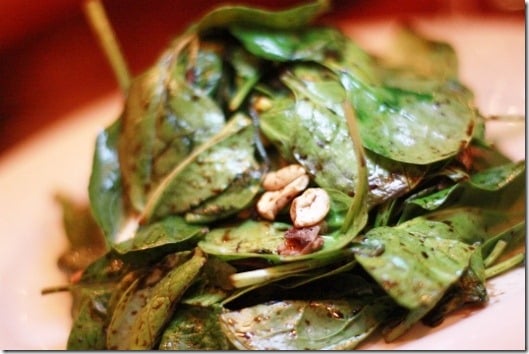 And the second was the "lentil rings"—lentils in a phyllo roulade with a mustard sauce: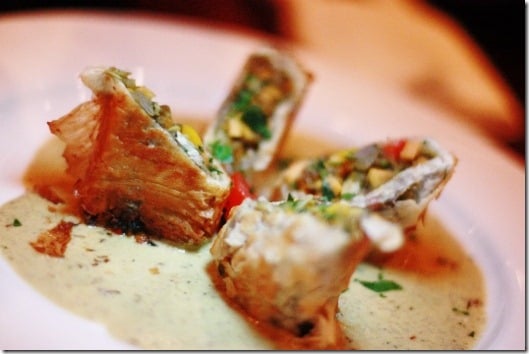 For his part, M got the pistachio and pepper dusted tofu: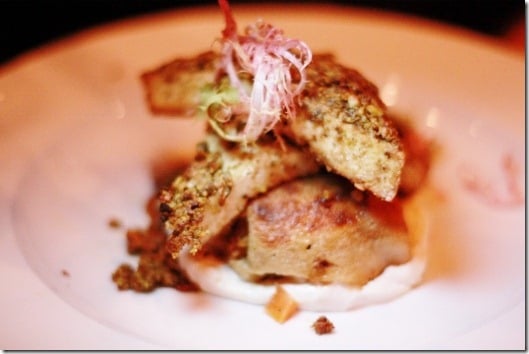 Our verdict? Fair. I was right to trust in V-Note's portion sizes, which were more than generous, and I thought my lentils were great! The salad was fine, though the dressing could have been a little creamier. M seemed happy with his tofu, but it wasn't as sanguine a reaction as I'm used to when he's really thrilled.
Of course, the problem with living in a city where incredible vegan options abound is that one is prone to be spoiled. Under most circumstances, I'd call V-Note a really solid meal: compared to Candle 79 or Pure? Great for a neighborhood dinner, but not necessarily the spot for a special occasion.
For reasons that will soon become clear, I'll be doing more than the usual amount of restaurant dining in May, and I'm pretty excited to revisit some favorites (Quintessence, Candle Café) that I haven't been to in a while. I'll also be making stops at the haunts (Candle, Pure, Souen, Angelika Kitchen) you read about frequently here at CR. And of course, I'll be writing about it along the way.
New Yorkers, where have you eaten recently? Any new vegan spots I ought to try?
xo