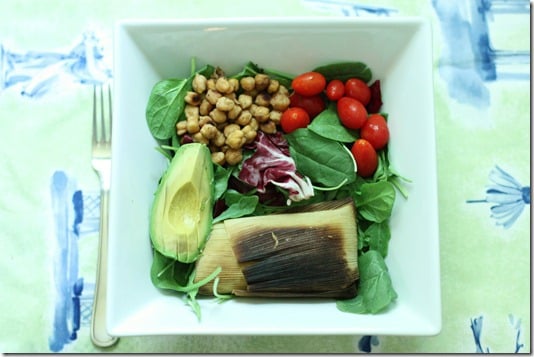 Hip hip hooray for tortilla enthusiasm! So glad you liked the recipe yesterday.
In my opinion the star of those tortillas is the crispy, crunchy, toasted chickpeas. Toasted chickpeas are not a new idea; you've likely seen them roaming the blogosphere before. But they are one of those things—like banana soft serve or kale chips—that are so exceptional in their simplicity that it's worth making them again and again, and marveling each time over how good they are.
To roast chickpeas, I start with 2-4 cups of cooked chickpeas. You can use canned and BPA free, or you can make them from scratch. I usually use a tablespoon or two of oil (coconut or avocado are my top picks), some tamari (about a tablespoon, too), spices of choice (cinnamon, cumin, paprika, oregano—anything you're in the mood for) and some pepper. Spread them on a parchment lined baking sheet, and let them bake at 375 degrees for 35 minutes or so (check on them after 20 and give them a stir; if they start to burn, take them out).
The tortillas I shared called for two cups, but a good rule of thumb for meal planning is that, if you've made a food before and loved it, or if you suspect you'll love it, make double. You can always freeze extra. Thus, when I made chickpeas for the tortillas, I made four cups and saved two, which appeared in two spectacular lunch salads. One was a mix of toasted chickpeas, millet, veggies, my leftover simple creamy raw dressing, and avocado, along with some of my almond oat and goji protein bars: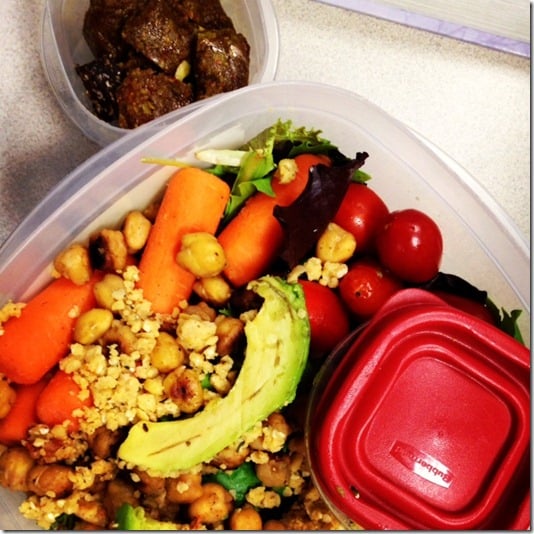 A nice sampling of leftovers, eaten in my library cubicle (apologies to my undergrad neighbor for all of the crunching!).
Today, I ate lunch from home. It featured the chickpeas again, along with avocado, tomatoes, and a leftover vegan corn tamale I bought in a Mexican market over the weekend! Very tasty.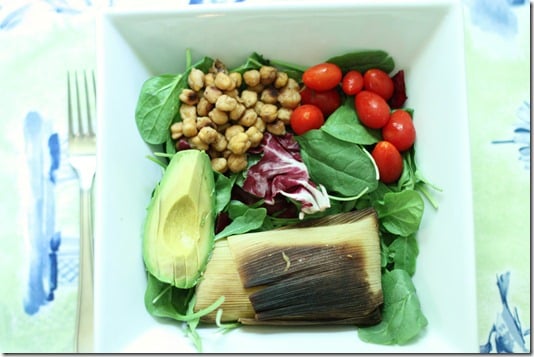 Yum. I had the very last of my dressing left for that one, too, but as my reader friend Elizabeth noted in a recent post, all you need is acid and fat to make a salad sing. If you're rushing and don't have dressing, simple lemon, salt, and olive oil will do, as will lemon, salt, and avocado (or a vinegar of choice).
I love when one batch of something very simple (like toasted chickpeas) lives on in a bunch of tasty and healthy meals.
Tomorrow, I'll have a favorite new autumnal smoothie. See you then!
xo