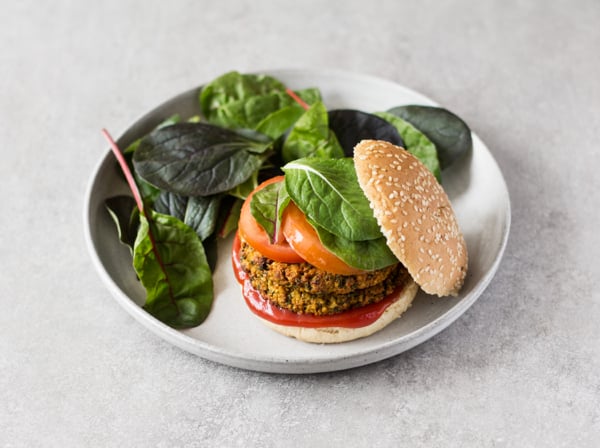 It all began when my boyfriend and I decided to have a contest over who could make the most creative and tasty veggie burger. I was nervous: I know a good vegan burger when I taste it, but my boyfriend is something of a veggie burger connoisseur.
All day, I wracked my brains trying to imagine what the best entry would be. Should I go with something traditional, like my foolproof tofu burgers? Something sweeter and softer, like my sweet potato and chickpea burgers? How about my homemade sunshine burgers? In the end, I decided to create a new recipe in the form of these ridiculously healthy millet, kale, and yam burgers. The idea was to take a bunch of nutritious ingredients that I adore, and shape them into a dish that screams comfort food. I think I succeeded.
These burgers aren't as simple as my foolproof tofu burgers are, but I think you'll find that they're easy to prepare if you work in stages (I cooked the millet and mashed the yams the night before), and they're certainly not challenging in terms of technique. They're gluten free, and they boast about ten grams of protein per burger.
Fans of my savory polenta stacks with black beans and greens and beans will also find plenty of similarities between that dish and these burgers: no surprise, given that both utilize a laundry list of my "dessert island foods." I hope you try them, and love them.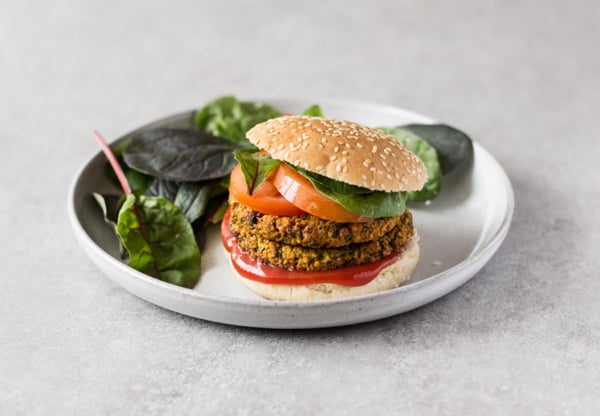 Ridiculously Healthy Millet, Kale, and Yam Burgers
Cuisine:
vegan, gluten free optional, soy free, nut free
Author:
Prep time:
Cook time:
Total time:
1/2 cup (uncooked) millet
2 small sweet potatoes
1 cup cooked chickpeas
1 cup kale, chopped
1 tablespoon ground flax meal
3/4 teaspoon salt
1/8 teaspoon black pepper
2 teaspoons ground cumin
1 teaspoon chili powder
1/2 teaspoon smoked paprika
1/3 cup vegan breadcrumbs (gluten free, if desired)
Preheat your oven to 400F. Prick the sweet potatoes each a few times with a fork and bake till tender (about 40 minutes). Decrease oven heat to 350F.
While the sweet potatoes bake, place the millet and 1 cup water in a medium sized saucepan or pot. Bring to a boil. Reduce the heat to low, cover, and simmer 20-25 minutes, or until the liquid has absorbed and millet is tender. Remove the millet from heat.
To prepare a flax "egg," mix the tablespoon flax meal with 3 tablespoons warm water. Allow it to thicken for 5 minutes.
Place the millet, chickpeas, and kale into a food processor fitted with the S blade. Pulse a few times to combine. Scoop the flesh of the two baked sweet potatoes into the processor, along with the flax "egg." Continue pulsing until the mixture is uniform.
Transfer the mixture into a mixing bowl. Add the salt, pepper, cumin, chili powder, smoked paprika, and breadcrumbs. Mix everything well with your hands, then shape the mixture into 6 patties. Transfer patties to a parchment lined baking sheet and bake for 25 minutes, flipping once halfway through. Serve with fixings of choice!
Leftover burgers can be individually wrapped and frozen for up to 1 month.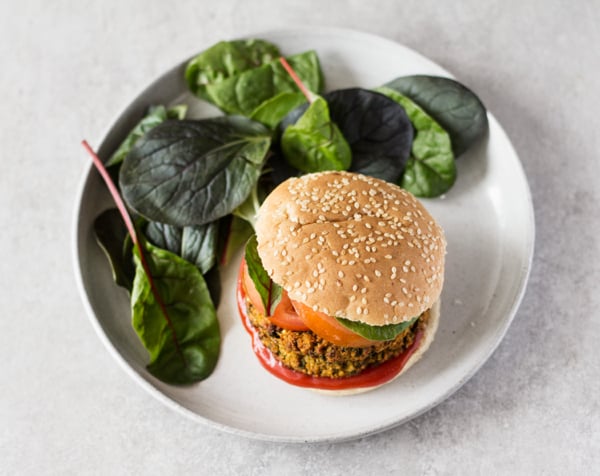 The first night we enjoyed these the old fashioned way; with Ezekiel burger buns, organic ketchup, and a big salad. But for the past few days, I've made lunches by placing a cooked burger atop a big green salad, and adorning it with a smear of sweet potato hummus. Yum!
These burgers ought to freeze nicely for at least a month, and they'll last in the fridge for at least four days. They're great, easy, portable leftovers! As for the burger competition, these guys were neck and neck with the boyfriend's, which were made of cooked buckwheat and beets. They were amazing, and my new goal is to replicate them. But that's a recipe for another time.
Have a happy, restful Sunday! See you back here tomorrow.
xo