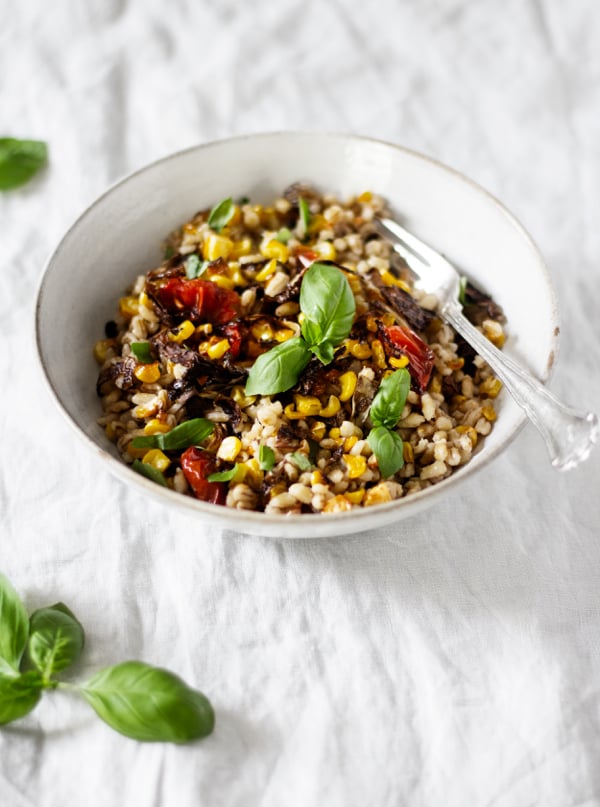 I've got about fifteen minutes remaining on this study break, and I'm afraid that such a small window of time won't allow me to do justice to this flavorful, summery roasted barley, corn, and radicchio salad with balsamic reduction. Still, in not too many words, I'll try to convey how tasty it is, how rewarding the chewy texture and the almost-caramelized veggies.
Barley is a grain that I don't cook often, but it's really fun to work with. It's the texture–the plump, chewy grains–that make it so distinctive and good. It also has an earthy flavor, and I love how that flavor contrasts i this salad with sweet corn and slightly bitter radicchio.
If you haven't tried roasting radicchio before, I know that it can feel like an odd idea. But I promise that the results are really great. Roasting brings out some sweetness in an otherwise bitter vegetable, and cherry tomatoes add both color and acid. Balsamic vinegar complements all of the flavors here, sour and sweet, and it's an easy way to dress up the veggies and grains.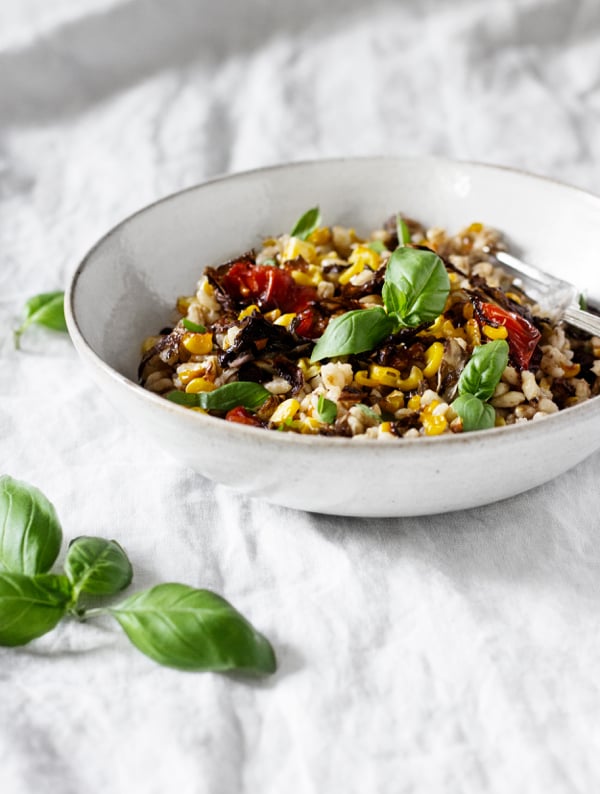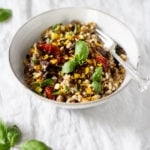 Roasted Barley, Corn, and Raddichio Salad with Balsamic Reduction
Author -
1

cup

barley

rinsed

1

pint

cherry tomatoes

halved

1

head raddichio

sliced into thick ribbons (about 3-4 cups total)

2 1/4

cups

corn kernels

about 3 ears corn

2

tablespoons

Salt and pepper to taste

1/4

cup

balsamic vinegar

1

tablespoon

sugar

organic cane sugar and demerara sugar are my go-tos

1/4

cup

chopped basil
Cook the barley according to package instructions (it should take 40-50 minutes).

While the barley simmers, preheat your oven to 400F. Line two baking sheets with parchment or foil. Place the radicchio and corn on one sheet and drizzle with 1 tablespoon olive oil, salt, and pepper. Mix with your hands to coat the vegetables. On the other sheet, place the cherry tomatoes, halved side up. Drizzle them with the remaining tablespoon olive oil and give them a pinch of salt and pepper, too. Place the vegetables in the oven. After about 10 minutes, give the corn and radicchio a stir. After 20 minutes--or when the radicchio and corn are turning golden and the tomatoes are soft--remove all vegetables from the oven.

While the vegetables roast, place the vinegar and sugar in a small saucepan. Bring to a boil and then reduce the heat to low. Simmer, uncovered, for 10 minutes, or until the vinegar has thickened and has the consistency of a loose syrup.

Place the cooked barley and roasted vegetables in a mixing bowl. Add the balsamic glaze. Toss the ingredients to combine. Add the basil and season to taste with salt and pepper. Serve.
Salad leftovers will keep in an airtight container in the fridge for up to 3 days.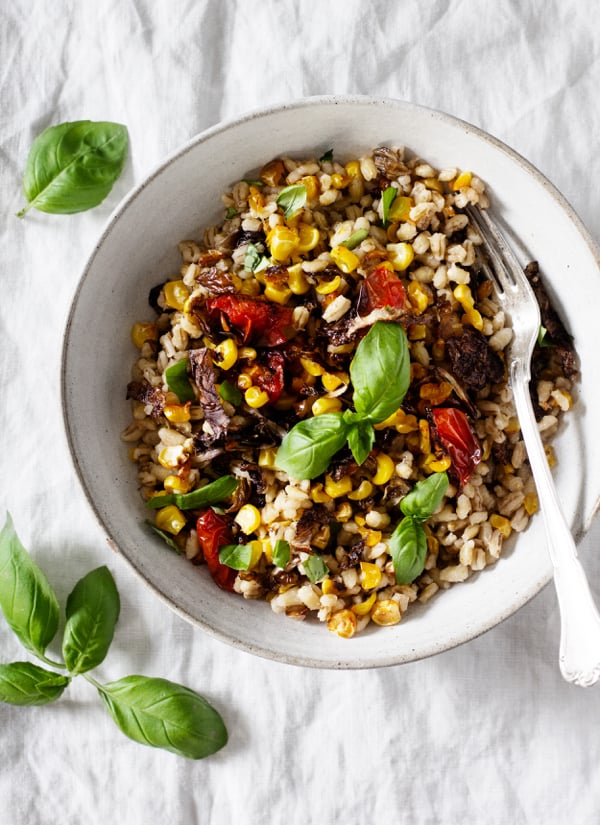 Look at all that bright, fresh corn, and those gooey cherry tomatoes!
This recipe really highlights what a little roasting can do. The salad demands little more seasoning than salt and pepper, but it's because the tomatoes and radicchio contribute a wonderful sweetness to the dish. To add anything else to this recipe would actually diminish it's beauty: that's the essence of really great, simple food.
Hope you enjoy this salad–especially when summer produce is at its peak. Let me know what you think!
xo