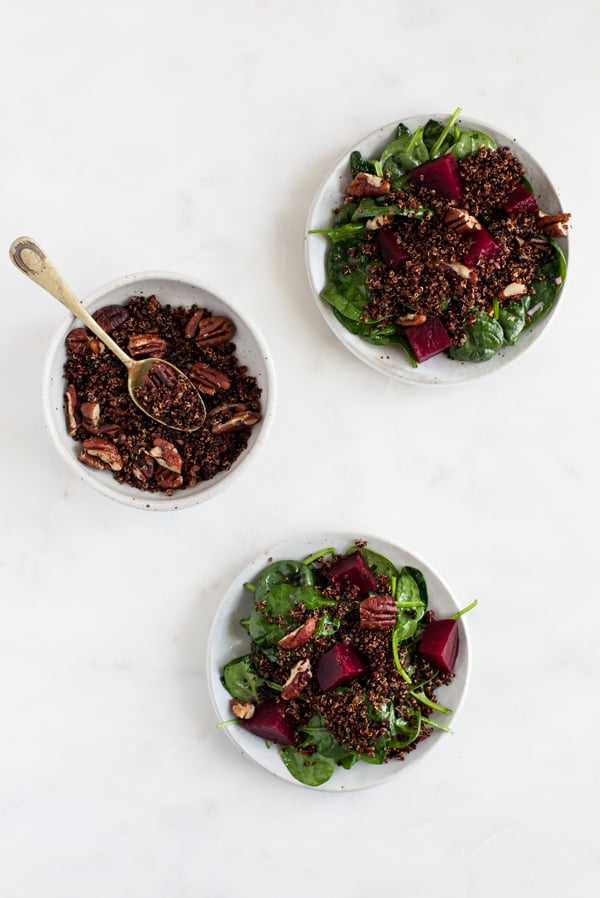 This roasted beet, baby spinach, and toasted quinoa salad is a perfect vegan salad recipe for the holiday season, which is what I had in mind when I put it together. What I like most about it, though, is that it's given me a new way to prepare and think about quinoa…which I didn't really think was possible, given how often I eat quinoa on a weekly basis!
It all began when a colleague at the wellness space where I work told me about a quinoa salad she'd recently had at a bachelorette party dinner; she said that the quinoa was oven-toasted and crispy, which gave the salad crunch and a toasty flavor. It sounded great to me, but all of my experiences toasting or popping raw quinoa (either in a dry skillet or on a baking sheet) have resulted in quinoa that was way too crispy for my taste–in other words, downright hard.
For this recipe, I cook the quinoa using the normal, stovetop method, allow it to cool, and then toss it in a bit of oil, low sodium tamari, and maple syrup before toasting it in the oven. It results in a topping that's crispy without being gritty or hard. And it has a lovely, toasted flavor that's complemented by the addition of pecans toward the end of the quinoa's oven time.
I can imagine this topping being delicious over many different types of salads, over a smoothie bowl in the morning, or as a topping for non-dairy yogurt and fruit. The nuts are optional, of course, and you can trade them for walnuts or almonds or another nut or seed you love.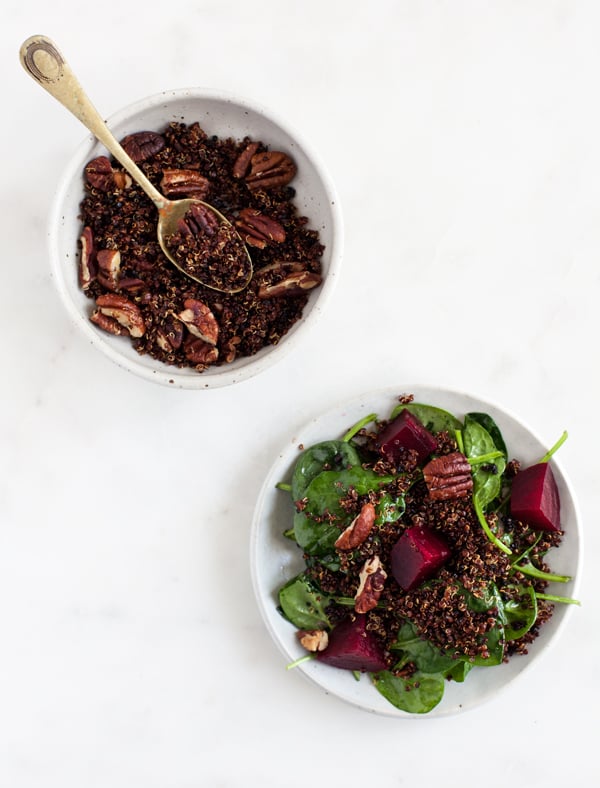 As for the salad itself, it features a simple vinaigrette that I've been enjoying on lots of fall salads this month and last: apple cider vinegar, a nutty oil (like walnut, hazelnut, or flax–but olive oil works, too), shallot, maple syrup, and salt. So simple, but flavorful and perfect for the season. I also love the way the sweet, tender roasted beets contrast with the crispy, toasted topping. Here's the recipe.
Roasted Beet, Baby Spinach, and Toasted Quinoa Salad (gluten free)
Author -
4

medium sized red beets

about 1 bunch, washed, stems remove and ends trimmed

3/4

cup

dry red quinoa

2

teaspoons

grapeseed or melted coconut oil

1

tablespoon

+ 1 teaspoon maple syrup

1

tablespoon

tamari

1/4

cup

roughly chopped pecans

2

tablespoons

walnut

hazelnut, or extra-virgin olive oil

2

teaspoons

apple cider vinegar

1/2

teaspoon

salt

1

tablespoon

chopped shallots

5

heaping cups baby spinach

about 5 oz.
First, roast the beets: Preheat your oven to 400F. My favorite method for this is to wrap each beet in a small piece of aluminum foil and roast till they're all tender (about 30-40 minutes). When they're cool enough to handle, run them under cool water and slip the skins off; they should come off really easily. Cut them into 1-inch pieces and set them aside till you're ready to use. You can also peel the beets prior to roasting, chop them into 1-inch pieces, and toss them in a little oil, salt, and pepper, and roast till tender (25-30 minutes).

While the beets roast, rinse the quinoa in a fine sieve for about a minute. Transfer it to a medium sized pot and add 1 1/2 cups water. Bring the quinoa to a boil and reduce to a simmer. Simmer for 15 minutes, or until all of the water has been absorbed. Fluff the quinoa with a fork, cover it again, and let it rest and cool for 15 minutes.

Reduce oven heat to 325F after the beets are ready. Toss the cooked quinoa with the grapeseed or melted coconut oil, 1 tablespoon maple syrup, and the tamari. Spread the quinoa on a parchment-lined baking sheet. Bake for 10 minutes. Remove the quinoa from the oven, stir, and return to the oven for another 8-10 minutes. 5 minutes before it's done, add the pecan pieces to the sheet, so that they can toast in the oven with the quinoa.

Whisk together the nut or olive oil, cider vinegar, 1/2 teaspoon salt, shallots, and the remaining 1 teaspoon maple syrup.

Mix the roasted beets, baby spinach, most of the toasted quinoa + pecan mixture (save a little for topping each salad plate), and the dressing in a large mixing bowl. Divide the salad onto four plates and top each with a little bit of the remaining toasted quinoa. Serve.
To save time, try roasting the beets in advance, cooking the quinoa in advance, making the toasted topping in advance, or all three. The salad can then be easily thrown together when you're ready to eat! Leftovers will keep in an airtight container in the fridge for up to two days.
As you'll see, I give two options for roasting the beets. I personally like to wrap them in foil, roast them with the skins, and then slip the skins off under running water because peeling them can be a drag. But it's perfectly fine to peel, chop, and roast them, too, and it's slightly less time intensive than roasting them whole.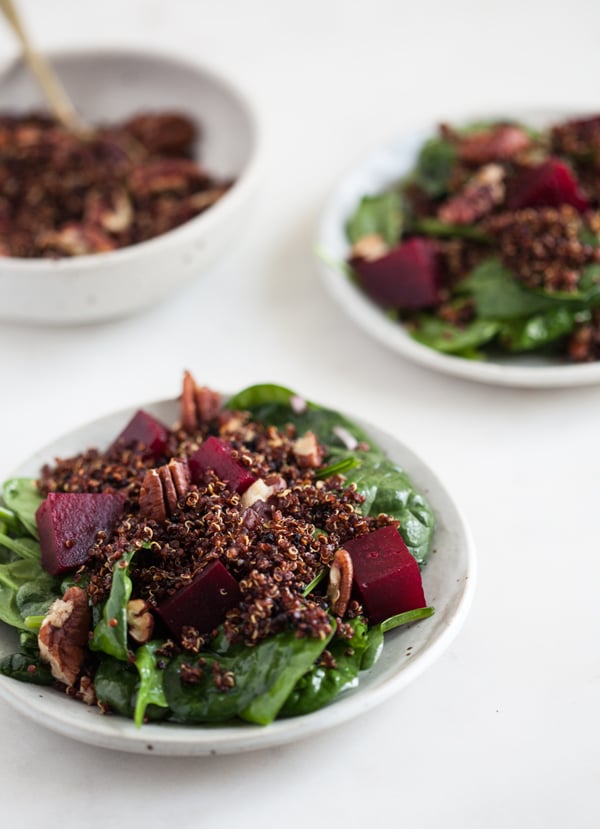 This salad would be a lovely addition to any Thanksgiving or holiday dinner spread, or to serve as a first course for autumnal entertaining. It's pretty to look at, and you'll be surprised at how the quinoa topping gives it character. I hope you enjoy it!
Happy Thursday, and I look forward to weekend reading in a couple days.
xo