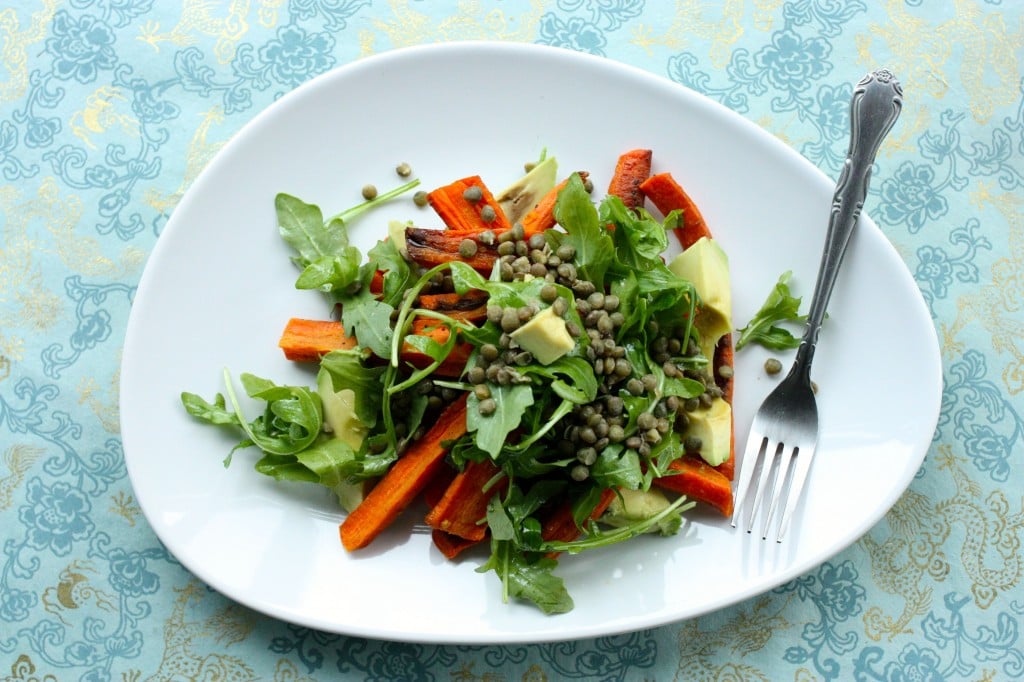 Back in my working days, I was sometimes lucky enough to have lunch at ABC Kitchen, a restaurant just north of Union Square in New York. Though it's not a vegan restaurant, ABC Kitchen features some of the best vegetable dishes I've had. My favorite was always the restaurant's roast carrot and avocado salad with crunchy seeds, sour cream and citrus. This roasted carrot and avocado salad is my vegan tribute.
Last week, before I headed home for the holiday, I had quite a few carrots to use up in the fridge. I usually gnaw on carrots as snacks, shred them into salads, or chop them up into soups, so roasting sounded like a very welcome change of pace. As I soon as they were growing soft and fragrant in the oven, the idea for this salad came to mind, and I'm so glad it did.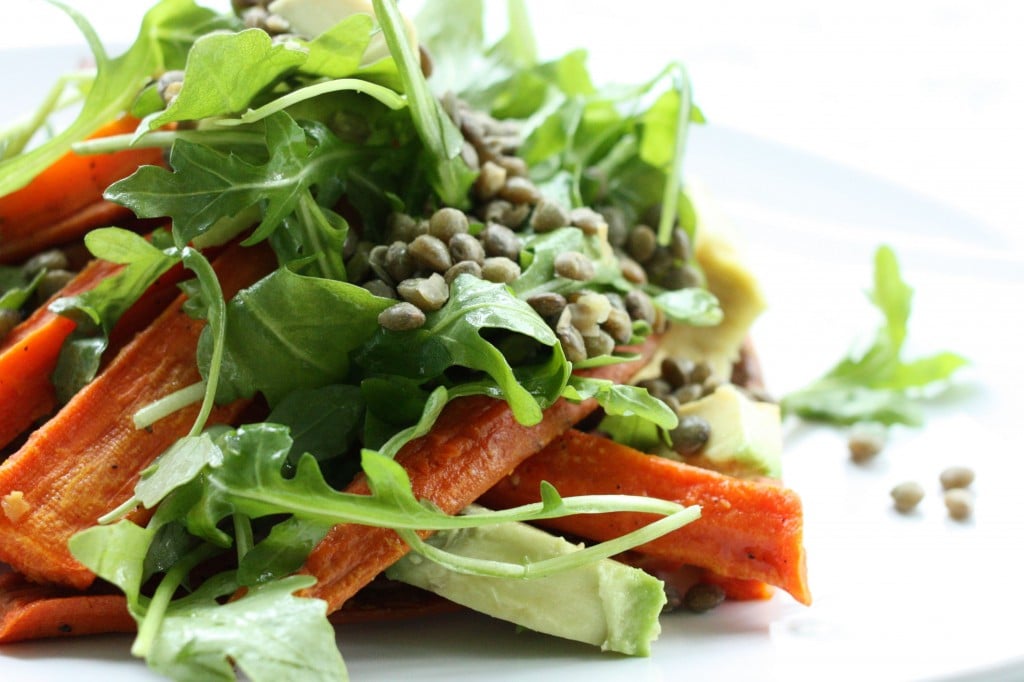 The ABC kitchen salad calls for a crunchy seed and sour cream topping. I opted for a sprinkle of brown lentils instead, in part because I had some of those to use up, too, and in part for a little extra heartiness. Some cashew cheese (my basic recipe is featured in this post) would make a very wonderful addition to this dish!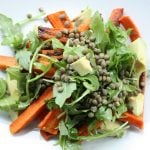 Roasted Carrot and Avocado Salad
Author -
8

large carrots

3

tablespoons

olive oil

divided

Salt and black pepper

2

tablespoons

lemon juice

6

cups

arugula

2

small Haas avocados

pitted and sliced or cut into chunks

1 1/2

cups

cooked brown or green lentils

or 1 can lentils, drained and rinsed
Preheat your oven to 400 F.

Cut carrots in half lengthwise. Slice them into pieces about 4 inches long. Toss them with a tablespoon of the olive oil and then place them onto a parchment or foil lined baking sheet. Sprinkle them with sea salt and black pepper and bake for about 30 minutes, or until they're gently caramelized.

Whisk the remaining two tablespoons of olive oil with the lemon juice and additional salt and pepper to taste. Dress the arugula with the dressing.

Divide the arugula onto three or four plates. Top each bed of arugula with even portions of the carrots and avocado, and then sprinkle the lentils on top. Serve.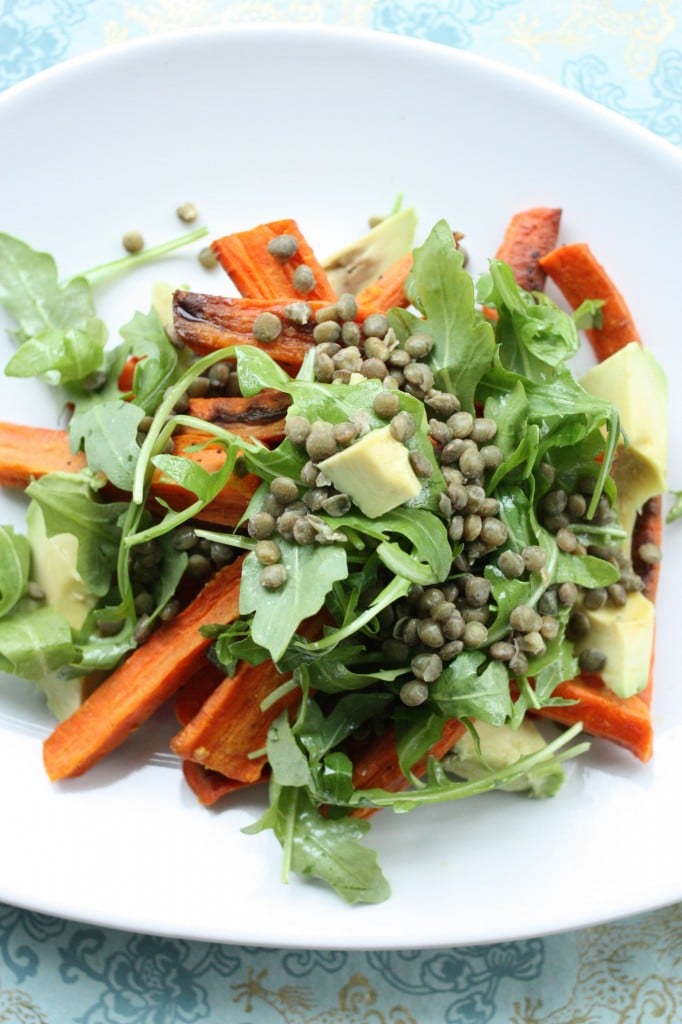 This salad, naturally, is easy to customize. I think that walnuts, pumpkin seeds, and sunflower seeds would all make a nice addition. And any other legume you like would be great, too — I'm eager to try the dish with toasted chickpeas! But for now, I so love the way spicy arugula contrasts with sweet carrots, chewy lentils, and creamy avocado.
I often tell clients that an ideal salad contains protein, carbohydrates, and healthy fats. While it's silly to get overly hung up on this, or treat it as a "rule," it's just a helpful guiding principle to keep in mind. This particular salad is a nice example of that principle in action–some fat, some complex carbs, some protein, and plenty of flavor. Along with a cup of soup on a chilly afternoon, it's a perfect winter lunch.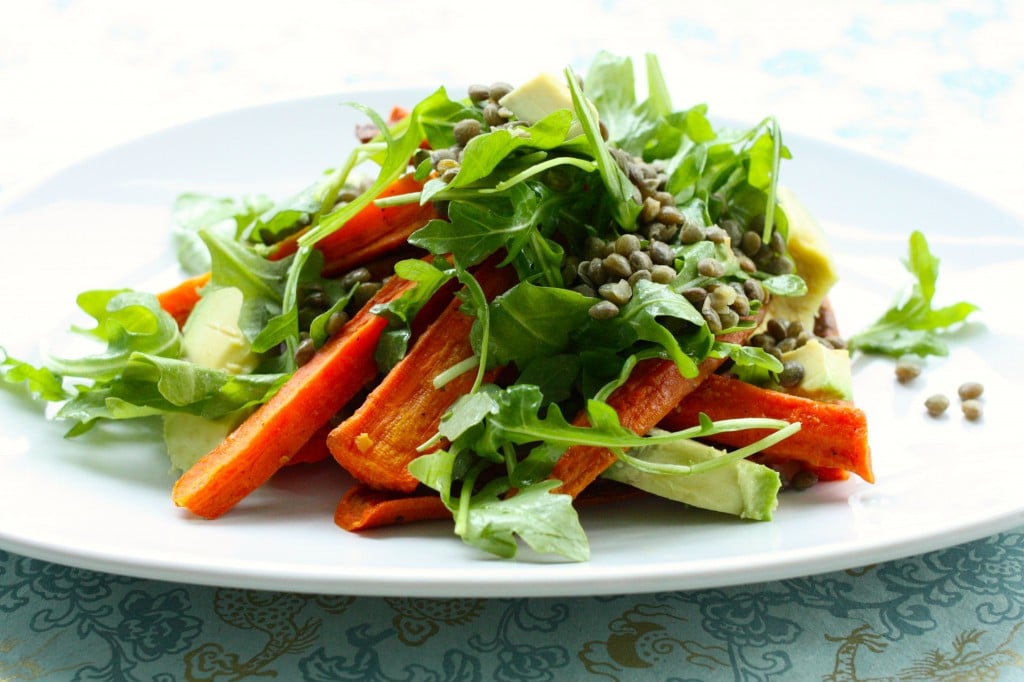 I hope you enjoy it, too.
xo