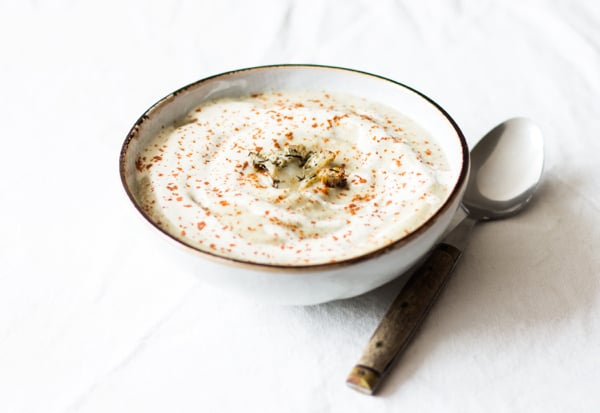 Funny how it's possible to love two vegetables separately, but never thing to have them together. So it has been with cauliflower and parsnips, for me. I love them both, but I don't tend to pair them up: I have parsnips with other, sweet root veggies, like carrots and beets, while cauliflower tends to go into curries or salads or raw rice dishes. Finally, I had the thought to marry these two awesome winter veggies together, and the result–a sweet, savory, and creamy roasted cauliflower parsnip soup–was awesome.
Arguably the easiest way to make soup is to simmer everything together in one pot, but sometimes I can't help roasting the veggies before I add them to my soup pot. It deepens the flavor so much, and I'm rarely sorry when I make that my cooking method. Sure, it's another step, but roasting with parchment or foil can at least help with the cleanup.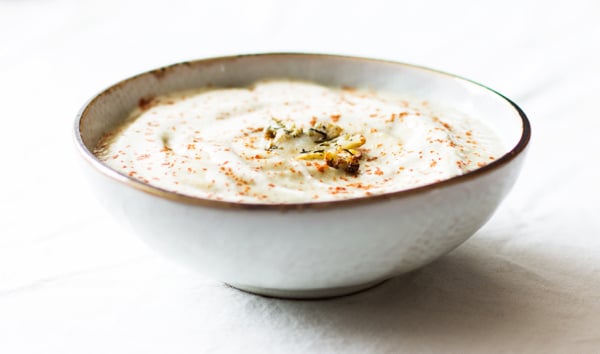 As for the soup itself, the ingredients are fairly straightforward: cauliflower, parsnips, herbs. In place of onion, the recipe calls for shallots, which have a little less bite (and honestly, I often prefer them). If you can stand to wait for the vegetables to roast while your home fills up with wonderful flavors, the recipe is super easy to make, and it's perfect for fall and winter.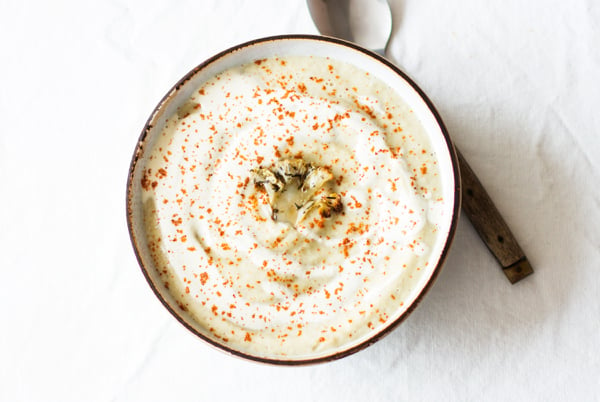 Roasted Cauliflower and Parsnip Soup
Cuisine:
vegan, gluten free, soy free option, tree nut free
Author:
Prep time:
Cook time:
Total time:
1 pound cauliflower, cut into florets and pieces (about 1 small head cauliflower, or 4-5 cups)
1 pound parsnips, peeled and chopped into 1-inch pieces (about 4 medium or 5-6 small parsnips)
4 shallots, cut in half
2 tablespoons olive oil
1 tablespoon fresh thyme or 1 teaspoon dried thyme)
1 tablespoon minced fresh sage or 1 teaspoon dried sage leaves
Coarse salt
Black pepper
4 cups low sodium vegetable broth
1 cup unsweetened soy milk (substitute almond milk)
1/2 cup [url href="https://www.thefullhelping.com/purpose-cashew-cream-recipe/" target="_blank"]cashew cream[/url] (optional, for serving)
Paprika (optional, for serving)
Preheat oven to 400 degrees. Line one or two baking sheets (depending on the size of your oven) with foil or parchment. Place the cauliflower, parsnips, and shallots onto the baking sheets. Drizzle with olive oil and stir the vegetables on the sheet to coat them. Sprinkle them with thyme, sage, a generous pinch of coarse salt, and black pepper to taste.
Roast veggies for about 35-40 min, or until they're tender and browning.
Place veggies in a powerful blender and add broth. (You may need to blend in batches.) Blend until soup is smooth and creamy, adding a bit of water if it's more thick than you like. Alternately, you can use an immersion blender to blend the soup.
Transfer the soup to a pot and stir in the soy milk. Season to taste with additional salt and pepper. Warm the soup until it's ready to eat, and then serve with a swirl of cashew cream and a sprinkle of paprika, if desired.
Leftover soup will keep for up to five days in an airtight container in the fridge. They can be frozen for up to three weeks.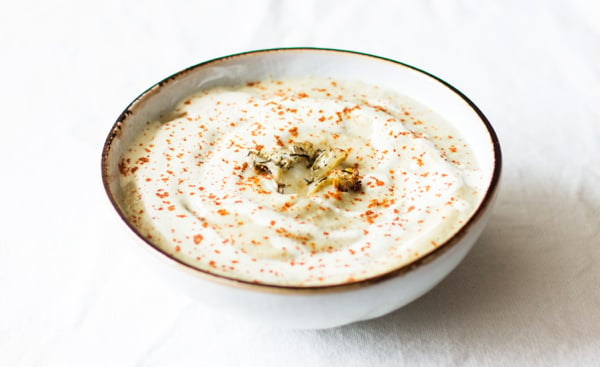 It's a gray, drizzly day here in DC, and I'm almost tempted to make the soup again—that's how much I liked it. Regardless of where you are or what the weather's like, I hope you give this one a try soon.
Happy weekend!
xo