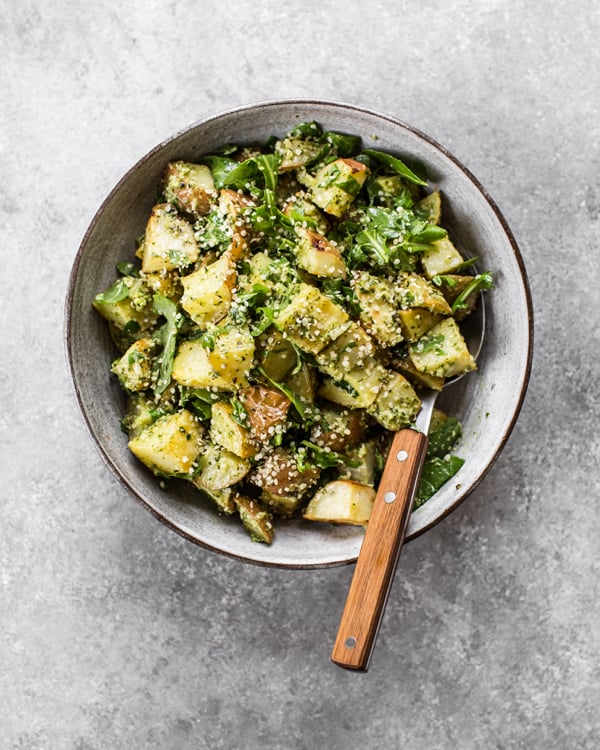 Summer may be drawing to a close (it's barely 70 here in New York today), but I'm nowhere near ready to surrender my delight in freshly made batches of pesto. These bright and beautiful roasted garlic pesto potatoes with arugula from the Oh She Glows Everyday cookbook, which was published last week, are a perfect way to celebrate my last few jars of pesto for the season!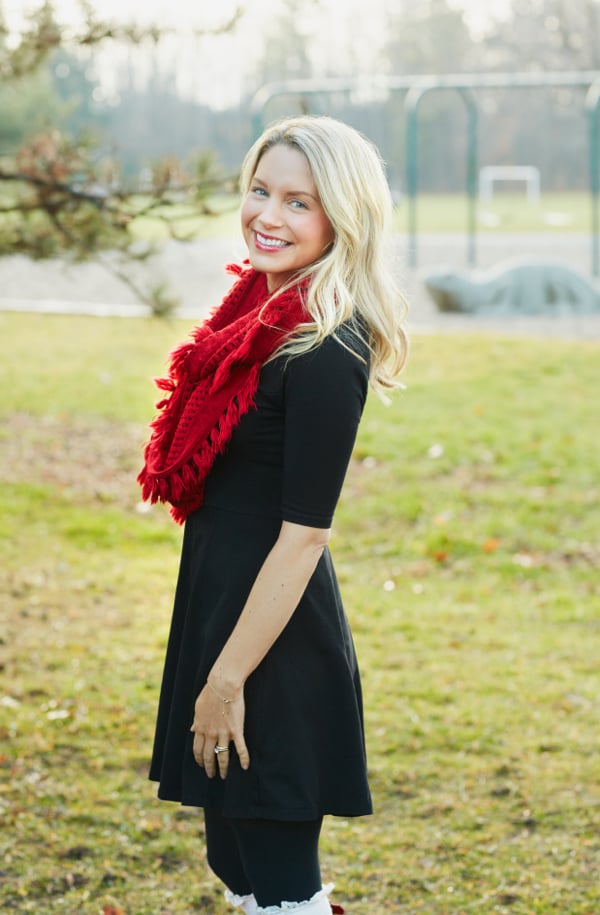 If you're not a fan of the Oh She Glows blog already, then I hope this post will encourage you to check out Angela's gorgeous, carefully crafted plant-based recipes. Angela is a master at creating vegan fare that is crowd-pleasing, family friendly, and always a pleasure to eat.
Her smash-hit, first cookbook was a collection of vegan recipes that ranged from occasion-worthy to easy. Her new collection, Oh She Glows Everyday, is a compilation of the everyday favorite recipes that Angela and her family love and rely upon.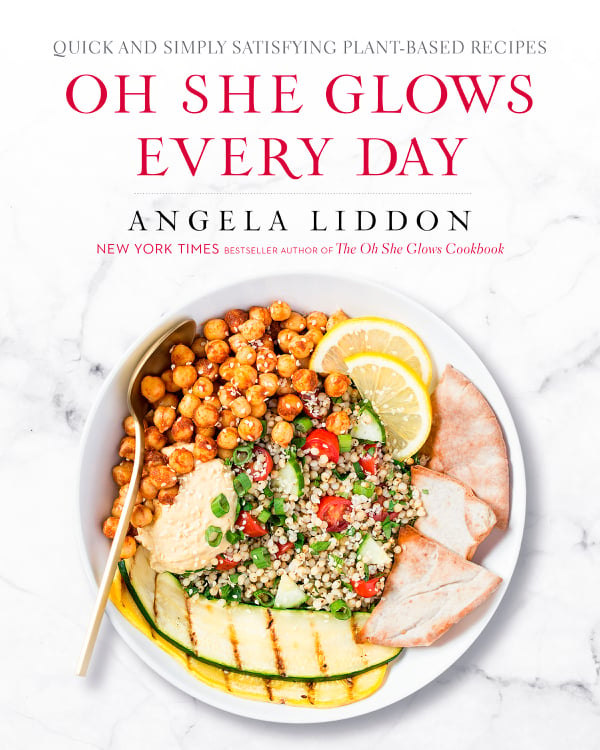 I love the theme of this book. I'm a big believer in the idea that there's a time and a place for every type of recipe, ranging from the "projects" that are all the more rewarding because we've taken our time with them to simple staples. But most home cooks these days are busy people with lots of obligations, and simple recipes are often the ones that give back most generously.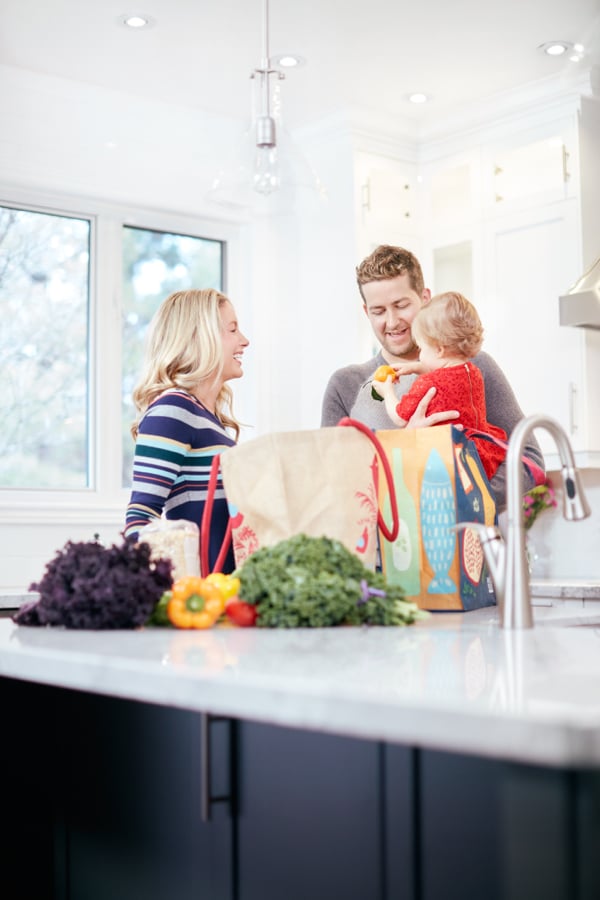 The book contains glimpses into Angela's life at home with her husband and business partner, Eric, and her daughter, Adriana. Clearly, the experience of becoming a mother and juggling the demands of raising a toddler, running a business, and publishing a cookbook helped to shape the new book's emphasis on simple fare. But, whether simple food is what you're looking for or not, you'll find so much to love in these vibrant, flavorful meals, which range from snacks and basics (like homemade nut butters and nut milks) to hearty entrees.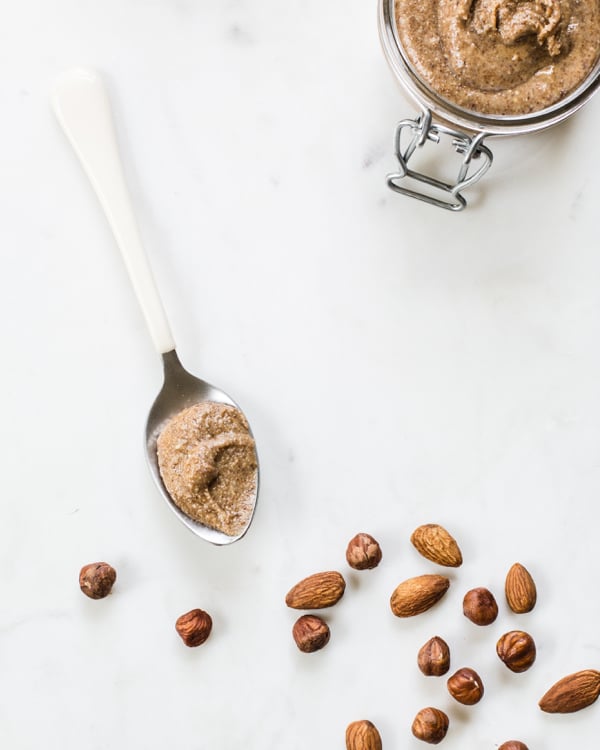 Highlights of the book include such everyday, nourishing meals as Angela's golden French lentil stew and family friendly recipes, like her Oh Em Gee burgers.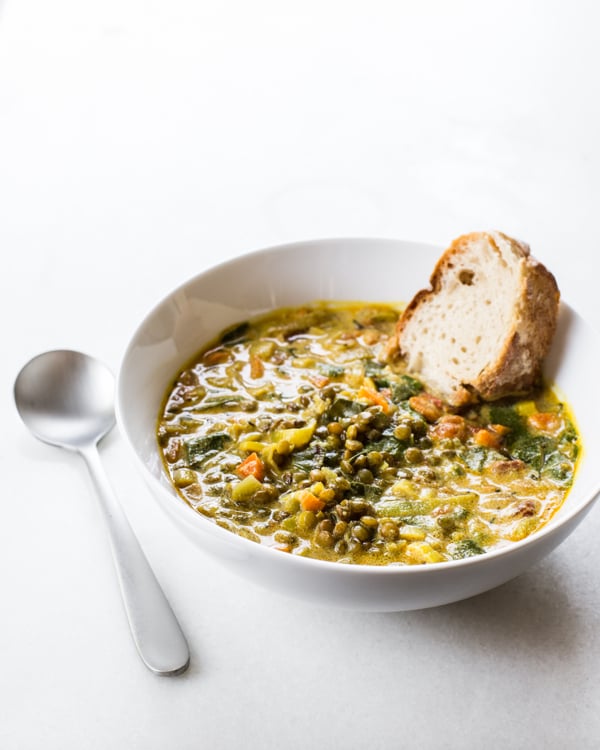 And of course, no collection from Angela would be complete without a sampling of her beloved desserts, including chocolate dipped macaroons and strawberry oat crumble bars.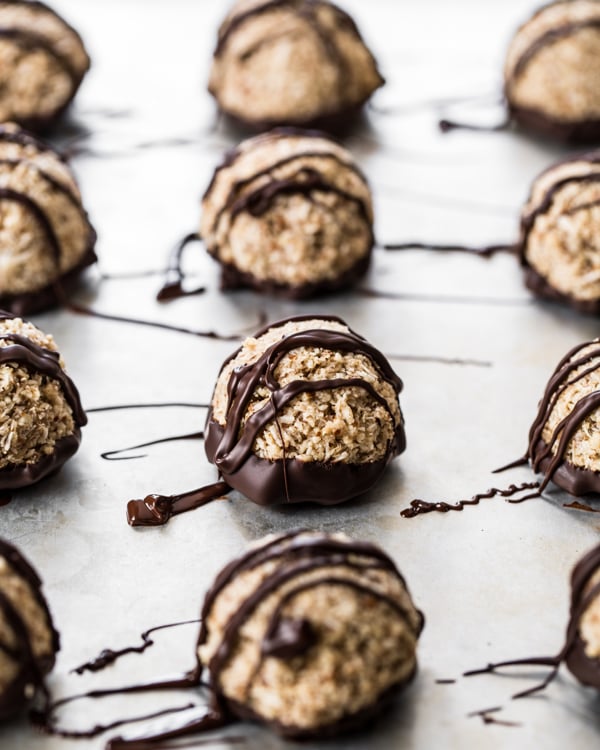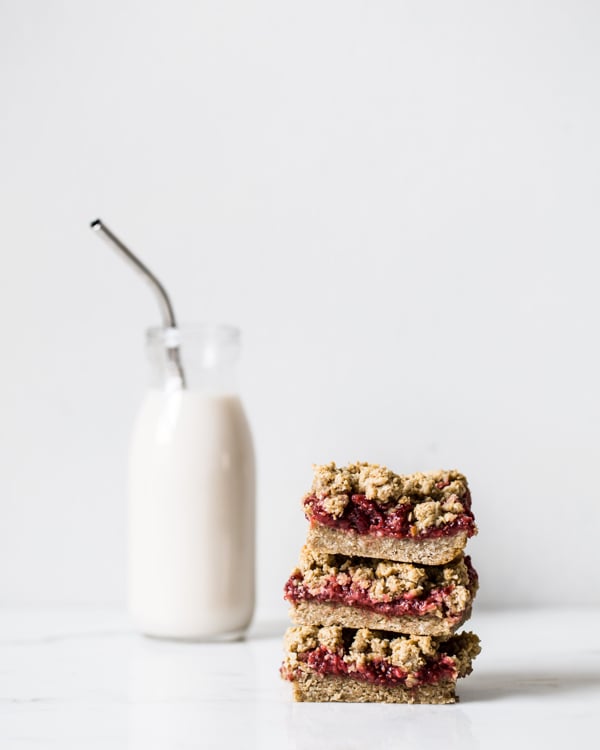 As you can see, the book has been brought to life with vibrant, beautiful images from Ashley McLaughlin, and there's an image for each recipe, which means that the whole collection is a feast for the eyes as well as your culinary imagination. As always, Angela's recipes are clear, well-written, and foolproof.
There are so many recipes I might have shared today, but I can't help having fallen in love with the flavors of this potato and arugula dish, and I think it perfectly captures Angela's goal with the collection, which is to transform simple combinations of ingredients into memorable household favorites.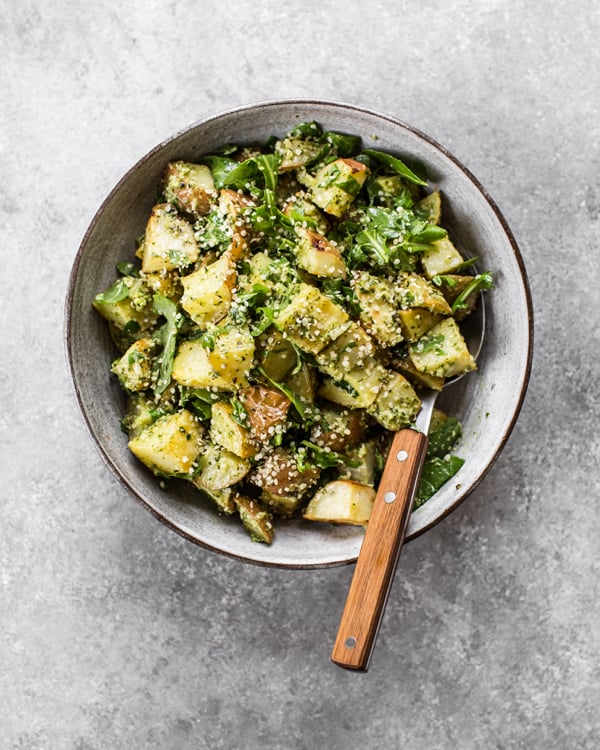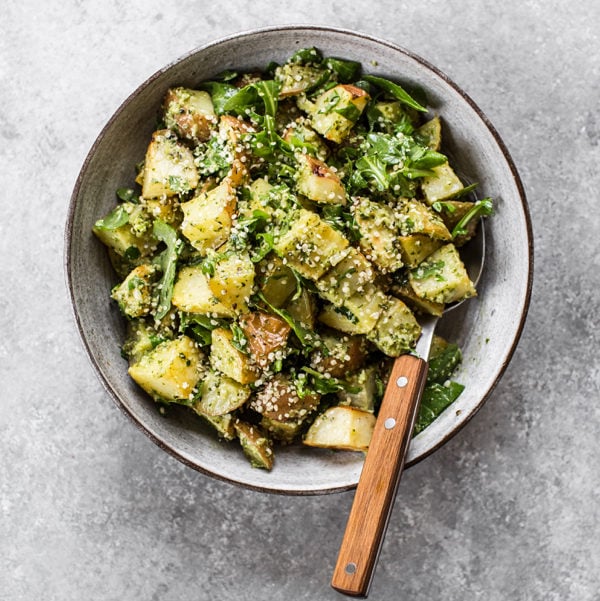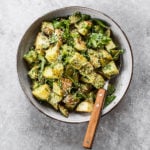 Roasted Garlic Basil Pesto Potatoes with Arugula from Oh She Glows Everyday
Author -
For the potatoes:
2

pounds

900 g Yukon Gold or red potatoes, unpeeled, chopped into 1-inch (2.5 cm) cubes (about 6 cups/ 1.5 L)

1

tablespoon

plus 1 1/2 teaspoons

22 mL extra-virgin olive oil

Fine sea salt and freshly ground black pepper
For the pesto:
1

cup

250 mL/3/4 ounce/20 g lightly packed fresh basil leaves

3 to 4

tablespoons

45 to 60 mL hemp hearts

1/4

cup

60 mL extra-virgin olive oil

2

tablespoons

30 mL fresh lemon juice, or to taste

1/4

teaspoon

1 mL fine sea salt

Freshly ground black pepper
For the salad:
3

cups

750 mL baby arugula, chopped

Fresh lemon juice

for serving (optional)

1

tablespoon

15 mL hemp hearts, for garnish
Preheat the oven to 400°F (200°C). Line an extra-large baking sheet (15 by 21 inches/38 by 53 cm) with parchment paper.

Make the potatoes Place the potatoes on the baking sheet and toss with the olive oil until thoroughly coated. Spread the potatoes into an even layer. Season with a couple of pinches of salt and pepper.

Make the roasted garlic Slice the top off the garlic bulb so all the individual garlic cloves are trimmed. Place garlic bulb on a square of aluminum foil (about 8 inches/20 cm square) and drizzle the top of the cloves with the olive oil. Wrap the garlic bulb entirely in the foil and place it on the baking sheet with the potatoes.

Roast the potatoes and garlic for 20 minutes, then remove pan from the oven and flip the potatoes with a spatula. Return the potatoes and garlic to the oven and continue roasting for 15 to 20 minutes more, until the potatoes are golden and fork-tender.

Make the pesto In a food processor, combine the pesto ingredients and process until mostly smooth, stopping to scrape down the bowl as necessary. Keep the pesto in the processor because we will add the roasted garlic as the final step.

Remove the potatoes and garlic from the oven. Carefully unwrap the garlic bulb and let cool for 5 to 10 minutes, until it's cool enough to handle.

Turn off the oven and return the potatoes to the oven with the door ajar so they stay warm. (You can also put the potatoes into an oven-safe casserole dish so the dish stays warm when serving.) Squeeze the roasted garlic cloves out of the bulb. You should have about 2 packed tablespoons (30 mL) of roasted garlic. Add it into the food processor with the pesto. Process until mostly smooth—you can add a touch more oil if necessary to get it going.

Assemble the salad This is the important part where you need to act fast; I like to assemble the salad very quickly so that it's warm when I serve it. Grab a large serving bowl and place the arugula in the bottom of the bowl. You can break it up into smaller pieces with your hands a bit. Then, remove the potatoes from the oven and quickly place them into the serving bowl on top of the arugula. Toss the potatoes and arugula with the pesto until thoroughly combined. Taste and season with salt and pepper. Sometimes I add another drizzle of lemon juice if I feel like the dish needs more acidity. Sprinkle on the hemp hearts and serve immediately.
On the rare chance that you have any leftovers, I've discovered that this side works great as a cold potato salad. Just serve it straight from the fridge!
Reprinted from Oh She Glows Every Day by arrangement with Avery, a member of Penguin Group (USA) LLC, A Penguin Random House Company. Copyright © 2016, Glo Bakery Corporation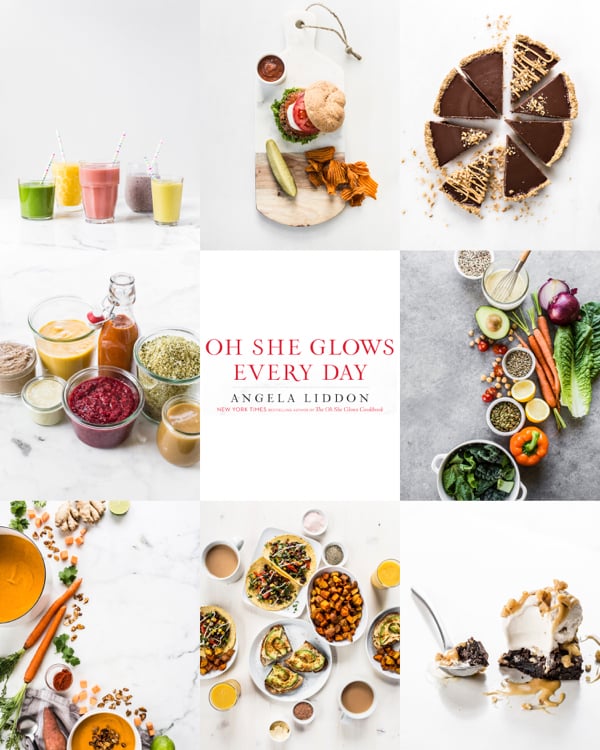 If you'd like to experience more of Angela's recipes for yourself, you're in luck: Angela and her publisher have generously offered a free copy of the Oh She Glows Everyday cookbook to a Full Helping reader. The giveaway is open to US and Canadian residents only, and it'll run for one week. Enter below to win!
Good luck, everyone!
It has been a quiet week here, but I've been feeling a little under the weather for the last day or two, so I'm looking forward to the weekend getting underway. Maybe some roasted garlic basil pesto potatoes will be in my future (and yours).
See you for weekend reading!
xo
Food photography from the Oh She Glows Everyday cookbook, including those reprinted in this post, are by Ashley McLaughlin.