Hi all! Thanks for the outpouring of love for Dreena's book yesterday, and for the well wishes. I'm feeling more like myself today—glum about having had to change my plans and glum about the fact that I'm not with Jasmin and Mariann right now, but getting over my bug.
I made the beautiful chia pudding you see above right before I started to feel under the weather, and so the leftovers are still around. We'll see if they're still good when I'm ready for them (maybe tomorrow)! I wish I'd been able to give them to Mom while I wasn't feeling well, but my mom's reaction to the sight of chia pudding is usually a shudder. I get it: the stuff is odd to look at, if you've never tried it before. But it sure is delicious, and this recipe is now one of my favorites.
The trick to this recipe, of course, is the roasted peaches. Funny: I'm not such a peach fan in general, but I change my mind entirely when I roast them. They become sweeter, softer, slightly caramelized, and more delicious (in my opinion). I love roasted peaches and cashew cream as a dessert. I also love to stir them into oats, eat them on toast (so much better than jam!) or just nibble on them plain. Now, I also love to stir them into a delicately flavored, creamy bowl of chia pudding. This vegan breakfast is perfect for end of summer, and it's also full of healthy Omega-3 fatty acids, protein, and calcium. What could be better?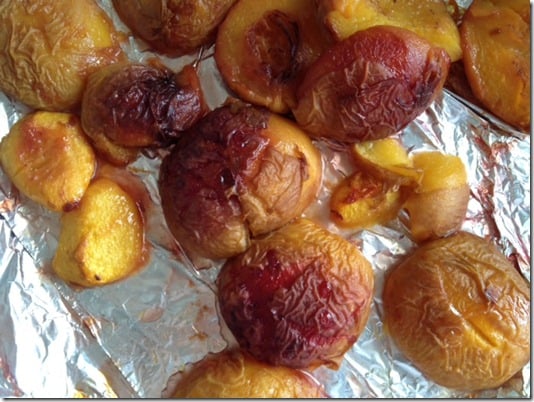 Roasted Peach and Ginger Chia Pudding
Author -
2

ripe yellow peaches

halved and pitted

2

tbsp

coconut crystals or cane sugar

2

tbsp

coconut oil

1 2/3

cups

almond milk

homemade or storebought

1/2

cup

cashews

soaked for at least two hours (or overnight) and drained

4

pitted medjool dates

1

tsp

vanilla extract

1

tsp

powdered ginger

1

tsp

cinnamon

6

tbsp

chia seeds
1. Preheat oven to 400 degrees. Toss whole peach halves in coconut oil and sugar. Lay halves, cut side up, on a baking sheet and roast for 35 minutes or so, or slightly browning and very tender. Allow to cool, and cut into small chunks. Set aside.

2. Blend almond milk, cashews, dates, vanilla, ginger, and cinnamon in a high speed blender till smooth. Pour over chia seeds. Wait five minutes, and stir with a fork. Wait another five minutes, and stir again. Stir ten minutes later and then allow pudding to sit for at least several hours, or overnight. I much prefer the texture of chia pudding once it has sat for a full 12-24 hours!

As the chia pudding sits, it may thicken up considerably. Add more almond milk as needed.

3. When pudding is ready, stir in peaches. Serve!
This makes for such a rich breakfast! I loved feeling as though I was treating myself to something special. Remember my strawberry pumpkin waffles recently? I had the same thought: even though I typically eat breakfast on my own, it's nice to create something ceremonious and unique.
I hope you enjoy this recipe. And trust me, if the roasted peach idea appeals, you're in for a treat tomorrow. I won't say what the recipe is, but I will say that it is simple, sweet, and that it involves ice cream (!). So stay tuned!
xo