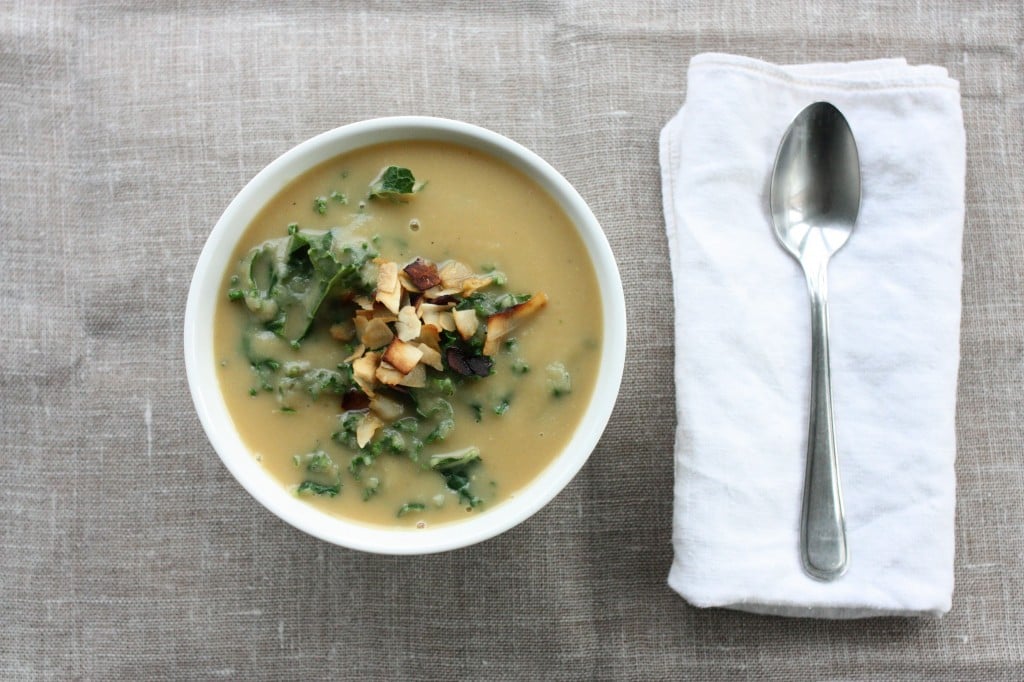 This soup (which is also featured today on Food52 as part of my Vegan Lunch series) is an embodiment of everything I love about fall (from a culinary standpoint, that is–I also love cold weather, the leaves changing, and the crisp, energizing air!). It's warming, grounding, and it features root vegetables that have been roasted to perfection. Although there are lots of different ways that you can create a root veggie soup–you can steam the vegetables, saute and simmer them, or roast them–I tend to like the roasting option, because I can roast two giant, heaping trays of vegetables at once, turning half into soup and saving the other half to eat.
The other thing I like about roasting the veggies is that it creates so much flavor. After that, they don't really need much seasoning, and I simply blend them up with vegetable broth. Sometimes I add a little cashew cream to the mix, and sometimes I add herbs (like rosemary or thyme). But I find that blending up sweet, salty roasted veggies with broth is really all it takes for a flavorful and thoroughly delicious soup.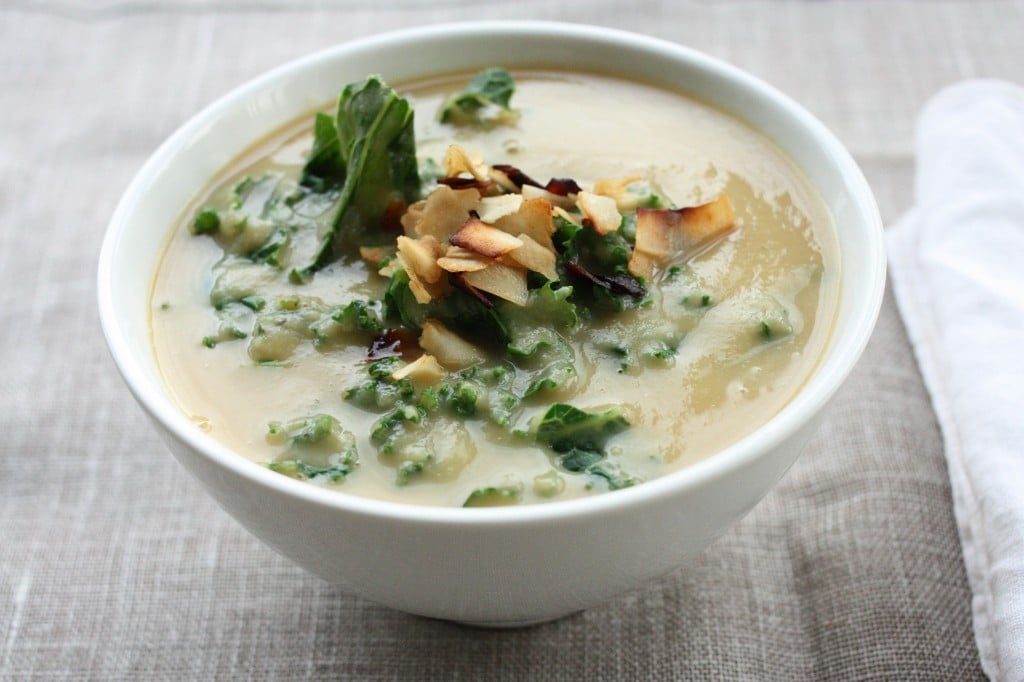 Roasted Rutabaga and Parsnip Soup with Kale and Coconut Bacon
Ingredients
2

cups

rutabaga

peeled and chopped into 3/4" pieces

2

cups

parsnip

peeled and chopped into 3/4" pieces

2-3

tablespoons

olive or melted coconut oil

Sea salt and pepper to taste

3 1/2 - 4

cups

vegetable broth

2

heaping cups chopped raw kale

1/4

cup

coconut bacon

more as needed
Instructions
1. Preheat your oven to 450 degrees Farenheit.

2. Toss the vegetables in enough oil (2-3 tablespoons) to coat them well. Spread them onto two small or one large roasting tray, lined with foil or parchment.

3. Roast the vegetables for 25-30 minutes, or until golden brown and sweet.

4. Transfer the vegetables to a high speed blender. Add the vegetable broth (start with 3 1/2 cups and add more as needed -- I prefer a thick texture). Being careful (hot liquid expands and tends to spatter everywhere), blend the vegetables and broth up till totally smooth.

If you prefer, you can steam the vegetables, rather than roasting them.

5. Transfer the soup to a medium sized pot and heat over a low flame. Add the kale and cook until it's soft and wilted. Serve the soup, topping each bowl with coconut bacon as desired.

Makes 2-4 servings
Carrots, sweet potato, and celeriac will all be wonderful here, too. To make the soup richer, you can add a quarter cup of soaked cashews. To make it cheesy, you can go ahead and add nooch. (I'm doing that next time, obvi.)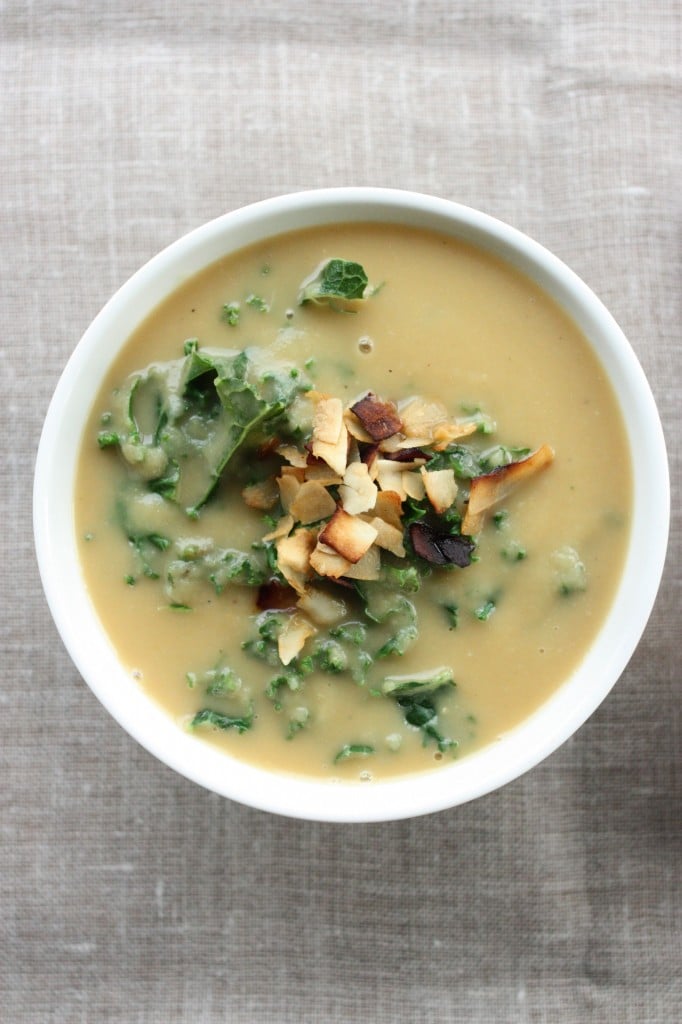 I should add that the leftovers get better and better.
I hope you enjoy this recipe. And to the folks who have already emailed me expressing interest in nutrition counseling, a big thank you! I'm so delighted and eager to get started (for those of you that missed it, an initial call for nutrition clients in this post).
xo