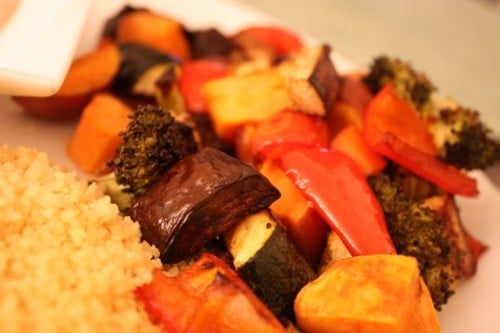 Ahhh, controversy. How I love it! Great responses to the post yesterday, all. Most of us played nice–heck, nicer than nice–and I truly appreciate it. And now, back to food.
I spend a lot of time sharing recipes. As a food blogger, I share them with my readers each and every week. As a nutritionist, I spend plenty of time doling them out via keystrokes. Have a craving? Something you'd like to veganize? Something from childhood you're desperate to recreate? Chances are, I can cook up at least a few ideas for you. (Pun intended.)
What I don't often consider is that many of my clients and readers are novices in the kitchen. Perhaps they're very young, and just learning how to cook for themselves. Perhaps they've just recovered from eating disorders, and the idea of cooking food (to say nothing of eating it!) feels overwhelming. Perhaps they were never taught basic cooking techniques at home, or perhaps they simply haven't had access to fresh food and kitchen space till now.
Whatever the case, not everyone has kitchen intuition, as I like to call it. So every now and then, I find myself explaining kitchen basics to clients or readers who are green in the kitchen (and even some who aren't: even the best cooks can benefit from a refresher course in culinary procedures). Living a healthy lifestyle really does tend to hinge on a person's involvement with his or her food, and this means a commitment to learning how to cook. Uncertainly about basic kitchen skills can discourage even enthusiastic chefs-in-training, so it's my job to make the process as easy and user-friendly as possible.
On that note, let's talk about a basic—and vital—culinary procedure: roasting vegetables. What follows is my basic technique for making roast veggies–temperature, pan, dice, and timing. I usually use a balsamic vinaigrette, per the below, but I often opt for a simple drizzle of oil, salt and pepper instead. I spice up root veggies with cinnamon or nutmeg frequently, and I've heard speak of some crazy people who like to throw in minced garlic on their veggies, too. 😉 You have to adapt the flavors themselves to your own taste, but the how-to will remain the same. Ready?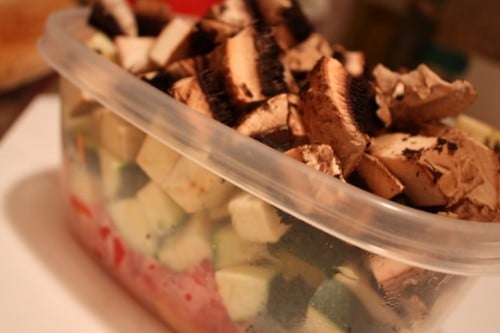 1) Prep your veggies. I cut all of mine into a dice that's about 1 inch squared; if you make it smaller, they may shrink too much (this is good if you want them very small, to put in wraps or toss in pasta, but it's not great if you serve them on their own); if you make it much bigger, they'll take longer to cook.
If I'm roasting my veggies for a dinner party or guest (as I was the night I took these photos), I'll often chop the veggies a night beforehand and store them in Tupperware, so that they're ready to go when the time comes. For this recipe, I used 1 small eggplant, 1 large zucchini, 1 large bell pepper, 1 large carrot, 1 cup broccoli florets, and 1 large Portobello mushroom cap. All told, it was about 8 cups of vegetables.
2) Pre-heat your oven to about 400 degrees. Sorry, raw purist friends: roasting vegetables properly means high oven temperatures. You can modify this if you have a very hot or very drafty oven.
3) Select your cookware. The number one mistake that people make when roasting veggies is to use the wrong kind of pan. They choose something like this: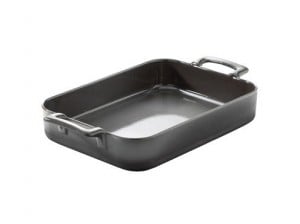 …and are dissapointed to produce veggies that are mushy and water logged. This is what happens if the sides of your pan are too high; the veggies basically begin to steam themselves. I always use a relatively flat pan – more of a baking sheet than a baking dish – and arrange veggies in a single layer. This means they cook evenly and quickly.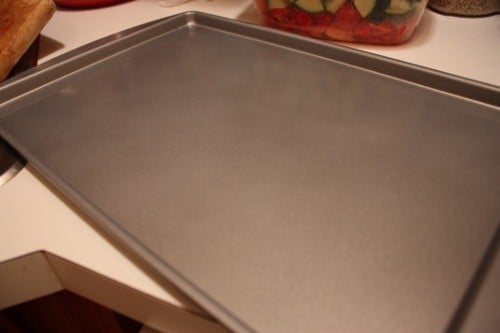 4) Spray or oil the pan well, and arrange your veggies on top. Then, be sure to coat them well with oil that stands up to high temperatures. Many oils lose stability and may become carcinogenic at high temperatures, so choose oils—like safflower, coconut, and olive (though the former two are better choices)–that's stable at high heat. The Spectrum organic brand actually gives temperature readings for smoking points now, so it's a handy way to gauge which oils will be safe. I almost always use coconut, but I occasionally use safflower or olive instead.
Also note that this is not the time to skimp on oil. I like my roast veggies on the light side, but when I cook for guests I always remember to use at least 2-3 tbsp of oil per 3-4 cups vegetables.
5) Next, give the veggies a generous sprinkle of kosher or sea salt and cracked black pepper. Season to taste, of course, but the salt is important for bringing out flavor. Also keep in mind that balsamic dressing takes roast veggies to new heights; the sweetness of the vinegar brings out so much flavor! I often use it in lieu of simple oil, salt and pepper. On this particular occasion, I used the following recipe:
Gena's Basic Balsamic (yields ¾ cup)
1/2 cup olive oil
1/3 cup balsamic vinegar
1 tbsp finely minced shallot
1 tbsp Dijon mustard
Salt and pepper to taste
Whisk all ingredients together till smooth and emulsified.
I coated all of the veggies with the vinaigrette (and had some leftover for my salads later that week), sprinkled an additional dash of salt on them, and they were ready to go.
6) Put your veggie trays—whether you have one, two or three—in the oven. Roast until they're tender and getting brown around the edges—about 30-35 minutes in most ovens. Obviously, you'll need to be watchful; they can burn and stick easily, so check in once and again to give them a little stir and make sure they're cooking well.
7) Voila! Perfectly sweet, smoky, and scrumptious roasted veggies.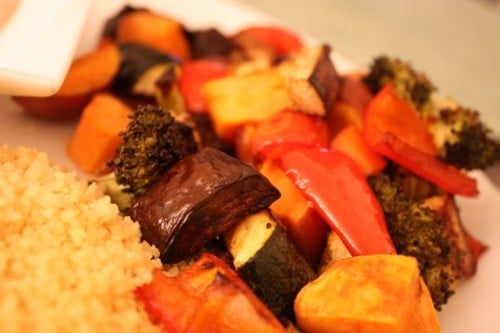 You can serve these in a hundred and one different ways. I put roast veggies in salads, wraps, grains, and I even snack on them plain. This time around, they were a part of my Middle Eastern feast with my friend Tom, so I served them with fluffy couscous and a tangy tahini dipping sauce/dressing.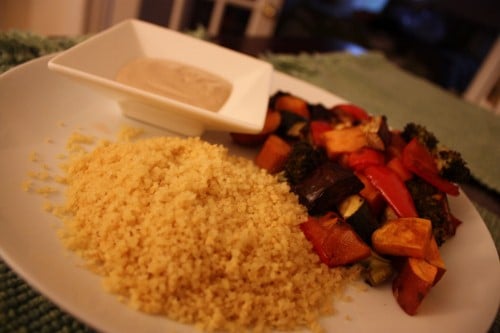 All told, it was a perfectly comforting, simple, and satisfying meal.
Hope this little lesson was helpful—rather than pedantic—and that it inspires you to brush up on whatever kitchen skills you've been hoping to improve! If there are any other basic techniques—either cooking or un-cooking related—that you'd like me to give a tutorial on, I'd love to hear it!
And now, back to work!
xo