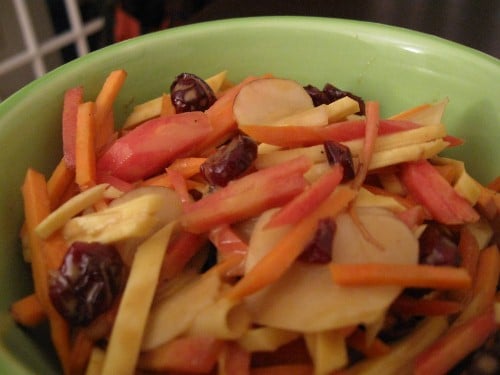 Ah, autumn.
Season of cider and squash. Of pumpkins and pies. Of nubby sweaters and boots and wool jackets. Of chilly mornings on country porches, sipping hot coffee tea. Of jack o' lanterns and roast turkeys root veggies.
In spite of the fact that I'm a warm weather girl, fall is my favorite season. I love the clothes (cozy sweaters, vintage boots, corderoys) the seasonal produce (root veggies, brussels sprouts, broccoli, and greens galore), the movies (have I mentioned that I'm a horror movie fanatic? Yeah. Thank god for Halloween), the return of concerts and opera and dance to a culture-parched New York City. I even like the early sundown; for homebodies like me, this simply means all the more reason to curl up with a good book.
Right up at the top of list of reasons to love fall is the appearance of root vegetables at the farmer's market. Yes, my friends, it's the little things. Give me a pile of carrots, parsnips (a very underrated veggie, in my opinion), yams, squash and turnips, and I'm gleeful. I eat these vegetables both raw and cooked; I prefer most winter squash baked or steamed, but I sometimes forgo cooking and slice them into salads or slaws. Carrots, beets, and parsnips usually get the raw treatment, whether blended into raw soups, tossed into salads, or simply sliced and marinated.
Since you guys have seen plenty of cooked root veggies on the blog already, I figured this was a good time for me to share a raw root vegetable recipe with you. And this one happens to be just about my favorite. It's a medley of my beloved root veggies, dressed in a sweet, cinnamony vinaigrette. Best of all, it features a vegetable that I seldom eat, but should eat more often: the sunchoke.
What are sunchokes? Also known as Jerusalem artichokes, these guys are actually related to the sunflower family, and thus to artichokes—whose taste they mimic pretty closely. Cooked, their flesh is sort of a potato-like consistency. Raw, they have a slightly sweet, slightly nutty flavor, which I personally don't find appealing in large quantities, but do enjoy when they're shaved into salads. So I eat these guys raw and cooked, and I try to pick them up whenever I see them. They're a great source of potassium and iron, and—note to my soup loving chefs—their creamy flesh makes them great for thickening and lending richness to blended soups in place of dairy (in season one of Top Chef, Harold Dieterle impressed a room full of classically trained chefs when he thickened a sauce with sunchokes in place of cream).
In this salad, sunchokes come together with parsnips, carrots (I used two carrot varieties, orange and red—the latter is more mild-tasting), sweet potatoes, and dried cranberries. Beets would make a great addition, too! You could also shred in some butternut squash, or even some non root veggies, like zucchini.
It's probably clear by now that I'm a huge fan of adding sweet flavors to savory dishes. What makes this recipe shine is its sweet maple cinnamon vinaigrette. It couldn't be more simple, but it's highly delicious, and it could double as a marinade for roast vegetables, too.
Maple Cinnamon Vinaigrette (yields about 1 cup)
Ingredients:
½ cup oil of choice (I used a mix of olive and flax)
2-3 tbsps balsamic vinegar (start with two; if you like acid, like me, add another at the end)
¼ cup grade B maple syrup or yacon syrup (I used the latter, and it was great)
1 tsp cinnamon
2 tbsps Dijon mustard
3 tbsps water
¼ tsp salt
Pepper to taste
Directions:
Blend all ingredients in a blender, magic bullet, or food processor until rich and emulsified. Thin with additional water if you need to, but only if. You can also mix this dressing by hand, though it will take a minute for the syrup to break down.
I highly recommend doubling the recipe if you've got more than one person in your living space, cause it goes fast! But be sure to preserve some for:
Raw Root Vegetable Salad with Maple Cinnamon Vinaigrette (serves 1 very generously)
Ingredients:
1/3 cup raw carrots, shredded (use two colors for variety, if you like)
¼ cup raw parsnip, shredded
¼ cup raw sweet potato, shredded
¼ cup raw sunchokes, peeled and very thinly sliced
¼ cup dried cranberries (try really hard to find an unsulphered, unsweetened variety)
3 tbsps-1/4 cup maple cinnamon vinaigrette
Directions:
Toss all of the vegetables and the cranberries together. Dress with three tablespoons or a quarter cup of the vinaigrette—adjust to taste—and savor!
This salad is full of crunch, but shredding the vegetables adequately ensures that it doesn't make for a frightening first experience with raw roots. In fact, this would be a terrific addition to any fall dinner party menu or Thanksgiving table. It's sweet and familiar, and it showcases the season's best produce. Best of all, it's tremendously nourishing: thanks to all of the tasty roots, it's high in vitamins A and C, potassium, iron, and a whole lotta fiber.
Yum.
For dinner a few nights ago, I served the root veggie salad alongside a giant kale salad. I adorned the plate with some of my leftover sunchokes, which I steamed, and topped the salad with some sunflower seeds.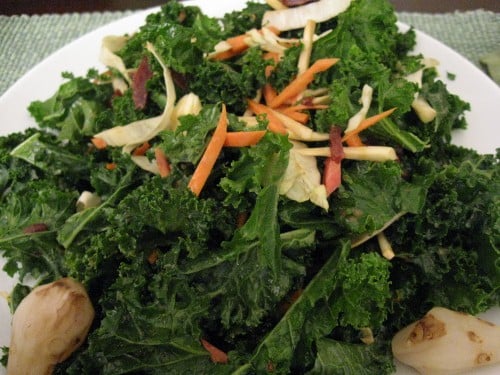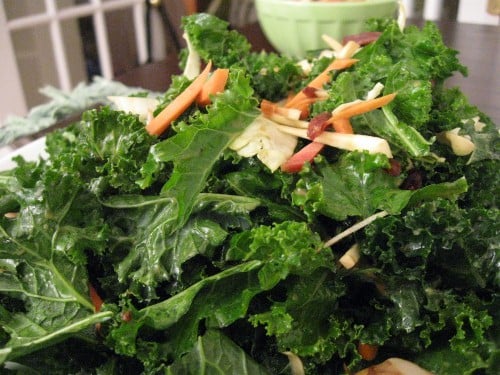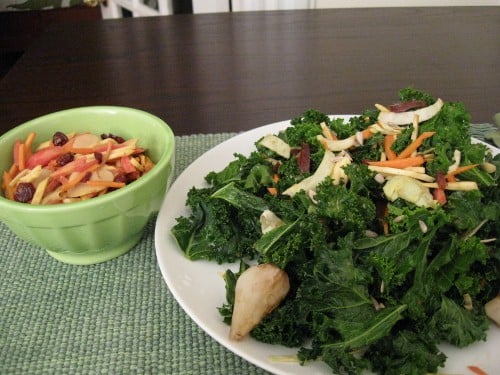 The verdict? Autumnal comfort food. Raw style. What an awesome way to begin Vegan Mofo!
Hope you're all cooking up some amazing vegan food for October already. And thanks for the great response to the return of Raw Wednesday! I can't wait for next week.
Happy Friday!
xo