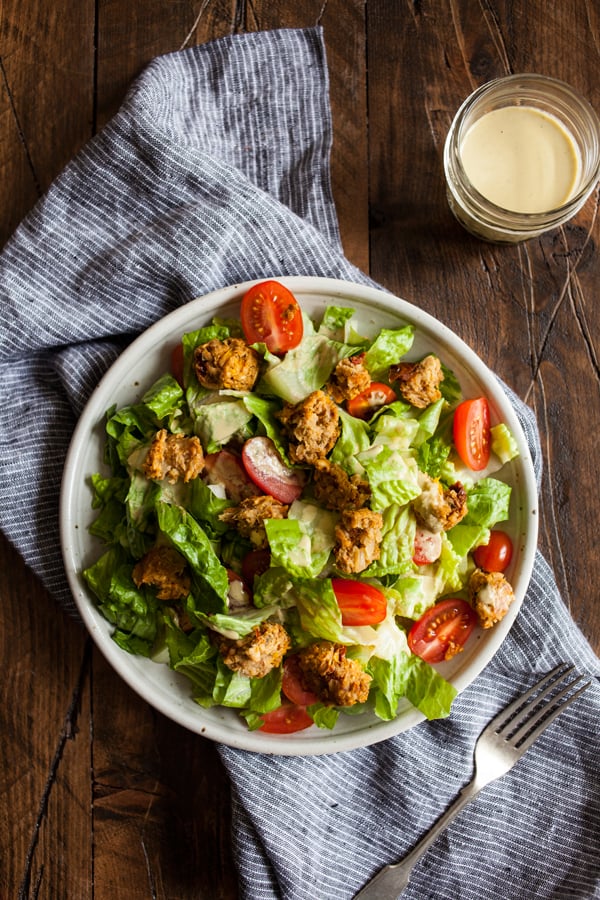 Sometimes I'm surprised by the recipes that prove to be most valuable in my kitchen. They're not always dinner or lunch ideas or other fully composed meals. Oftentimes the recipes I cherish most take the form of a dressing or sauce, a really great dip or spread, or something else that I can use in many different ways to enhance meal after meal as the week goes on.
These savory, Mediterranean chickpea oat balls are a perfect example. I began this past week with every intention of doing a lot of constructive batch cooking and recipe testing. But a long weekend of travel, coupled with a pressing school assignment and some timely work, caught up to me, and the kitchen prep didn't go as planned.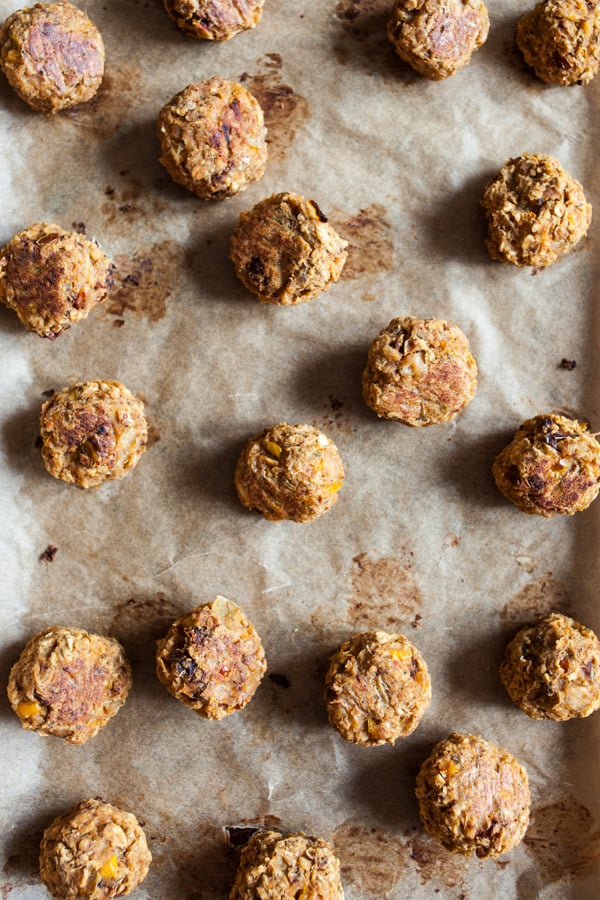 Still, I made this recipe, and I'm so glad I did, because it has paid off in a number of easy, nutritious meals. So far, I've enjoyed the chickpea oat balls on top of pasta for dinner, on top of salads (falafel style!), and as snacks. They are so versatile and tasty, and the fact that my boyfriend can't stop popping one or two into his mouth as he passes the fridge is a sign, to me, that it won't be too long before I make another batch.
I guess you could call these a hybrid of vegan meatballs, falafel, and veggie burgers. They start with a simple mixture of sautéed onion, pepper, garlic, and chickpeas, and you mix them up in a food processor with sun-dried tomatoes, thyme, and oregano for some Mediterranean flavor. Roll them into balls, bake them, and you have a few meals' worth of easy, plant based protein and flavor to play with.
I first envisioned them working in a spaghetti and meatball type situation, so I piled them on to top of some simple pasta bowls–my go-to combination of pasta, marinara, and freshly chopped arugula (I love the peppery kick of fresh greens in the pasta dish).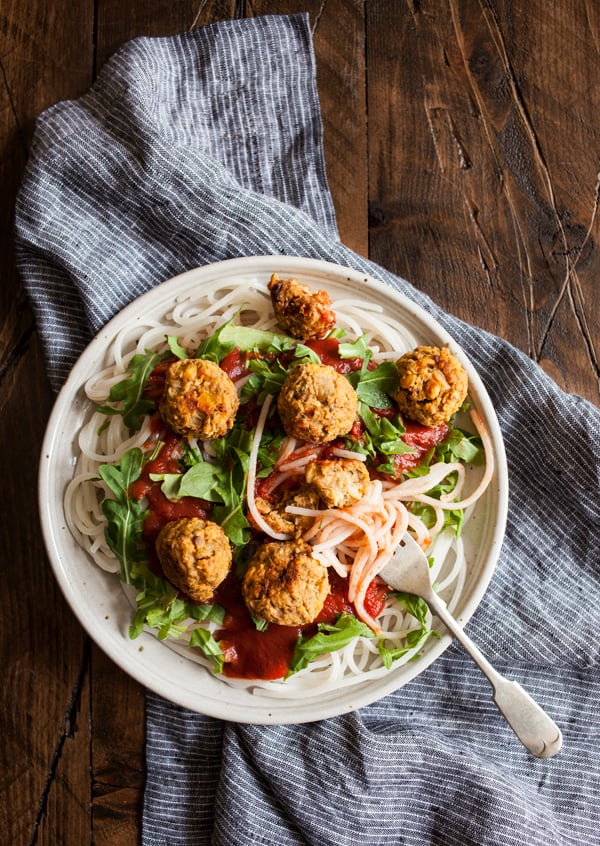 The next day, I tried putting leftovers in a lunch salad bowl, similar to what you see below: greens, cherry tomatoes, quinoa, tahini, and crumbled chickpea oat balls. It was delicious, and I may even have appreciated the herbs and flavor more more this way.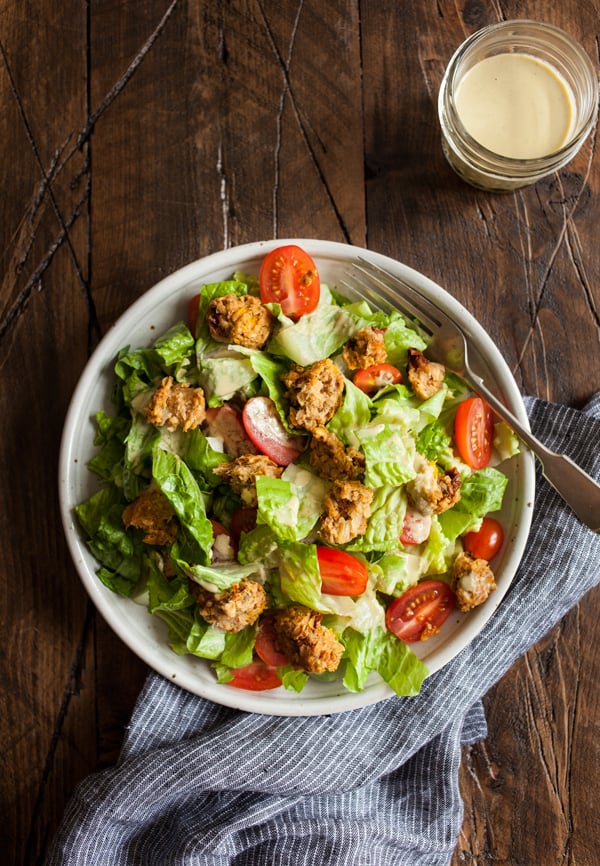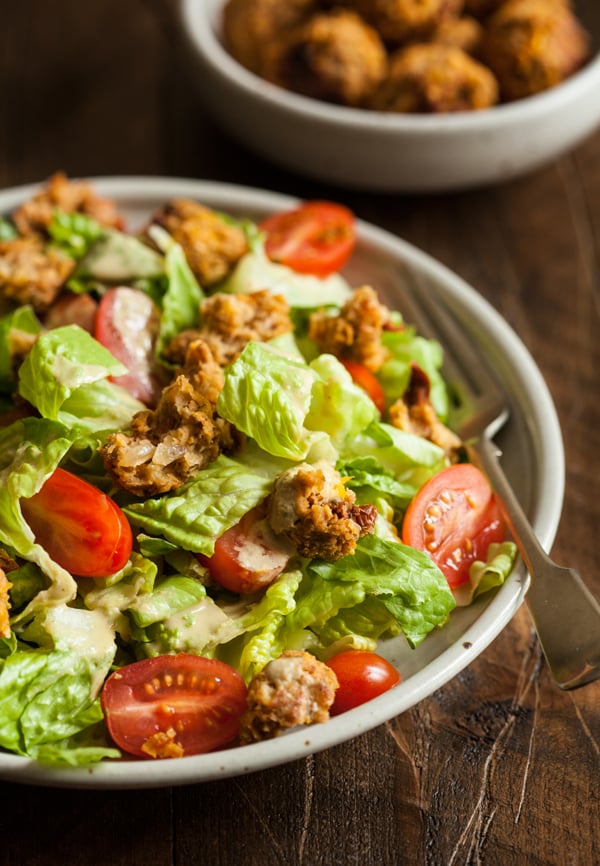 The chickpea oat balls would also be delicious stuffed into a pita with some tahini dressing, served with a rice pilaf, or mixed with a quinoa or couscous tabouli. They make a terrific, savory snack option, too–perfect for when you'd like something nutritious and with a dose of protein, and easy to transport to work or class.
Savory Mediterranean Chickpea Oat Balls
Author -
8

sun dried tomato halves

either packed in oil and patted dry, or dried, rehydrated in water, and then patted dry, roughly chopped

1

tablespoon

ground flax seed

flax meal

2

teaspoons

olive oil

3/4

cup

white or yellow onion

chopped (about 1/2 large onion)

1/2

cup

chopped red or yellow bell pepper

2

cloves

garlic

minced

1 1/2

cups

cooked chickpeas

1 can chickpeas, drained and rinsed

1/2

cup

and 1/4 cup old-fashioned

rolled oats, divided

1/4

cup

nutritional yeast

1/2

teaspoon

salt

1/4

teaspoon

freshly ground black pepper

1/2

teaspoon

crushed thyme

1/2

teaspoon

dried oregano

1

teaspoon

red wine or apple cider vinegar

you can substitute 2 teaspoons lemon juice
If you're not using oil-packed sun dried tomato halves, begin by re-hydrating the sun dried tomatoes. Pour hot or simmering water over the halves in a small bowl and allow them to get plump and soft (about 30 minutes). Drain them and pat them dry, then chop them roughly.

Preheat your oven to 350F. Mix together the flax meal and 3 tablespoons warm water. Allow it to turn into a gel while you prepare the chickpeas.

Heat the oil in a large skillet over medium heat. Add the onion and pepper. Saute for 5 minutes, or until onions are soft, stirring frequently. Add a tablespoon or two of water if the onions start to stick. Add the garlic and cook for another 2 minutes, stirring constantly. Add the chickpeas. Stir everything together to warm the chickpeas through, then remove the skillet from heat.

Place 1/2 cup oats in a food processor fitted with the S blade. Process till the oats turn into a coarse flour. Add the chickpea and onion mixture, the flax "egg," the sun-dried tomatoes, the nutritional yeast, the salt, pepper, thyme, oregano, and vinegar. Pulse everything together until the mixture is uniformly mixed, but still has some texture. Quickly pulse in the remaining rolled oats to help firm the mixture up. Season to taste with extra salt and pepper, if needed.

Line a baking sheet with parchment. Use clean hands to shape the mixture into 1-inch balls and place them on the baking sheet (it might be helpful to rinse your hands off a few times between making the balls, so that they don't get super sticky). Bake for 25-30 minutes, or until the balls are getting crispy on the outside, stirring them around gently halfway through cooking. Serve the balls over your favorite pasta and sauce, crumble them over a salad, or simply enjoy them as a super nutritious, savory snack!
The balls can be shaped up to 1 day in advance and kept in the fridge until you're ready to bake them. Leftover balls will keep for up to 5 days in the fridge and can be frozen for up to 2-3 weeks.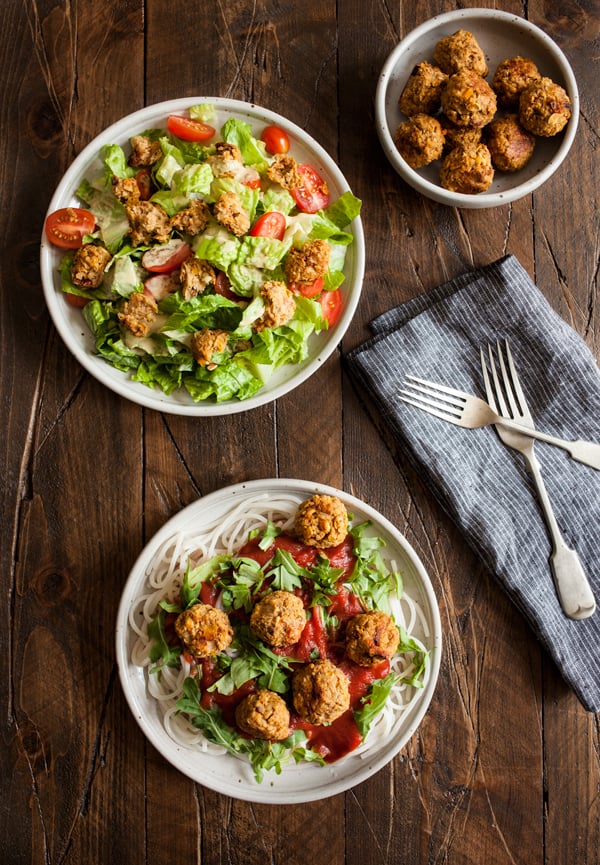 I'm so excited to make another batch of these, perhaps playing around with some of the seasonings. I'd love to try adding fresh parsley or dill, green onion, or even basil. And I can imagine that some other approaches–such as using curry or five spice powder–would be delicious, too. These days I'm all for recipes that I can rely on and adapt over time!
I hope you enjoy these tasty little morsels, and if you make them, let me know how it goes.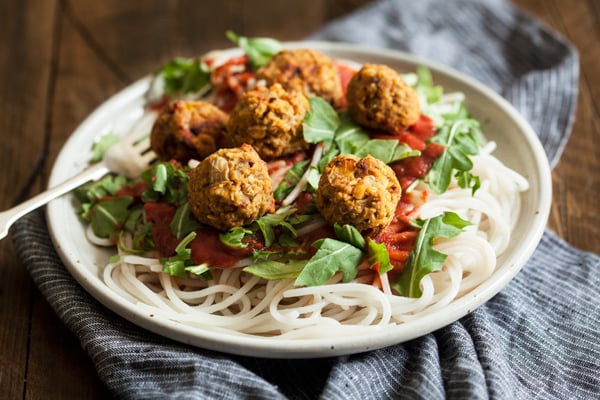 With that, I'm wrapping up a hectic week and looking forward to pausing this weekend for a weekend reading roundup. Enjoy the rest of your week!
xo