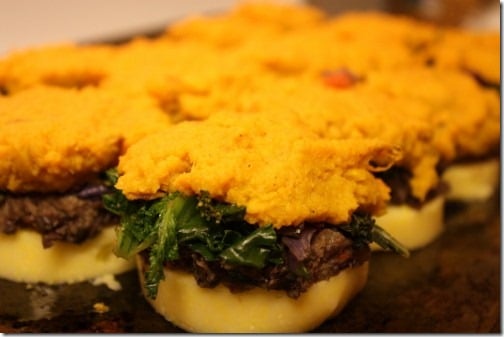 Yesterday, as I gave you my recipe for vegan butternut squash risotto, I promised you guys a "mystery recipe" to come. As soon as I uttered those cryptic words, I realized that it wouldn't be long before I spilled the beans. What I'm about to share is one of my favorite recent dinners from the CR kitchen, and I'm proud to say that I constructed it spontaneously, using ingredients from M's produce box and a touch of imagination.
Of course, I did have a little inspiration when it came to constructing this dish. It was my fondness for the "paradise casserole" at Candle Cafe here in the city. That dish is a heavenly casserole made from millet, black beans, and mashed sweet potatoes, and it's my favorite of their entrees. Last Friday, as I was scouring M's fridge for dinner ingredients, I found the following:
1 tube of prepared polenta
4 large yams
2 cans black beans
1/2 jar pimento peppers
1 large bunch each of Swiss chard and kale
What could I make, I wondered, that would put all of these things to good use? My first idea was to make a casserole dish, lining the bottom with the sliced polenta and stacking ingredients on top. Then, I decided that mini-stacks would be cuter. I wanted to use a similar approach as the Paradise Casserole—starchy base, black beans in center, mashed yams on top—but I wanted to add some fresh greens, and to mash and flavor the beans. What follows is my ultimate creation.
Savory Polenta Stacks with Black Beans, Greens, and Mashed Yams (serves 4 generously)
1 tube organic, prepared polenta
4 medium or large yams
1 tbsp mellow white miso (optional)
2 tbsp Earth Balance
2 tbsp-1/4 cup almond milk
1 tsp cinnamon
2 cans black beans, drained and rinsed
1/4 cup roasted red peppers (jarred is fine)
2 small cloves garlic, minced
1/2 tsp cumin
1/2 tsp coriander
1 tsp agave
1 head of kale or Swiss chard (or a mix of the two), washed and chopped
1 tbsp olive oil
Salt and pepper to taste
1) Peel and quarter the yams. Heat a large pot of water to a boil, and boil the yams until they're fork tender.
2) While you wait for yams to cook, spray a large pan with coconut oil spray (or any cooking spray). Cut the polenta into 1/2 inch rounds, and line them evenly on the tray. Pre-heat the oven to 350 degrees.
3) Remove yams from water, and drain. Using a potato masher or ricer, mash them with the miso (if desired), cinnamon, Earth Balance, and almond milk. Use only enough milk to achieve a thick consistency. Season to taste with salt and pepper. Set the mashed potatoes aside.
4) Place drained beans, peppers, garlic, cumin, coriander, agave, and salt and pepper to taste in a food processor, and process roughly, so that the beans are somewhat mushy but look like refried beans, rather than hummus (i.e., so they're not totally without texture). This, by the way, is a great dip/spread, all on its own.
Set bean mixture aside.
5) Heat 1 tbsp olive oil in a skillet and add the garlic. Stir garlic for about 1 minute, then add all of the chopped greens to the skillet. Cover it quickly so that the greens wilt down; two minutes later, begin sauteeing them until they're tender and cooked through. Season to taste with salt and pepper.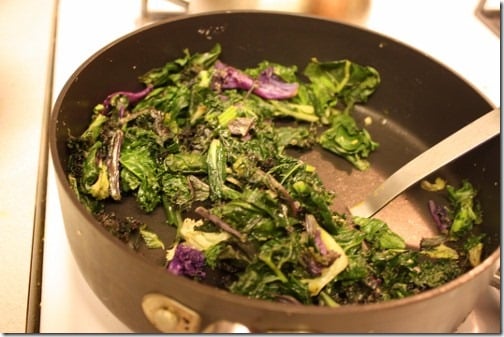 6) To assemble the stacks, layer each polenta round with about tablespoon and a half of the black bean dip. Next, place some greens on top of that–I found it easiest to do this with my hands–and press the greens down to adhere to the bean mix.
Finally, top the greens with a nice little heap of mashed yams. Again, use your hands if necessary.
7) When stacks are assembled and uniform, place the tray in the oven and bake for 35-40 minutes. Serve.
I found that 3-4 stacks was a very adequate serving size. They'll be warm, tasty, and very cute looking when they emerge from the oven, like so!
These, along with salad or any simple veggie side, make for a fabulous and easy dinner.
Yes, I said easy! I know there are a lot of moving parts in this recipe, but it's actually a breeze to make. You can prep the bean mix and potatoes ahead of time, and then all that's left is wilting some greens and cutting the polenta. In fact, using the pre-made polenta in place of a cooked grain is a great way to save time and energy!
These were such a hit that I made them again the next day—this time for a vegan cookoff and potluck dinner. Once again, they got enthusiastic reviews. I can't recommend them enough for a healthy, simple, and filling meal.
What's the last recipe you came up with spontaneously? How do you get inspired by what's in your fridge?
xo