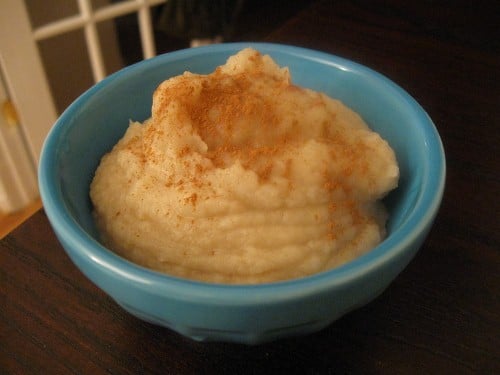 Hey guys!
As usual, I am blown away by the thoughtful and intelligent comments you guys left on my last post. If you haven't had a chance to read it (or the responses) yet, please do!
If you read the comments, you'll notice that I had to clarify a few times what the purpose of the post was. It wasn't my goalto vilify food or to suggest that you should avoid eating–people, does that sound like me? And it was not, as some readers thought, to suggest that it's wrong to take pleasure in eating. There is a tendency among some raw foodists to fixate on moving "beyond" food—to reach a place where food is as incidental and insignificant as possible—and I don't subscribe to this way of thinking. It's both healthy and natural to take pleasure in the experience of eating.
The purpose of my post was to say that we shouldn't invest food with more significance than it deserves, nor use it as a crutch to cope with our struggles. Food isn't devoid of meaning—it can signify pleasure and memory in a significant way—but neither should it be the prevailing source of one's happiness, sense of self, comfort, ease, and so on. No single activity in life should so singularly control your emotions—working, studying, sleeping, exercising, sex, whatever—and eating is no exception!
But enough of that. Now that we've de-mystified food, let's, um, talk about food.
Remember how I said I'd begin sharing a cooked recipe of the month? Last time, it was carrot fries. For the month of October, it's going to be root vegetable mash. To be honest, I was going to come up with something much more elaborate and cool, but my kitchen time has been limited. And root vegetable mash is such a favorite of mine—and so versatile and tasty—that I figured I'd just go ahead and share.
For the past two weeks, I've been on a turnip kick. I've been spiralizing them, steaming them, roasting them, and shaving them into salads. I love them raw and cooked, but I do find that cooking brings out their sweetness. I've also found that they happen to go beautifully with another favorite root vegetable of mine: parsnips.
Though my pal Diana recently discovered she hates parsnips. I love them, A lot. Almost as much as I love carrots (almost–there aren't many things in life I love more than carrots). And I'm always eager for a chance to eat them. So, with apologies to Diana for ruining a perfectly good turnip dish with the addition of parsnips, I present turnip and parsnip mash.
My basic template for all root veggie mash is simple:
1) Steam two or three cups of your favorite root veggie
2) Blend it in your food processor with a tablespoon of coconut oil, salt, and pepper.
Sure, you can get fancy if you'd like to, and add all sorts of herbs or spices (cinnamon and nutmeg are great; so are parsley and rosemary and thyme), but you really don't have to; the sweetness of root veggies are enough to make them sing. An addition that can be very tasty is, oddly enough, a teaspoon of dijon mustard; I especially like this with turnips!
I recommend using any root veggies you like, in any combination (with the one cautionary suggestion that you pair beets with something really starchy, like potatoes, or else the beets won't develop a pudding-like consistency).
A few nights ago, two large turnips, peeled and chopped, met three large parsnips, also peeled and chopped. They hung out in a steam bath for about fifteen minutes, went into my processor with some coconut oil, and got a good whirl (it took me a few minutes and a few stops to scrape the sides of the bowl). I added a teaspoon of mustard, a sprinkle of cinnamon, salt, and pepper, and voila:
A perfectly warm, comforting, and sweet treat.
Root veggie mash is a great way to enjoy root vegetables you might not be a fan of; by mixing them with others, you'll mask their taste a bit. And it's a great way to get some starchy food in a quick, digestible form; I love eating these mashes as a pre-workout snack. Try one out for yourself!
And while we're on the topic of warm food, a few of you have written in to ask me how I stay motivated to eat raw in the winter and fall. The answer is, I never need "motivation" to eat raw—this lifestyle isn't a challenge I hold myself to, nor should it ever feel that way. When I want cooked foods–and for me, this is usually cooked vegetables or grains–I eat them. This is very infrequent, but it happens more in the cold months, and I don't hesitate to obey.
If you're struggling to stay raw through the winter months, the answer might be for you to stop struggling so much! As I've said before, it's not eating 100% raw that matters most, so much as eating a diet of plant-based, digestible foods in good combinations. It's OK to eat cooked or steamed veggies, soups, easy-to-digest cooked grains, or other simple vegan fare when you want it; just remember to honor your digestion and to also include raw veggies in your diet. A combination of raw and cooked should serve you well, and you may find that by eating some cooked foods, your appetite for raw returns! And if you're determined to stay the course, check out my friend EarthMother's useful post on eating raw in winter months. I'll try to share my own tips with you as temperatures drop, too!
Have a great day, all.
xo
P.S. Please vote for my friend Zesty in the Quaker Challenge!