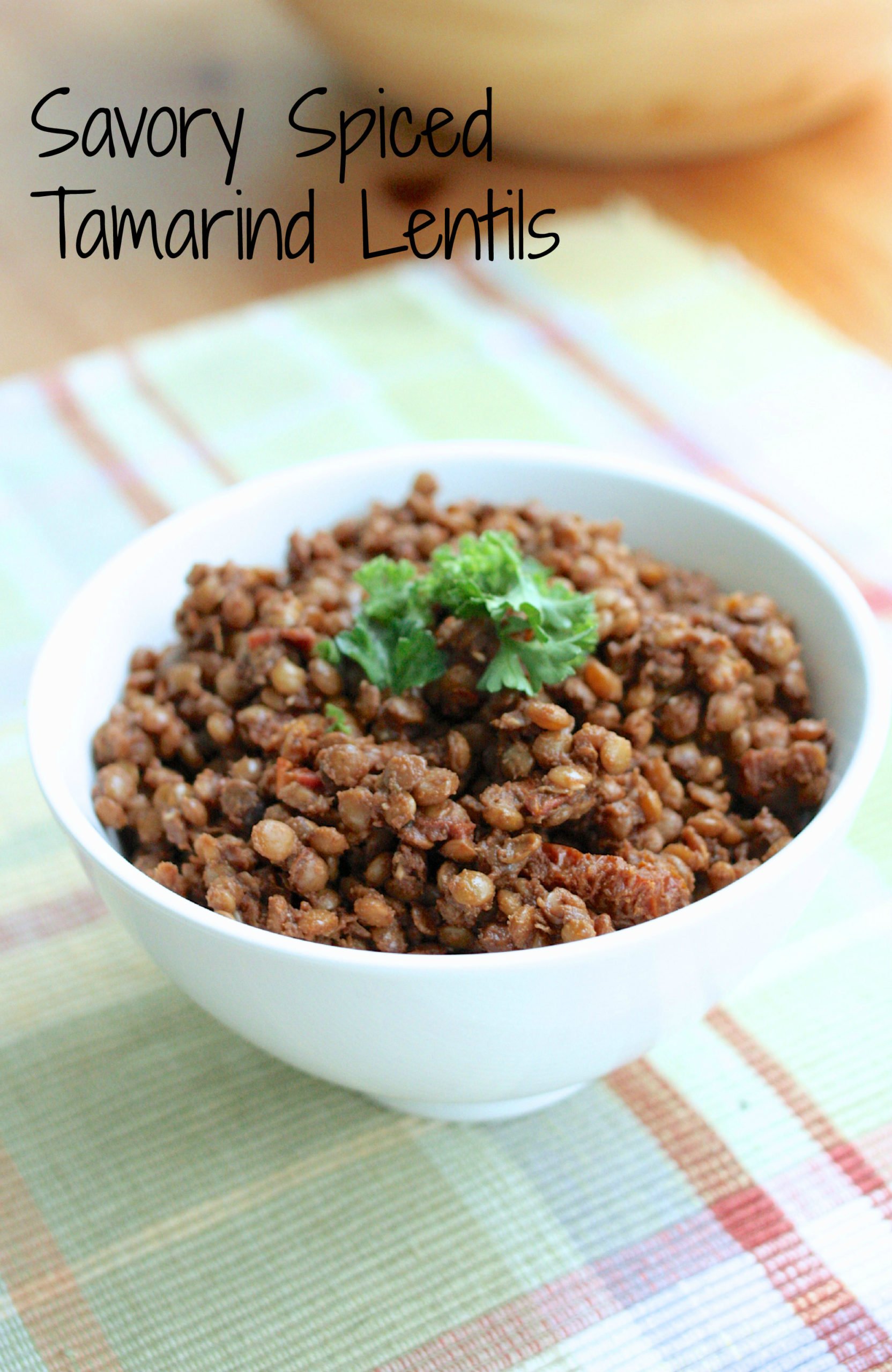 A few weeks ago, I blogged about my first official experiment with tamarind paste. In that post, I asked for some suggestions on how to enjoy its sweet-tart, vibrant flavor. I got lots of great feedback: some of you mentioned stir fries, others curry dishes. One of you even mentioned adding tamarind to banana soft serve!
In the end, the recipe that immediate caught my eye was Janet's tamarind lentils, which are inspired by Isa's tamarind lentils in Veganomicon. I love savory legume dishes, and the addition of something both tart and super savory sounded irresistible.
I've adjusted the spices that Janet's recipe originally called for, since I didn't have all of the same ones on hand. I also added sun-dried tomatoes and canned tomatoes in place of tomato paste (again, this is just what I had around), though I imagine tomato paste is great in the recipe. In the end, it was a delicious meal that made for flavorful leftovers. As you'll see in a moment, this is also a relatively easy dish to make, so it's perfect for dinners in a pinch.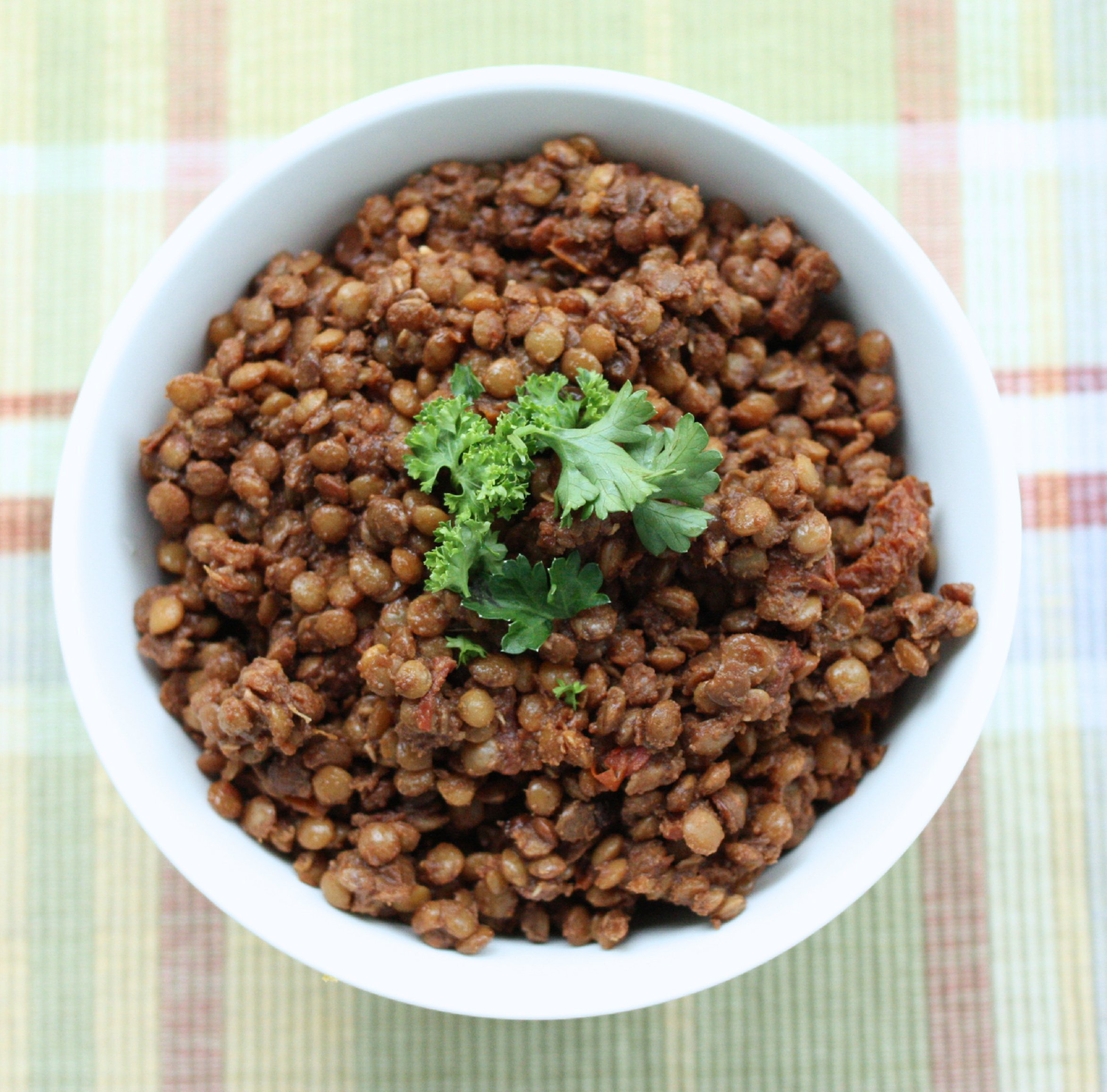 Savory Spiced Tamarind Lentils (Inspired by Isa Chandra Moskowitz and The Taste Space)
Cuisine:
vegan, gluten free, soy free, nut free
Prep time:
Cook time:
Total time:
1 tablespoon olive oil
1 small white or yellow onion, chopped
2 cloves garlic, minced
2 teaspoons fresh ginger, minced
1/4 teaspoon cloves
1/2 teaspoon cinnamon
1/4 teaspoon nutmeg
1/2 teaspoon cumin
1 cup dried lentils (I used green, but brown or black is also fine)
6 sun-dried tomatoes, chopped
2 cups water or vegetable broth
1 tbsp concentrated tamarind paste
1 tbsp maple syrup
1/2 cup chopped tomatoes (fresh or canned)
1/2 tsp salt
Heat the oil in a medium sized pot over medium heat. Add the onion. Sauté the onion for 5 minutes, or until it's soft and clear. Add the garlic and ginger. Sauté for another two minutes, stirring constantly. Add a tablespoon or two to the pot if the onion and garlic begin to stick.
Add the cloves, cinnamon, nutmeg, cumin, lentils and sun-dried tomatoes to the pot. Mix all ingredients together. Add the broth or water and bring to a boil. Reduce to a simmer and let the lentils cook for 25-30 minutes, or until the lentils are tender.
Whisk together the tamarind, maple syrup, tomatoes, and salt. Add them to the lentils and continue heating over gentle heat till everything is fragrant, warm, and well combined. Serve.
Leftover lentils can be stored in an airtight container in the fridge for up to 5 days, or frozen for up to 1 month.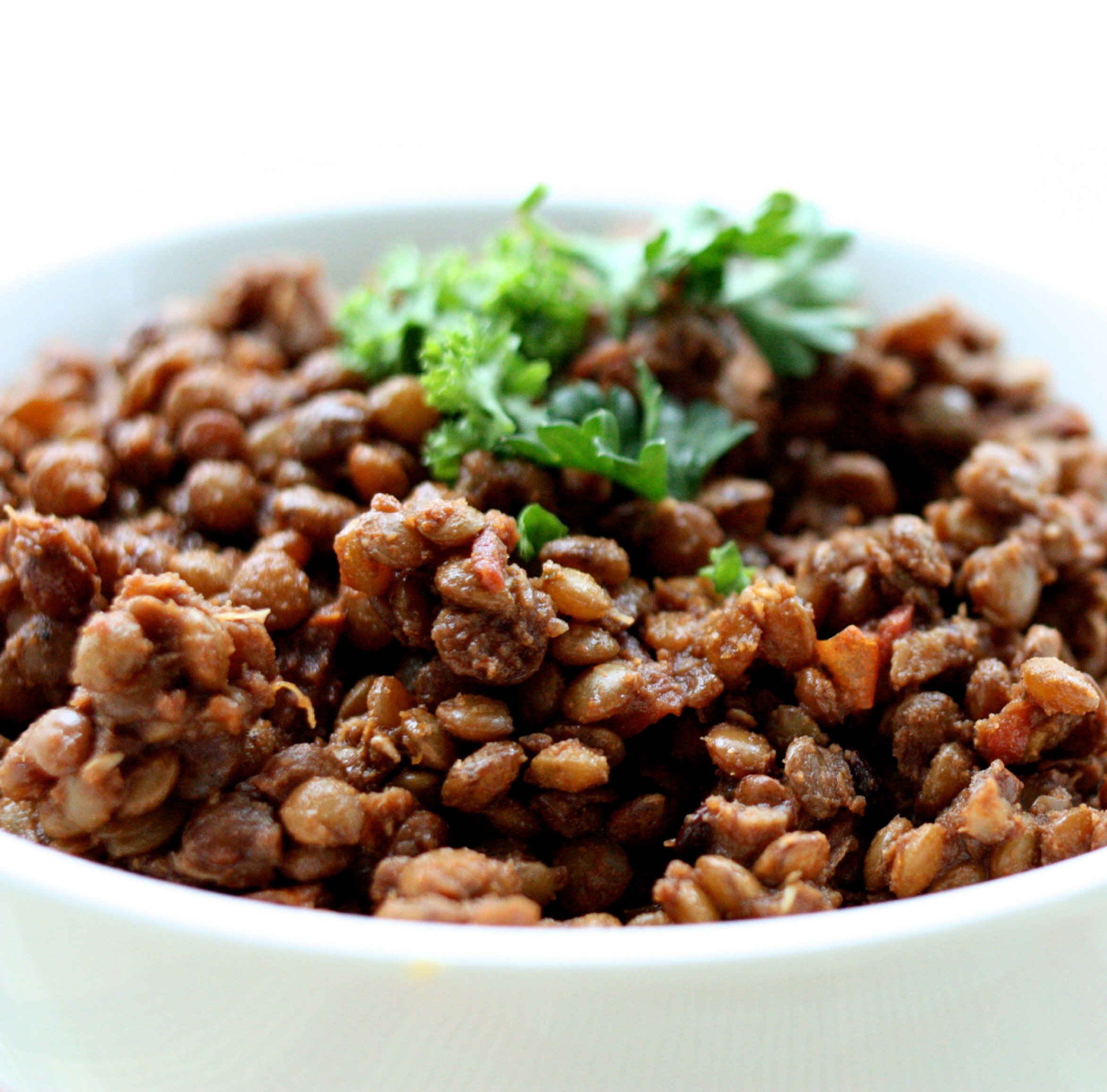 In the days after I made this recipe, I discovered that these lentils are particularly good with a big, fresh salad and a nice hunk of avocado. Nutritional yeast also makes a perfect topping (but then, what isn't better with nutritional yeast?). I can also imagine enjoying these very much with a quinoa pilaf, or stuffed into a whole grain wrap.
I hope you'll give the lentils a try. I'm sure you'll find, as I did, that a little fridge time makes them even more flavorful. Enjoy, and let me know what you think!
xo