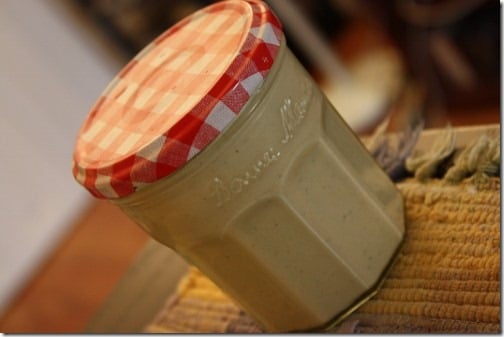 Hello from a post-Super Bowl high 🙂
A few days ago, when I posted my raw nori cigar snacks, one of my readers commented, "These look amazing! And as a fellow student, I really love recipes that use sunflower seeds instead of other nuts, which tend to be four times as expensive. Thank Gena!"
I agree, Hannah! Sunflower seeds are relatively inexpensive, and it seems that they're always on sale at my local health food store, too. With that in mind, I decided I'd give you guys another sunflower seed recipe today: savory sunflower dressing with herbs.
As you all know, I'm fanatical about raw dressings. Salad and raw veggies are at the base of any semi-raw diet, and they're a lot tastier and more fun when they're slathered in dressings that are delicious. I have so many I love (my soon to be updated recipe tab lists just a few), and they all add different character to my nutrient dense salads, my raw collard wraps, and my veggie dipping plates. They range from the rich (raw caesar) to the light (zucchini dressing). This one is a perfect in-between: the sunflower seeds add creaminess, but it's not overly thick, and the flavors are light and bright from lemon and fresh herbs. Enjoy it on any salad, or as a tangy and refreshing vegetable dip.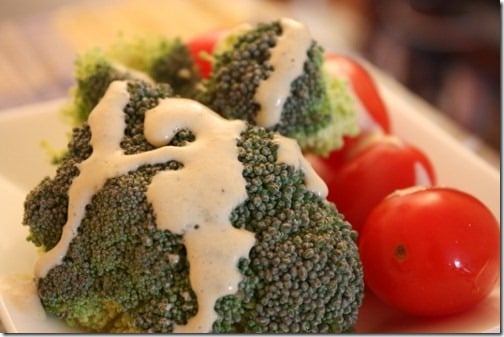 Savory Sunflower Seed Dressing with Herbs (Raw, Vegan, can be gluten or soy free depending on whether you use nama shoyu or tamari)
Makes 1 1/2 cups
1/2 cup hulled sunflower seeds
1 cup water
3 tbsp fresh lemon juice
1 tbsp Bragg's, nama shoyu, or tamari
1 tbsp dried parsley
1 tsp dried dill OR basil
1 tsp dried oregano
1 tsp agave nectar
1/2 tsp minced garlic
Put all ingredients in a high speed blender, and blend till creamy and smooth.
I think it goes very nicely over broccoli and tomatoes—a little mid-morning snack made from crudité platter leftovers from last night's party!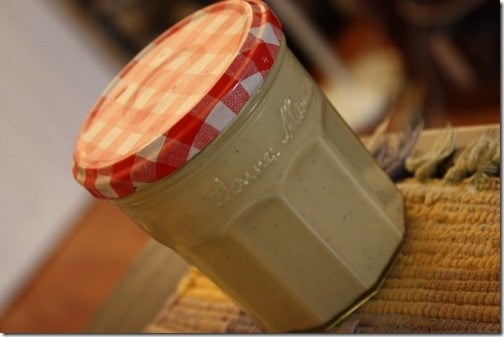 Here's a portable portion that I'll be taking to campus for tonight's dinner (salad with dressing; raw sunshine burger), which takes place in my chem auditorium lecture:
If you don't have mini tupperware containers for dressings, I really recommend getting some—or, a more health and environment friendly option is to get mini Ball canning jars. This is one of the first things that I tell my new clients to do: it'll be so much easier to actually bring salads to work (and bypass subpar cafeteria food) if you have the right equipment—and by that I mean containers for greens and dressing. Sometimes, investing in something as small as a little dressing carrier is all it takes to make a healthy lifestyle stick.
Happy Monday!
xo