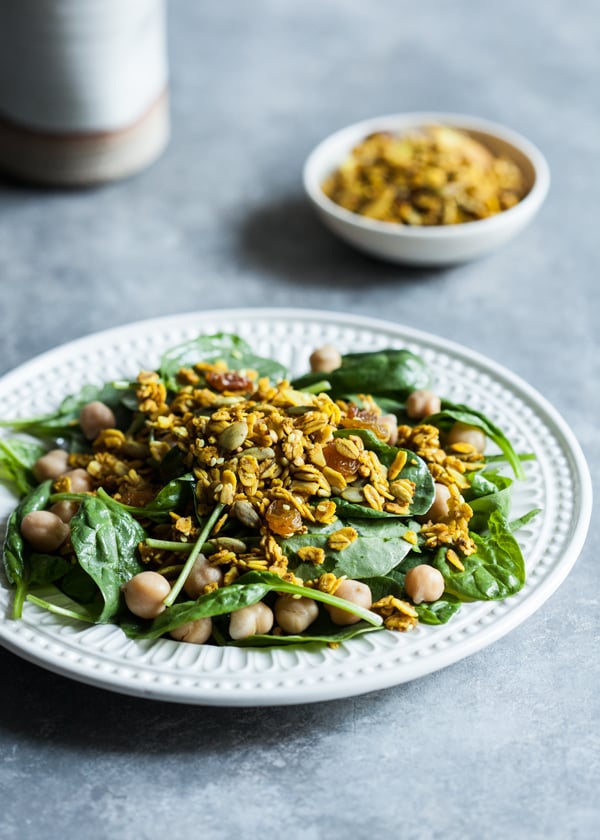 There are certain recipes that, once made, compel you to marvel at the fact that you didn't make them sooner. I'm thinking of socca, for example, which took me years to try, or cauliflower steak. This savory turmeric spice granola is the latest to give me that sense of inevitability. I love granola, and I love sweet/savory food combinations, so I guess it was only a matter of time–and now I can't believe I waited so long!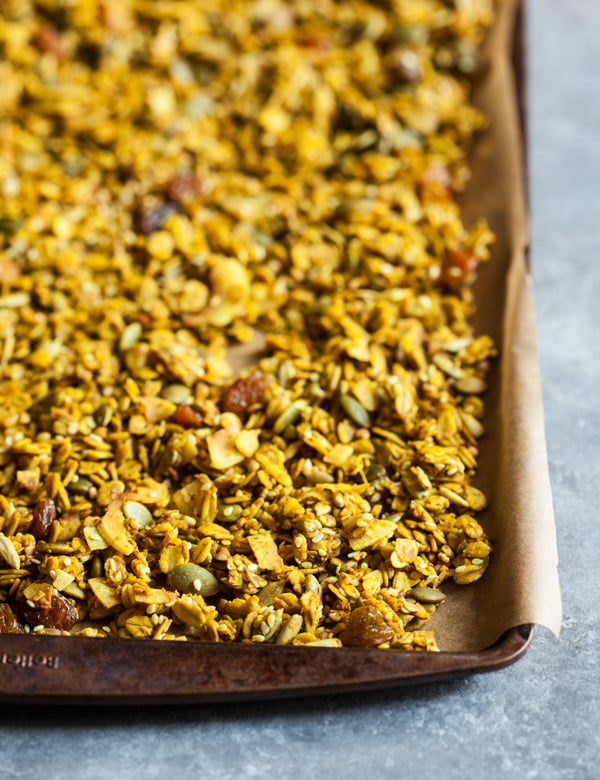 I've let my first foray into savory granola territory be inspired by Indian spices: curry, turmeric, cumin, and cinnamon. I love the effect, but now that I've tried this combination of flavors I'm eager to try more. I'm thinking about an herbed version soon (rosemary and thyme, maybe?), as well as something with barbecue flavors. An Asian inspired version, with tamari and five spice, might be interesting, too. And who knows what else will spring to mind.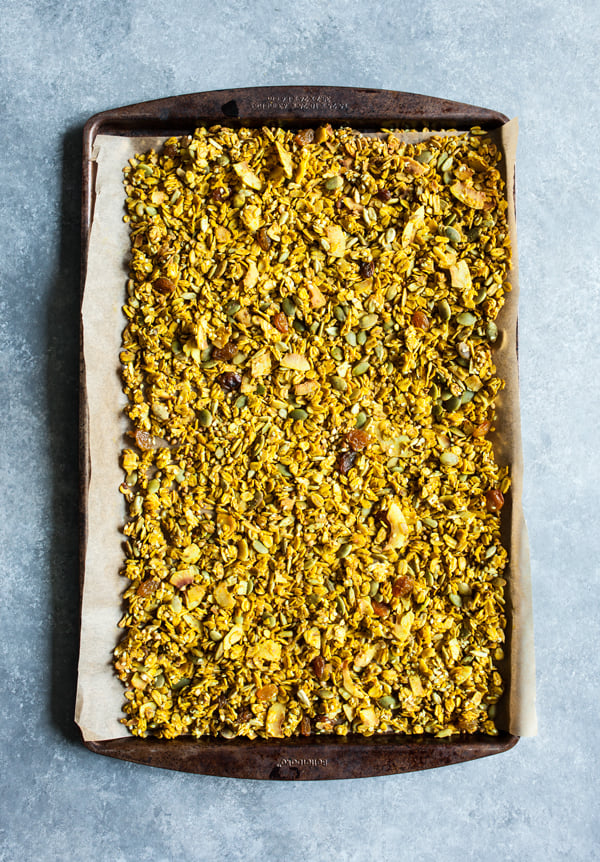 A few notes on this recipe:
1. It's easy to customize. One of my favorite things about making the granola was that I used pantry ingredients from start to finish: there's nothing I had to run out to the store for once the idea occurred to me.
So, you'll see pumpkin seeds, sunflower seeds, and sesame seeds here, but those could very well have been chopped cashews or walnuts, sliced almonds, or hemp seeds. It's definitely worth treating this recipe as a chance to use up what you have.
2. Having done buckwheat granolas for a very, very long time, I now prefer to mix it up and do a combination of rolled oats and buckwheat groats. But you can definitely try playing with the ratio of buckwheat to rolled oats, and see what you like best.
3. As I said, I'm a sucker for the sweet/savory thing. So, I used a full 2 tablespoons of agave and added golden raisins. I do recommend one tablespoon syrup to evoke a hint of the sweet and savory combination, but whether you use two is totally up to you. So, too, is the choice to add a bit of dried fruit. If you like, you can try adding chopped apricots, prunes, or dates instead of raisins.
4. Speaking of things that it took me ages to try, this is the first recipe I'm posting on the blog that features aquafaba! (And yes, it's as versatile and awesome a binder/egg replacer as everyone says.) This was an easy choice for me because I nearly always have a bunch of canned chickpeas at home, waiting to be used in salads and hummus, and saving the aquafaba allows me to use a component that I'd otherwise throw away. If you don't have chickpeas at home, a combination of 1 1/2 tablespoons ground flax meal and 4 tablespoons warm water will work nicely as a substitute.
Savory Turmeric Spice Granola
Author -
2

tablespoons

ground flax meal

2

cups

rolled oats

1/3

cup

raw buckwheat groats

1/4

cup

raw pumpkin seeds

1/4

cup

raw sunflower seeds

2

tablespoons

sesame seeds or hemp seeds

1/3

cup

coconut flakes

1/3

cup

golden raisins

optional

1/2

teaspoon

salt

1 1/2

teaspoons

turmeric

1/2

teaspoon

ground cumin

1/2

teaspoon

curry powder

1/4

teaspoon

cinnamon

Dash cayenne pepper

1/3

cup

aquafaba

or liquid from a can of chickpeas; substitute an additional 1 1/2 tablespoons ground flax mixed with 1/4 cup warm water

3

tablespoons

safflower

grapeseed, or olive oil

1-2

tablespoons

maple syrup
Preheat the oven to 350F and line one or two baking sheets with parchment. Mix the flax, oats, buckwheat, all of the seeds, coconut flakes, raisins, and all of the spices/seasonings together in a large mixing bowl.

In a small mixing bowl, whisk together the aquafaba, oil, and maple syrup. Pour this wet mixture over the granola mix and stir well to combine everything evenly.

Bake the granola for 20-25 minutes, stirring a few times during cooking to ensure that the granola at the edges of your baking pan doesn't burn. Allow the granola to cool completely before transferring it to an airtight storage container.
Granola will keep for up to two weeks in an airtight container. Store in a cool, dark place.
When it comes to things you can do with this granola, sky's the limit! Use it to add spice and flavor to salads, bowls, or a big sheet pan of freshly roasted vegetables. Sprinkle it onto some soy or almond yogurt for a savory breakfast parfait. Use it to top some hot-from-the-oven baked potatoes. I think it would be an incredible topping for crispy roasted cauliflower.
Or, just enjoy the granola as an afternoon snack–a savory alternative to most bars and snack balls.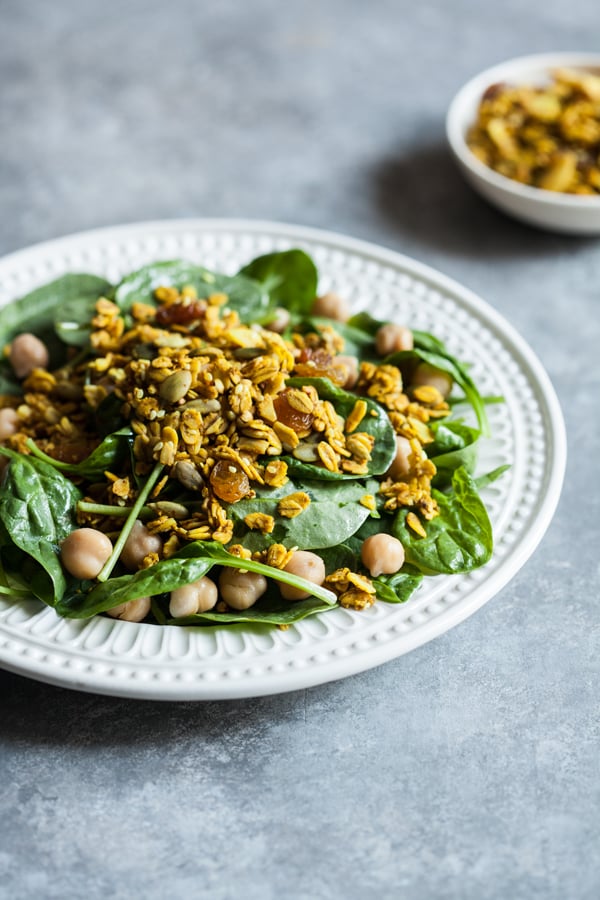 Above, you see a super simple way of serving the granola: with greens, lightly dressed in olive oil and lemon, plus some chickpeas. On Thursday, I'll be sharing a different and slightly more creative idea for what to do with your savory granola. (Hint: it's one of my new favorite breakfast dishes, and I think you guys will love it!)
Can't wait to hear how you enjoy this sweet and savory treat. Hope you'll have a chance to try it soon, and I look forward to sharing some new variations on the theme as soon as I've tried them! Happy Tuesday, all.
xo