Hey all!
I've got a jam-packed Sunday ahead of me, including a brief stop at NYC's Vegetarian Food Fest, so this is going to be a post through pictures. Last night, M and I treated ourselves to a special dinner at our favorite restaurant: Candle 79.
Student life has made me a bit of a shut-in; two weeks ago, I found myself at Union Square, and I actually remember thinking: "Wow. I'm actually downtown. Look at all of the people!" It's rare that I have time to enjoy my beloved city and a good restaurant meal these days, so last night felt very special. And there's no place I would have preferred to mark a special occasion than my culinary home-away-from-home on 79th Street. Here, without any more chatter from me, is our night through food:
Amuse Bouche: Vegan Spanakopita. This Greek lady gives it good marks for taste and authenticity!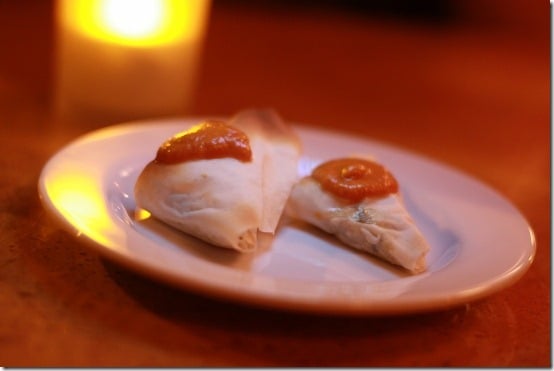 Appetizer: grilled hearts of palm and artichoke with kale dressing and a vegetable ragout:
Salad: Arugula with artichokes, pickled onions, olives, and grilled asparagus for me: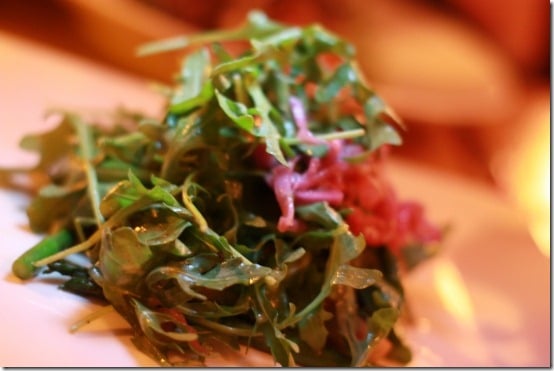 Seaweed with carrots, cabbage, sesame seeds, and edamame for M:
Entrée: Moroccan spiced chickpea cake with seasonal vegetables, red pepper-coconut curry, ginger-apricot-date chutney, and toasted almonds for me: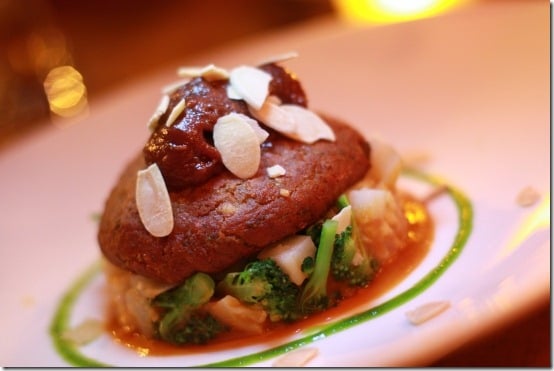 And a seitan special for M: walnut crusted seitan with ramps, fiddlehead ferms, and warm potatoes:
My entrée was just to my liking, and M's was spectacularly seasonal and fresh. We both could have died happy after this meal.
Thank you, Candle 79, for welcoming back into the world at large with such sumptuous and incredible food. What a wonderful weekend treat!
See you guys back here tomorrow with a special new hummus recipe (!).
xo