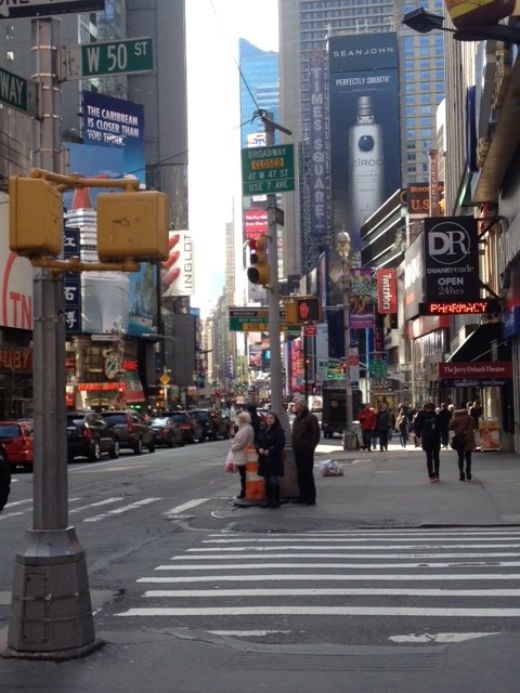 I'm glad you're all enjoying the NYC recaps! I sometimes worry that my home/travel posts are pretty boring in comparison to recipes or musings. Glad to know that's not true.
So when we left off, I was on my way to meet my friend Gabi for dinner/catch up, and all fingers and toes were crossed for Candle Cafe. This plan was shifted when dinner out turned into takeout, and the Candle Cafe delivery time was an hour. Too ravenous to wait (next time, beloved Candle!), I decided to order in from Gobo, which is also right near Gabi's home, and another fantastic veg dining destination in the city. I've never blogged about it before, but you can check out the menu here.
My first introduction to Gobo was when a friend of mine got married in the West Village, and kindly enlisted the restaurant to provide me with a vegan meal. It was tamari brown rice, steamed farm vegetables, sauteed kale, roasted beets, and some kind of salad that blew me away. Needless to say, Gobo quickly became a favorite! Last night, I began with a dragon roll — all raw vegetable rolls stuffed with cabbage, carrot, pine nuts, basil, and served with a balsamic dressing. Absolutely fantastic!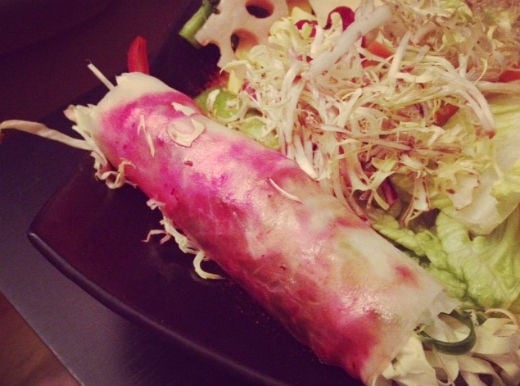 I'm not entirely sure what the outer layer was. It tasted like daikon, but where did the crimson color come from? Hmm. I'll have to figure this one out, so that I can make my own rendition.
For my entree, I got the steamed farm veggies (lotus root, parsnip, carrot, broccoli, butternut squash) with brown rice and tamari sauce, along with a fresh romaine and avocado salad. A lot of food, but I was hangry!
That's my kind of takeout. How lucky Gabi is to live within ordering distance of both Candle and Gobo! And now she's also got V-Note nearby. Sometimes I'm not sure how I ever lived in New York without going entirely broke on food.
Earlier that day, I had made my way to Yoga Works on the UWS for a class with Rama Nina Patella. Yoga Works, if you've never been, is a studio that features its own signature style/flow, as well as vinyasa, astanga, and pilates classes.
One of my very first yoga instructors was a very handsome Frenchman named Johan Montijano. In addition to being a great teacher, he was incredibly tolerant of the fact that all of the women at New York Sports Club batted their eyelashes at him (he was and is very happily married). Johan was always talking about his inspiring teacher and mentor, Rama. It has taken me years to get to one of her classes, and I"m so glad I finally did!
As soon as Rama began chanting yesterday, I knew why she inspires so much devotion. She's a tough teacher, and demands total fearlessness, but she's also warm and encourages a thoughtful practice. In all, I found the class to be a little limited by the Yoga Works signature style–not enough flow for this energetic yogi–but I did appreciate the deep stretches, the long holds, the thoughtful words, and the handstand practice (against the wall, with a partner, and lots of whining from me–I fight inversions tooth and nail!). I woke up seriously sore, and continued to be grateful that trips home afford me a chance to vary my practice. Thank you to Yoga Works for a complimentary class–I truly enjoyed it!
Today and yesterday afternoon, it was straight back to my other practice: Orgo practice. Class resumes as usual on Wednesday, and it's time to focus up. I did manage to take a quick study break today to visit the new Organic Avenue outpost, which is conveniantly located a few blocks away from my Mom's!
Wowza. This place is impressive! I snapped as many photos as I could before they yelled at me for it. (Sorry, OA.)
Organic Avenue is famous for raw juices, smoothies, soups, snacks, beauty products, and for its LOVE "cleanse" (which can either be food or liquids). I am an enormous fan of the food and soups, but I will confess that I don't often shop there because I find the prices a bit prohibitive. Still, I appreciate that they provide consumers with readily available raw, organic, and vegan foods. And the coconut yogurt sure is delicious.
Now that Candle Cafe is opening a location on the Upper West Side, I may not venture out of the 10023 zipcode when I'm visiting my mother at all. I love what's happening to my hood!
Speaking of my hood, my mother and I dined at Josie's tonight. The lighting was too dim for photos, but I had the organic vegetable plate, which is grilled organic veggies, tamari brown rice, acorn squash, tamari dressing (I'm apparently on a rice and tamari kick), and steamed bok choy. Totally scrumptious. My typical reaction to dinner at Josie's is this kind of smile:
Especially since my Mom loves it as much as I do!
While we were there, a very sweet CR reader named Natalie came over to the table. We chatted for a bit, and I thanked her for taking the time to introduce herself (I love meeting readers!). She says she's soon moving from Cambridge, where she's been finishing up her studies, to San Francisco. I told her she must eat at Millennium for me. Many, many times.
If you're wondering about the Times Square photo up top, that was from today. I caught a 10 am hot vinyasa class at Yoga to the People, which is another favorite studio, not only because it reminds me of my beloved Down Dog, but also because the classes are only $5. I love the idea of making yoga financially accessible to everyone, and appreciate that this studio makes it possible. The studio is on 38th street, so I walked home via Times Square, soaking up the sights and sounds.
Many native New Yorkers hate Times Square: they say it's nothing but an overcrowded tourist trap. It's crowded alright, but I happen to love Times Square. To me, it embodies all of New York's hustle and bustle, as well as the excitement of Broadway. And I love the tourists, who remind me that people from all over the world enjoy their time in NYC as much as I do.
Speaking of that, the hours are creeping away, and I've got an early bus to catch. Talk to you all from D.C. tomorrow!
xo