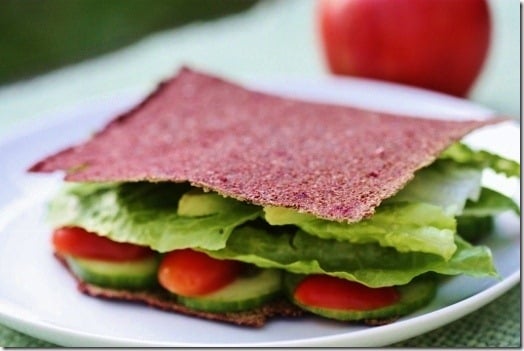 As a student, I have been amused to see school lunches on everybody's mind this week. As you probably heard, last Monday, Congress overruled a proposal to turn down the nation's school lunch program, in which tomato sauce on pizza is counted as a vegetable. The new rules would also have cut sodium in school meals and reduced the overwhelming number of potatoes that are served to kid (white potatoes, no doubt, and I'm guessing quite a few end up in the "fry" form).
It's grim stuff, but no matter how incensed I'd like to get about it, I've decided to channel my frustration into hopeful imagining. What if more lunchroom sandwiches looked like this?
That's avocado, lettuce, tomato, and tahini dressing on flax and chia bread, served with an apple (and some un-pictured butternut squash and apple soup).
OK, so that's an extreme example of vegetable infatuation. I realize that few kids will gobble down the stuff I eat with utter abandon (though I'm sure there are some kids out there, raised on veggies, who would!). Even so, imagine: rather than white flour in white bread that would raise the kids' glycemic index after eating, and lunchmeats packed with nitrates, sodium, and the shadow of factory farming, and sodas packed either with corn syrup or with aspartame, kids could enjoy the following nutrients:
From the raw chia and flax bread: Omega 3 and 6 fatty acids, calcium, protein, fiber, and what's leftover from numerous veggies
From the avocado: Heart-healthy polyunsaturated fats, which have the added bonus of helping to signal satiety and prevent overeating
From the lettuce and tomato: Vitamins A and C; lycopene, alpha-tomatine, and powerful antioxidants.
From the tahini dressing: Traces of calcium and minerals, as well as a lot of taste.
What a world that would be.
Here at school, I've noticed a lot of unhealthy eating—diet soda and nibbling at soy crisps among some of the young women (it's strange, by the way, to be exposed to college age eating disorders again at this point in my life) and Taco Bell, Subway, and lots of white bread and potato chips for many others. Both approaches are pretty void of nutrients, which is the main source of my concern. In spite of how people always say doctors have poor eating habits themselves, however, my fellow post-baccs are a pretty healthy bunch: lots of awareness about good eating habits, and a tremendous collective zeal for exercise (those who suffer through Orgo together, sweat together). I like to hope I bring a little inspiration to the group through the daily experience of bringing "weird food" to campus: chia puddings, raw bars, and salads that take up more room in my bag than do my textbooks. I've even got some of my peers hooked on kale chips.
So for now, while I can't do much to change the stubborn, bottom-line driven thinking among the powers that be here in the nation's capitol, I can at least share my passion for veggies with the world. Starting now.
Gena's Favorite Raw Sandwich (raw, vegan, gluten and soy free)
Serves 1
2 squares Chia Flax Sandwich Bread (follow my instructions for chia juice pulp crackers, adding 1/4 cup flax and using 1/2 cup water. Score and cut into sandwich size pieces rather than crackers!)
Veggies:
Avocado
Cucumber
Tomato
Beet
Lettuce
etc.
Drizzle of my tangy tahini dressing
1) Pile bread high with veggies.
Close it all up: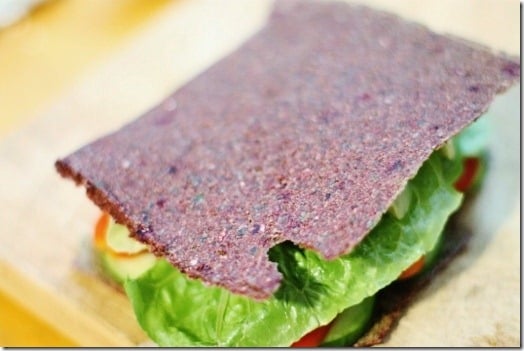 And enjoy with fresh fruit, as well as some raw or cooked soup, some salad, or some whole grains/beans.
Delicious. With fingers crossed, maybe vegan—or even high raw—lunches will be more commonplace in twenty or fifty years. Maybe they'll even be in school lunchrooms.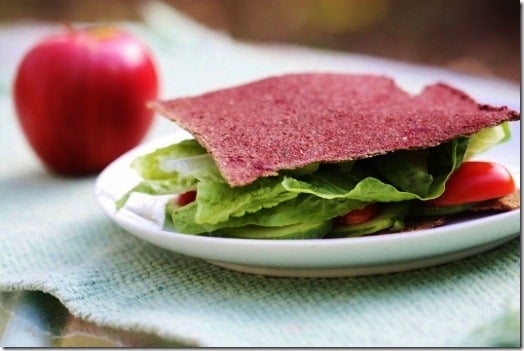 A girl can hope.
Before I sign off tonight: more Thanksgiving ideas!
Black Bean and Sweet Potato Enchiladas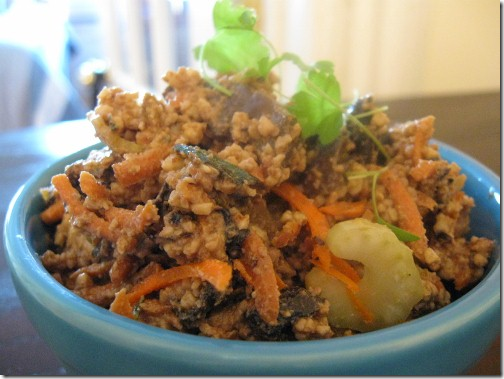 Roasted Cauliflower and Parsnip Soup
Back here tomorrow, in the midst of cooking…
xo