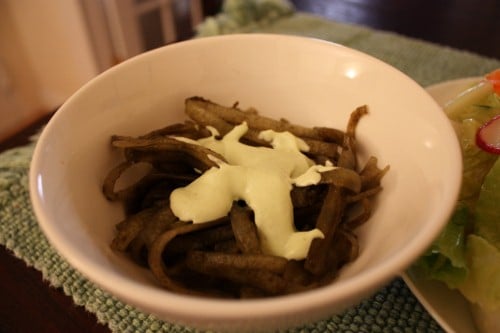 Thank you to everyone who commented on Thursday night's emotional eating post. It was one of my all time favorite conversations here on the blog, and I hope we'll find ways to deepen and expand it soon.
Ages ago–like, months and months and months–the very gracious Joanna Steven over at Sirova foods offered to send me some of their sea spaghetti to review on the blog. Joanna, I am SO sorry that it's taken me so long to deliver my review! Thanks for your patience.
As you can see from the information page, sea spaghetti is ridiculously nutrient rich. It may be the most nutrient dense sea veggie I've come into contact with (and this is saying a lot, given that most sea vegetables are exceptionally high in vitamins and minerals). A five gram serving contains 500% of your daily recommended vitamin C, half of your recommended potassium, almost 40% of your daily magnesium, and 30% of your daily calcium. It also gives you 70% of your daily recommended iodine–which, as I've noted before, isn't a micronutrient that most people pay attention to in their diets.
The sea spaghetti, like all sea vegetables, is packaged in a dry form, and one rinses and soaks it for at least fifteen minutes before simmering it. If you wish to eat it raw (which I did), I recommend at least an hour of soak time. After soaking and draining, a double serving (twice the recommended serving size) had plumped up to this: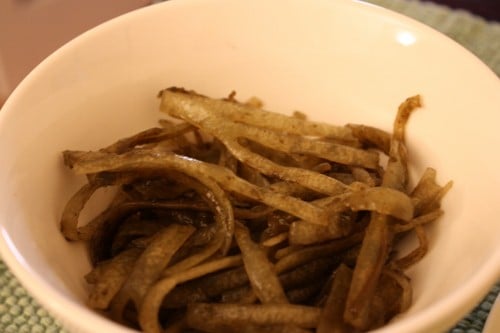 I was very excited to try the "noodles." I'd considered numerous sauces and dressings (the Sirova website even offers some suggestions), but finally I settled on the idea of a creamy dill sauce. Dill is one of my favorite herbs–I love how it evokes spring, and it also reminds me of many of the Greek dishes I grew up with–and I've hoped to make a creamy pasta sauce with it for a while. My recipe was thus:
Cashew Dill Sauce (yields between 1 and 1 1/2 cups)
1 cup cashews, soaked one hour or more and drained
2 tbsp lemon
1/4 cup dill
1/3-1/2 cup cold water
1/2 tsp salt
Blend all ingredients in a blender till very smooth. NB: I recommend starting with 1/4 cup water, and adding more until you reach a consistency you like. 1/2 cup worked for me, but cashews absorb soaking water with some variability, and sometimes when I use soaked nuts and water both the result is a sauce that's too thin.
I dressed the sea spaghetti with about 2-3 tablespoons of the sauce, and served it with a big salad of fresh romaine, veggies, EVOO and lemon. It looked and tasted fantastic: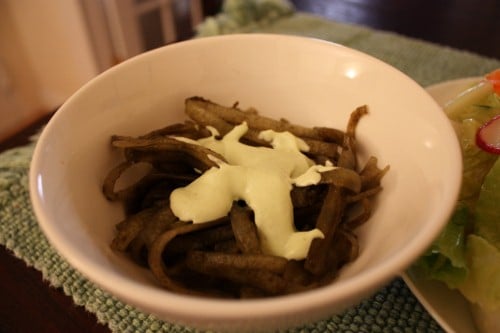 The problem? I was done in two bites. Literally.
Herein lies the rub. The sea spaghetti, in spite of its name, is truly intended as a garnish. I'd already doubled the portion size, and it was still rather tiny. I could certainly have quadrupled the recommended serving, but if I'd done that the sodium count would have started to climb. Sea veggies lose sodium when you soak them, of course, but they're naturally on the salty side. I'm far from a salt-phobe, but it is summer in NYC, and salty foods don't sound fun when I'm already parched half the time from the heat. Additionally, I didn't feel like dumping half or even the whole bag of a specialty ingredient–one I can't just stock up on at the corner deli–into a single dinner. That didn't feel very economical to me.
So I finished my little bowl of the very tasty sea spaghetti, returned to my kitchen, and made a bowl of spiralized zucchini and chickpeas. And I deployed some more of my cream sauce on top of that. The result was a dinner far more likely to satisfy this hungry eater:
Served along with my dinner salad and some crackers from Two Moms in the Raw: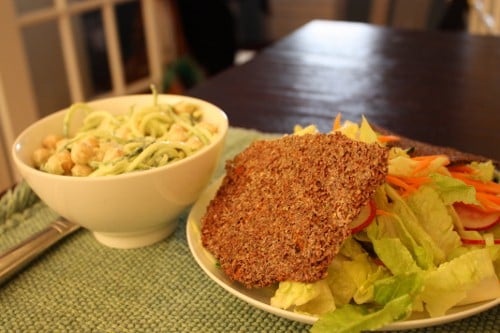 It was perfect, and it provided the kind of volume and satiety I need in a meal.
If you're exploring sea vegetables, then I do recommend the sea spaghetti. It's terribly healthy, and it's also tasty. I simply think that the name is misleading: what's really a garnish is marketed indirectly as a pasta substitute. And while one could certainly use it as such, that would mean using an entire package (or nearly that) at each meal. If I'm going to order a specialty food online and pay for shipping, I tend to prefer it be something voluminous enough to last me quite a few meals. Otherwise, I'll shop locally. There are a few raw granola brands I like, for instance, that don't yield more than a few servings. But I buy them once in a while as a special treat, and I'm not dealing with the hassle or cost of shipping.
Bottom line? Look into sea spaghetti pronto if you're seeking out a sea vegetable that's mild-tasting, extremely nutrient-dense, and packaged with integrity. But you'd best not think of it as a pasta substitute so much as an add-on to salads, soups, stir fries, or the like.
Oh — and make my cashew dill sauce. It's really good 🙂
Hope you're staying cool this weekend!
xo