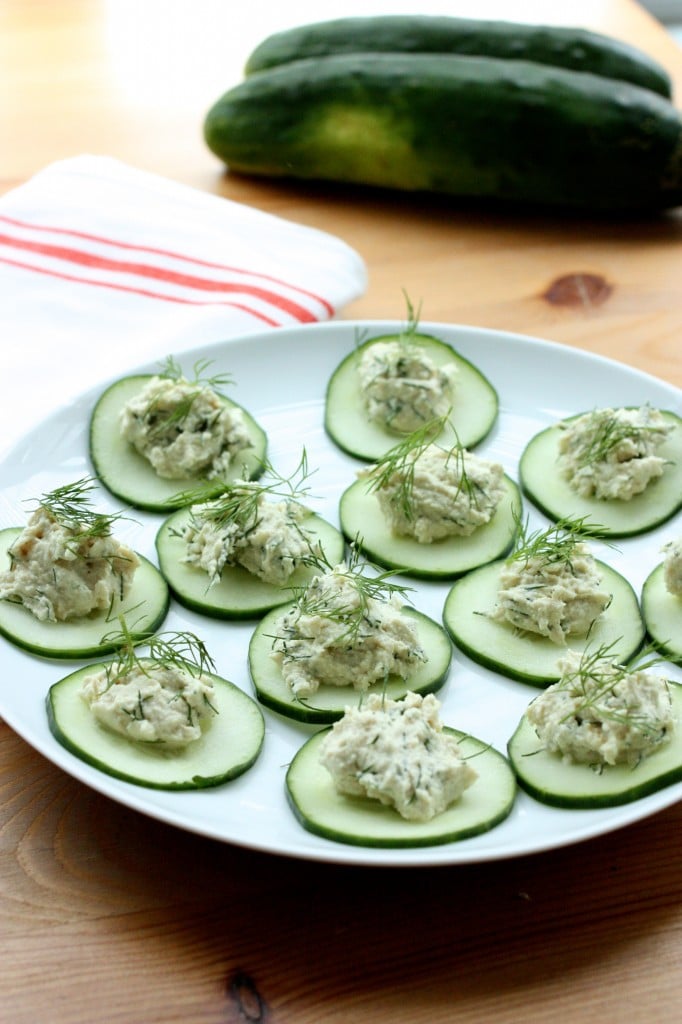 My mom is visiting, which means that I spent Friday morning frantically cleaning my apartment, doing laundry, stocking up on food, and–because cooking for my mom is a favorite past time–coming up with a tasty appetizer for her to nibble on after her train ride. The last time I created a dish for my mom it was my raw, vegan "deviled eggs," which she loved and praised more than anything I've ever served her. Realizing that she has a penchant for nut cheeses and spreads, I though I'd whip her up something light and seasonal. In no time at all, I had a plate of cucumber rounds with herbed dill cashew cheese waiting for her.
I love cashew cheese at any time of year, but I particularly like having a fresh batch handy in the spring and summer, so that I can mix freshly chopped herbs into it. Rosemary, oregano, basil, chives — they all taste fantastic when folded into soft, tangy, salty cashew cheese, and each will give a dish new character.
My mom doesn't cook a lot of ultra-traditional Greek food, but she does add Greek flavors and accents to nearly everything she prepares. Lemon, dill, oregano, tomato and olive oil are staples in my mom's cooking, and because I grew up with these flavors, they're also very common additions to my cooking. Dill is a particular favorite of mine, though I know it's something of an acquired taste; I love how fresh and springy it tastes in just about everything, from lentil soup or salad to (vegan) ranch dressing to chickpea salads. Mixed into a simple batch of cashew cheese, it's heaven.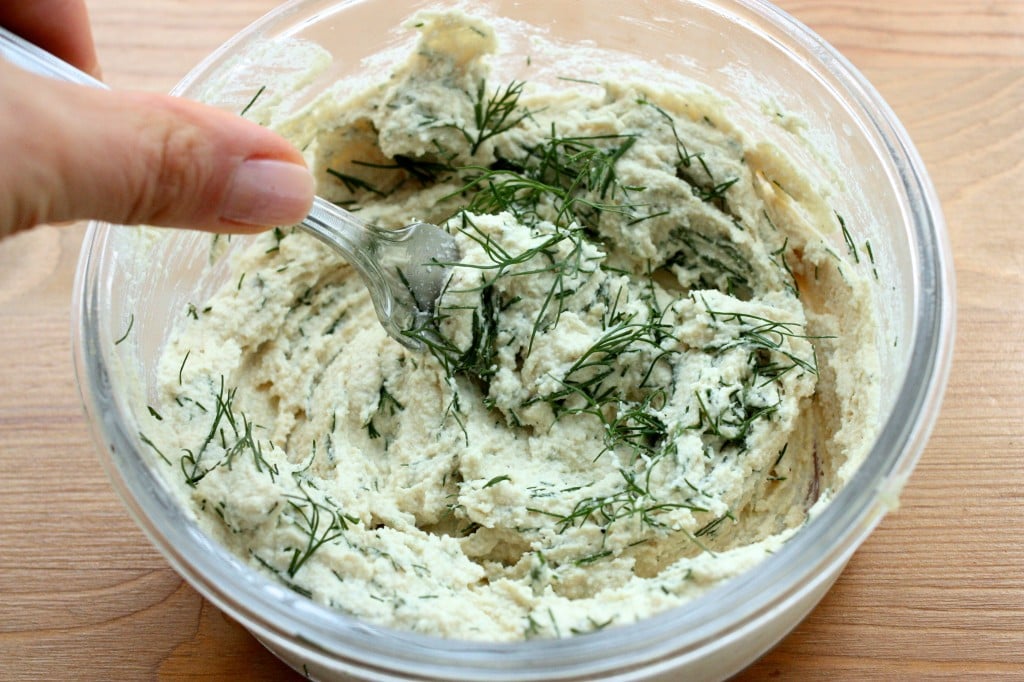 Cucumber Rounds with Raw Herbed Dill Cashew Cheese
Author -
Drain cashews and rinse them. Add the drained cashews to the food processor along with the salt, lemon, and nutritional yeast. Pulse to combine.

Let the motor run, and drizzle water in, stopping a few times to scrape the bowl down. Keep blending till the cheese has the consistency of a light cream cheese (or whipped ricotta).

Add the dill and pulse to combine. Transfer cashew cheese to an airtight container. Will keep for 4-5 days in the fridge.

Makes 1 3/4 cups
I love the way the dill compliments the lemon in the cashew cheese, and the way the cool, hydrating cucumber contrasts them both.
If you don't care for dill, you can substitute any fresh herb you like. Feel free to get creative!
My mom was delighted with this little post-travel treat…and I was, too. Hope you'll enjoy it as much as we did.
xo