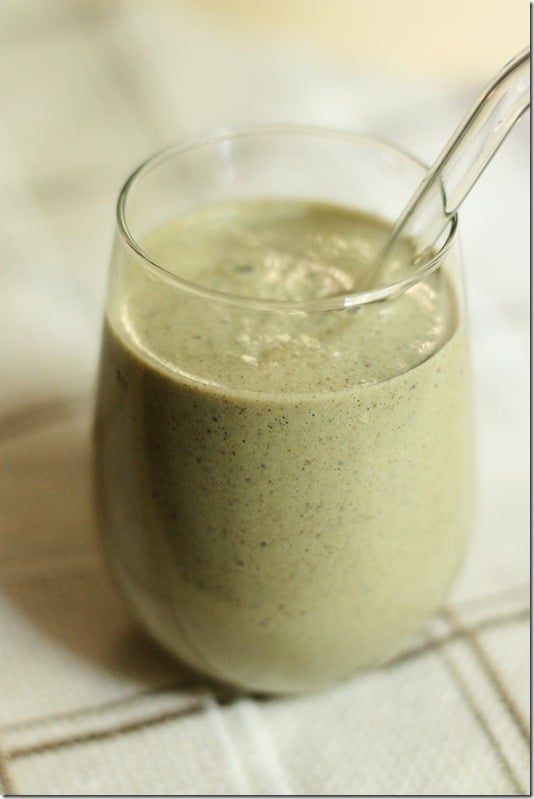 My two favorite fruits are apples and bananas. This qualifies me either as charmingly traditional, or as downright boring. In the foodie realm, I'm pretty sure it's the latter.
But what can I say? I love bananas, and I love apples. If I had to choose, though, apples would come out on top. I await the start of every fall season with excitement, and bite into my first honeycrisp or gala with glee. I use apples in salads, in soups, in warm morning oats. And now, I've officially put apples in a smoothie, too.
I've never had much luck with apple smoothies. They tend to be too watery and "fluffy" for me; this doesn't actually have to be a bad thing (Kristen's fluffy green smoothie is terrific), but I really do love a thick, creamy smoothie, especially in the morning. Which is how this smoothie came about. And the lesson? When in doubt, add nuts/nut butter.
You can use most any kinds of nuts in this recipe. I used cashews, which I think are best for super creamy texture and neutral taste. That said, walnuts would be great here, as would brazil nuts, almonds, or pumpkin seeds. Hemp seeds will be wonderfully nutritious, but they can have a very distinctive taste (and there's already hemp protein in this smoothie). No matter what, you'll find that this smoothie is rich enough to masquerade as a dessert shake! A dessert shake, that is, that's enriched with satiating fats, fiber, and heart healthy Omega-3 fatty acids and protein from the hemp. Yum.
Apple Pie Smoothie (raw, vegan, gluten free, soy free)
Serves 1-2
2 apples
1 frozen banana
1/4 (heaping) cup cashews
3 tbsp hemp protein
2 pitted dates
1 1/2 cups almond milk
2 tsp apple pie spice
A couple of ice cubes
Blend all ingredients together in a blender on high. Add more almond milk if needed! Sprinkle with apple pie spice, and serve.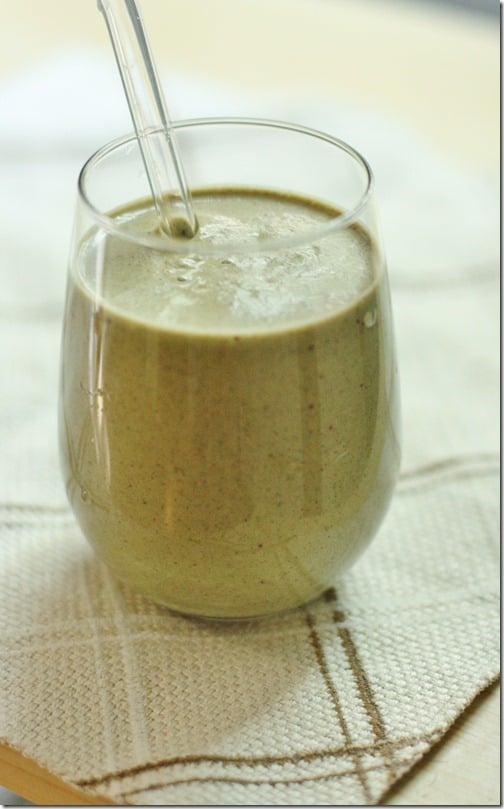 Delicious! The raw cashews I used in this recipe were courtesy of the folks at Navitas, once again. It's not the prettiest smoothie ever, but I bet a handful of spinach (a great, optional add-on) would add a pretty green hue.
I'm happy you all enjoyed yesterday's toasted chickpeas (and salads thereto!). Tomorrow, a hearty legume dish that Chloe inspired while I was visiting in New Orleans (even if she didn't realize she was inspiring it at the time!). It happens to make some great leftovers, so stay tuned for it!
xo