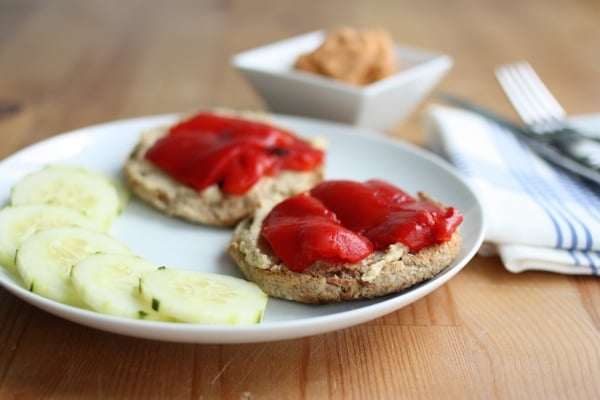 I've been a fan of the Pacific brand of foods for a long time now. Regular readers might remember my review of the company's BPA-free, baked and "refried" beans. Pacific also makes non-dairy milks, soup starters, soups, broths, and other high quality, shelf stable foods. The latest addition to their list of products is a new, shelf stable hummus, and I was recently lucky enough to sample it for myself.
This hummus is perfect to have on hand as a versatile dip or spread for last-minute hosting, healthy lunchbox building, or a punched up, meal-sized salad. The hummus is available in three flavors: Roasted Red Pepper, Classic and Roasted Garlic. A few features of the hummus:
BPA-free, shelf-stable cartons for anytime, anywhere consumption
High-quality organic ingredients – chickpeas, garlic, tahini, lemon juice and sea salt

Homemade texture makes it perfect as a dip or spread, or even on salads or as a pizza sauce
I have to admit: when I first received my samples of the hummus, I was dubious. I'm so accustomed to making my own hummus that I'm hesitant to try store-bought brands in the first place, and I was especially wary of something shelf-stable. In spite of my skepticism, I found that the consistency of the humus is fantastic (it's a lot like the hummus I make at home: very thick, very dense, smooth but with a little texture), and the flavors are very vibrant. They're all more garlicky than I'm used to, but I wasn't bothered by it, and I loved that they each have a strong lemon flavor, too (I'm a lemon fiend).
As part of their effort to get the word out about these new hummus flavors, the folks at Pacific asked if I'd be willing to share some ideas for enjoying hummus that are a little off the beaten path (that is, not just eating hummus with crudites). I use hummus in pretty much everything–on salads, in wraps, on tortillas–so I was happy to oblige.
The first idea that came to mind was to mix up my breakfast routine a bit. Two standard breakfasts in my apartment are avocado on an English muffin and almond butter and banana on toast. Now that it's summer, and both tomatoes and peppers are in season, I thought that a breakfast with hummus and one or both of these vegetables might be a nice chance of pace.
Easy Hummus and Pepper Breakfast Toast
Ingredients
1

sprouted/whole grain English muffin or two slices of sprouted/whole grain toast

1/4-1/3

cup

hummus

any flavor

1/4

cup

roasted red bell pepper or 1/2 small heirloom tomato

sliced

Optional: fresh basil

oregano, thyme, parsley, or other herbs
Instructions
Toast the bread or the English muffin and top it evenly with the hummus. Layer fresh herbs over the hummus, then cover it with either roasted pepper or tomato. Serve.
Such an easy, satisfying way to start the day. You can serve this with fresh fruit, a small smoothie, or some veggie slices.
If you're looking for some other easy, creative ideas for using hummus, I also highly recommend serving it over zucchini noodles:
(That's my raw, chili spiced brussels sprout and pumpkin seed topping you see on top of the Pacific roasted red pepper hummus, which is probably my favorite flavor of all three–it's the tangiest!)
And if you like the hummus+roasted red pepper combination, I also enjoyed the roasted garlic hummus, which has a subtle sweetness to it, over corn chips with some roasted red pepper strips:
Typically, I'm keen on preparing my hummus from scratch. It's one of my favorite things to make at home (I have a whole hummus recipe section, after all!), and since it's so easy and economical to prepare, I see no reason not to. But I'm also in a place right now where I have time to DIY and cook on a regular basis. I'm thinking back to my toughest post-bacc days, or to my working life, and I can imagine easily how handy this hummus would have been then: a healthy, whole foods, BPA free and organic option that tastes almost as authentic as the homemade stuff.
I think that the Pacific shelf-stable hummus is an ideal solution for anyone who's struggling to have healthy, plant based options on hand. The fact that it can last for a long time means that it's easy to stock up and use it as needed, which is ideal for days on which you're caught off guard, trying to put something tasty together at the last minute. Though I don't know that I'd purchase it regularly right now, as someone who works from home primarily and can make time for homemade hummus adventures, I can say honestly that I loved the flavor and would absolutely buy it when and if my kitchen time became more scarce. Two thumbs up.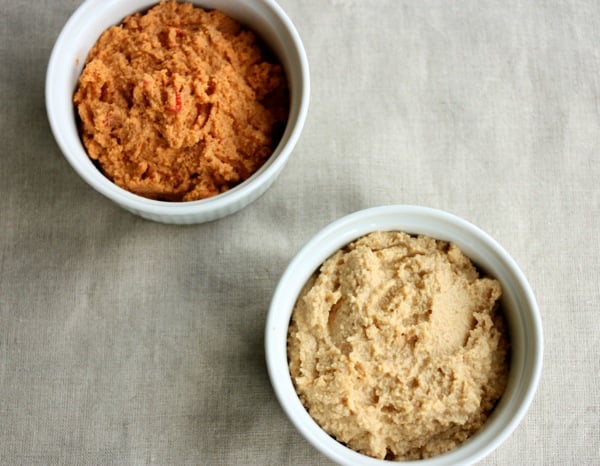 Before I go, I wanted to share this week's New Veganism column for Food52! It's twofold: first, a handy tutorial on making zucchini pasta (a favorite summer food of mine). It includes three methods, which means that a spiralizer is not required.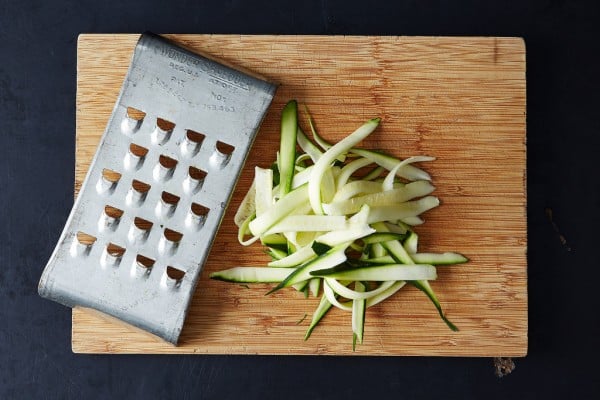 Second, my classic recipe for raw zucchini marinara.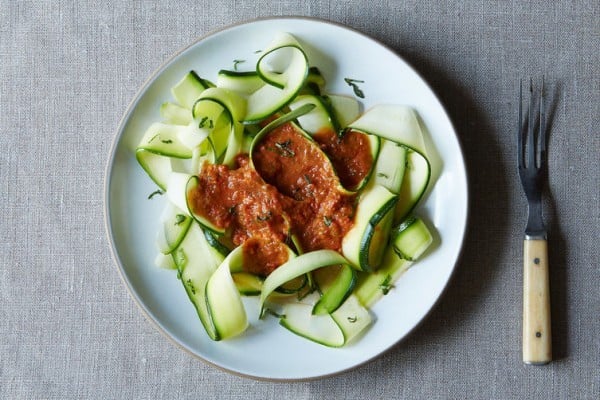 Enjoy!
xo