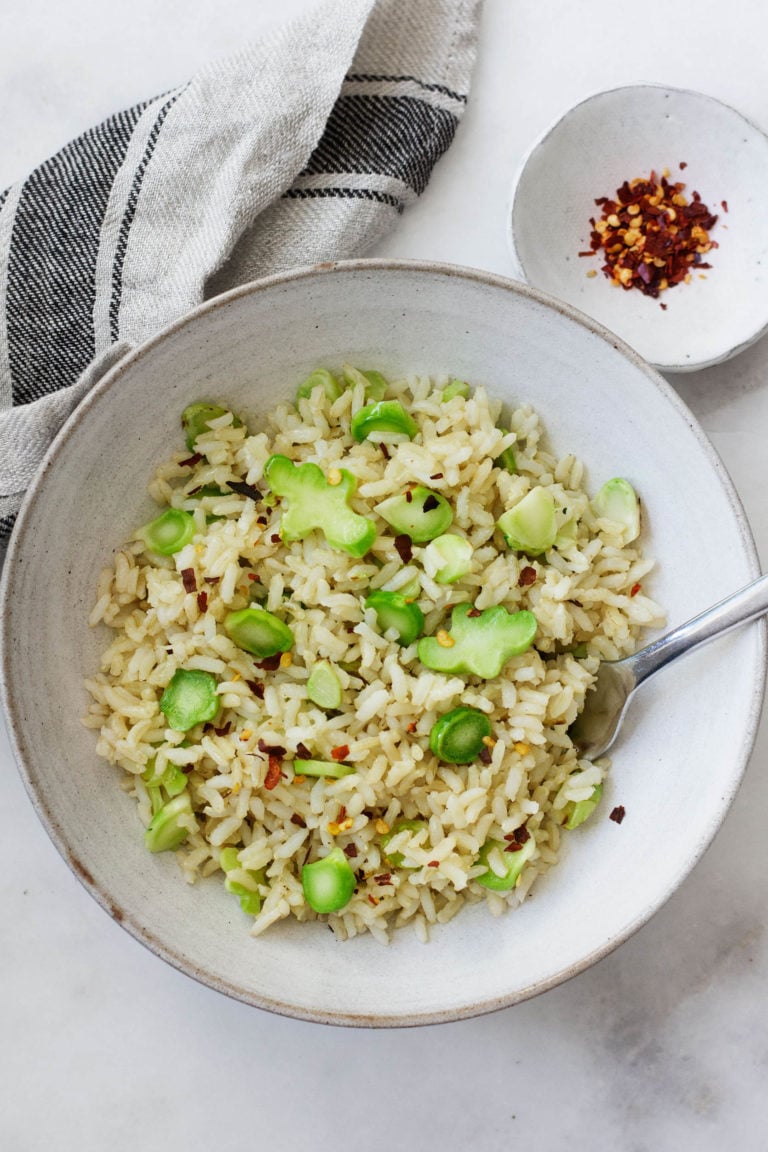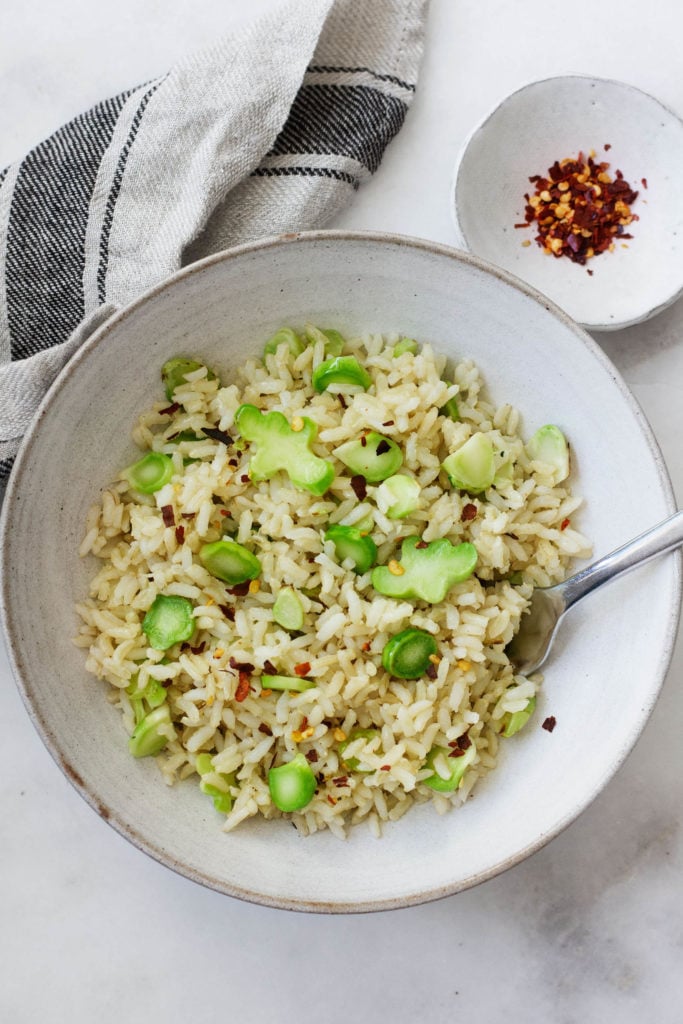 This broccoli stem stir fry is a perfect opportunity to use your entire head of broccoli, rather than discarding the stems! It's one small, delicious way to avoid food waste at home.
Root to stalk cooking
A year or so ago, I got Tara Duggan's lovely cookbook, Root-to-Stalk Cooking. Duggan instructs readers in the art of using up a whole vegetable for cooking. Her recipes are simple and plant-forward, with both waste reduction and frugality in mind.
That cookbook inspired this broccoli stem stir fry. When I first read Duggan's book, her resourcefulness and ingenuity seemed a little out of reach. I try not to directly create food waste at home; for example, even if a recipe doesn't turn out when I test for the blog, I'll make a point of finishing it, even if that means smothering it in a sauce or something.
But I know I waste parts of vegetables when I prepare them for recipes. I'm not mindful enough of using scraps, and I'm just in the habit of tossing leaves and stems.
Yes, you can eat broccoli stems!
I eat steamed broccoli with tahini dressing more than any other side dish in my home. It probably appears in my dinner rotation four times a week or more. I also use broccoli in recipes all the time, from sheet pan suppers to casseroles to stuffed, baked potatoes.
With all of that broccoli use, you'd think I'd be great about finding ways to repurpose the stems. But I'm not, unfortunately. In fact, it wasn't until I read Duggan's book that I even thought more about using broccoli stems in cooking. The more I read about it, the more I realized that there's no reason to throw them out.
Know better, do better. Being on the SNAP challenge this week has given me a new perspective on many things. Food waste in particular stands out as an issue that I'm seeing with fresh eyes. I'm already good about freezing and using up leftovers, but I have a long way to go in using whole vegetables.
Broccoli stem stir fry ingredients
The beauty of this recipe isn't only the fact that it makes use of a whole ingredient. It's also inexpensive and amazingly simple! You'll only need a few ingredients to make it:
Broccoli
Choose a nice fresh head of broccoli if you can. If you can find it at a local farmers market, even better. One of the things that the SNAP challenge taught me was that there are opportunities to SNAP benefits in many farmers markets in New York City.
I eat broccoli year round, not always local or from a farmers market, very often frozen. But when I can get it fresh and locally, I always find that it is most sweet and flavorful.
Brown rice
I use short-grain brown rice in this recipe, simply because it's my personal preference. You can cook it according to package instructions, or if you get it in the bulk bin, you can use the instructions here.
This Saveur trick of boiling rice like pasta was a game changer for me. I think the resulting rice is so much fluffier than attempting to measure water for a specific amount of grain. That's now how I prepare rice for my creamy brown rice with shiitakes and peas and my vegan chick'n rice skillet supper, among other dishes
If you'd prefer to use long or medium grain brown rice, you can cook those the more traditional way. You can also use barley, farro, quinoa, or another whole grain in place of rice, if you've run out.
Seasonings
The seasonings in this dish are simple: roasted sesame oil, unsweetened rice vinegar, crushed red pepper flakes, tamari. Seasoned rice vinegar is fine, but you may want to reduce the tamari if you use it, as it's salty. I definitely recommend roasted sesame oil, rather than plain. It has a much deeper flavor!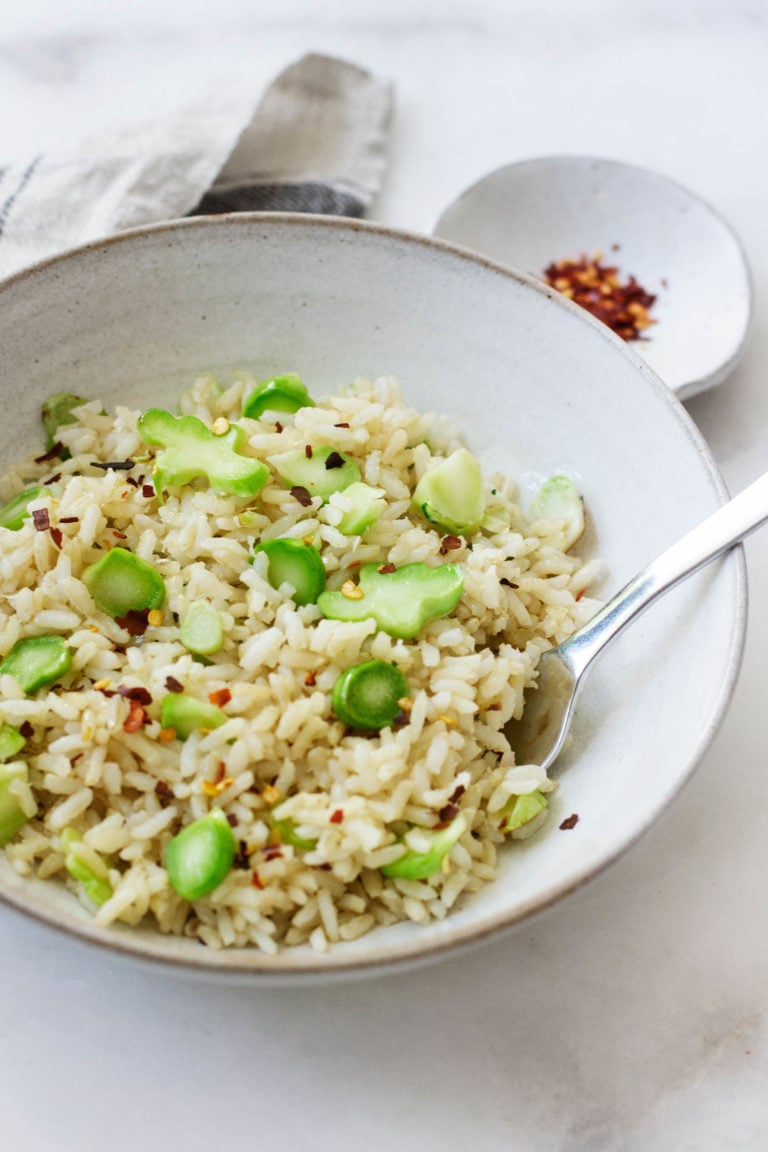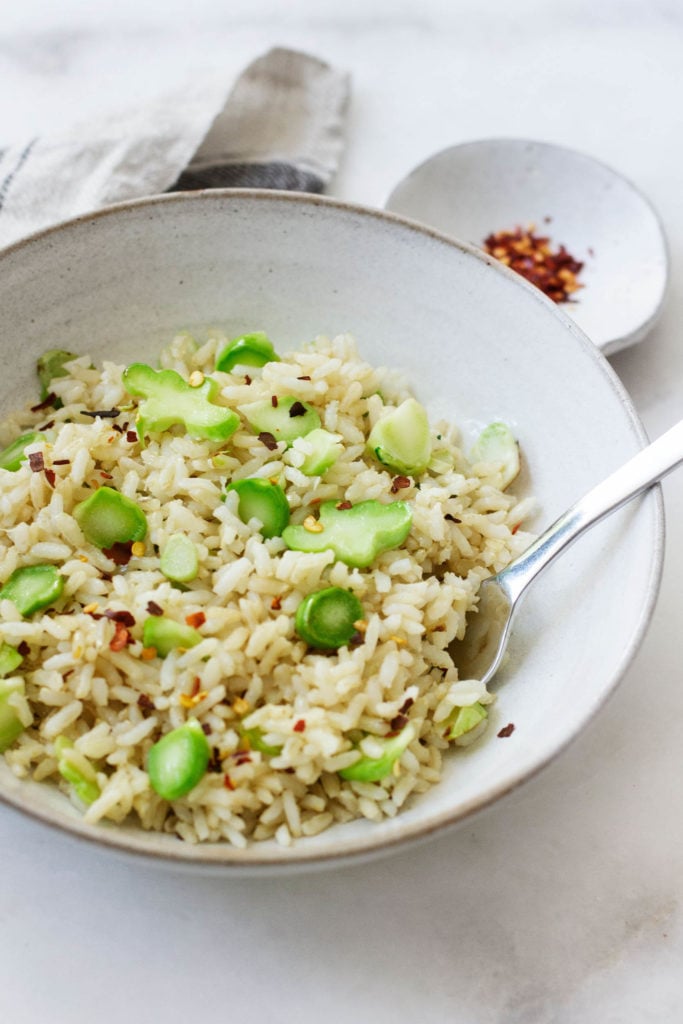 This broccoli stem stir fry is going to become a staple in my home. It's a quick, easy, and satisfying way to put all of those stems to good use. I've always worried that the stems would be too tough to eat, but if you peel and slice them thinly, they're actually wonderfully tender.
As it is, the recipe stands alone as a perfect dinner side. But if you add some seared tofu or tempeh, some beans, or a combination of the two—and maybe a drizzle of delightfully green tahini dressing—you've got a complete meal on your hands.
A ridiculously easy, economical, and adaptable meal at that.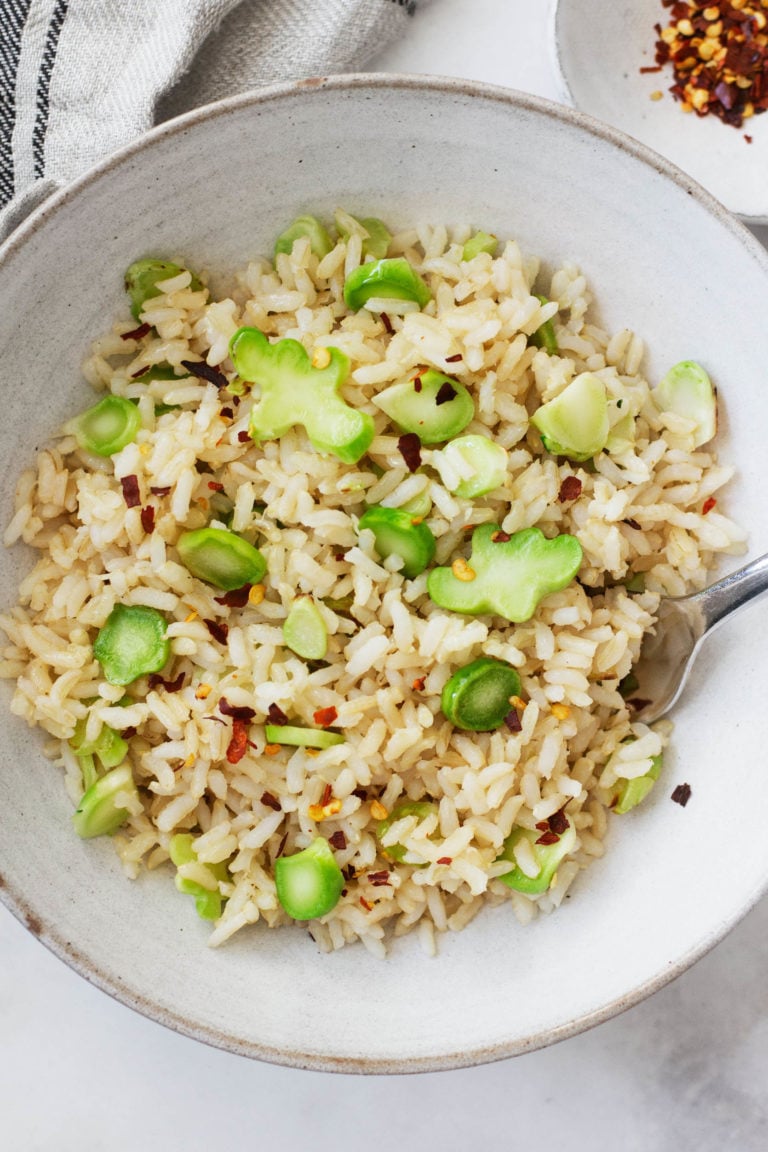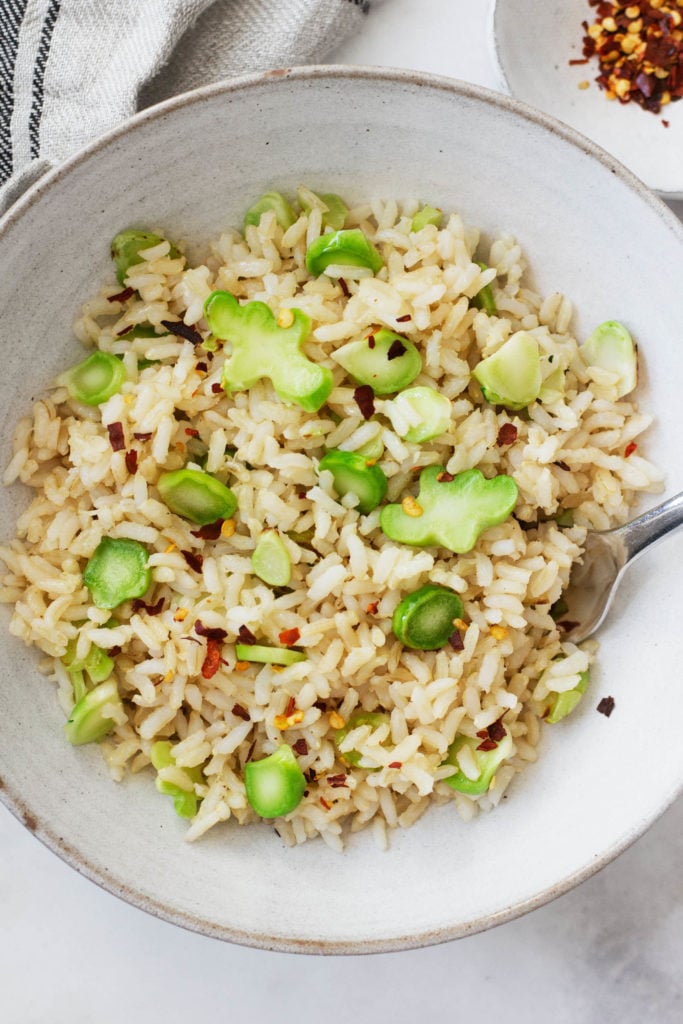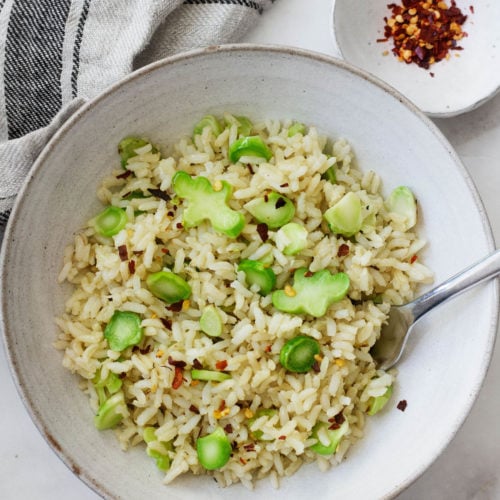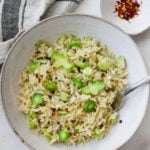 Simple Broccoli Stem & Brown Rice Stir Fry
Author -
1

cup

short-grain brown rice, rinsed (about 3 cups cooked)

1 1/2

tablespoons

toasted sesame oil

1

clove

garlic, minced

2

large or 3 small broccoli stalks, peeled and sliced crosswise thinly

Salt

1

tablespoon

unseasoned rice vinegar

1

tablespoon

tamari

Crushed red pepper, to taste
Bring a large pot of water to boil, add the rice, and boil for 40-45 minutes, or until the rice is tender. Drain, return the rice to the pot, cover, and allow the rice to steam for a few minutes while you prepare the broccoli stems.

Heat the sesame oil in a large skillet or saute pan over medium high heat. Add the broccoli stems and a pinch of salt. Saute the stems for 4 minutes, or until they're becoming tender and bright green. Add the garlic and continue to cook for another minute, stirring constantly.

Add the rice to the pan, along with the vinegar and tamari. Heat the rice through. Add a dash of red pepper flakes. Taste the stir fry and add extra vinegar, tamari, and pepper to taste. Serve.
Leftover stir fry will keep for two days in the fridge.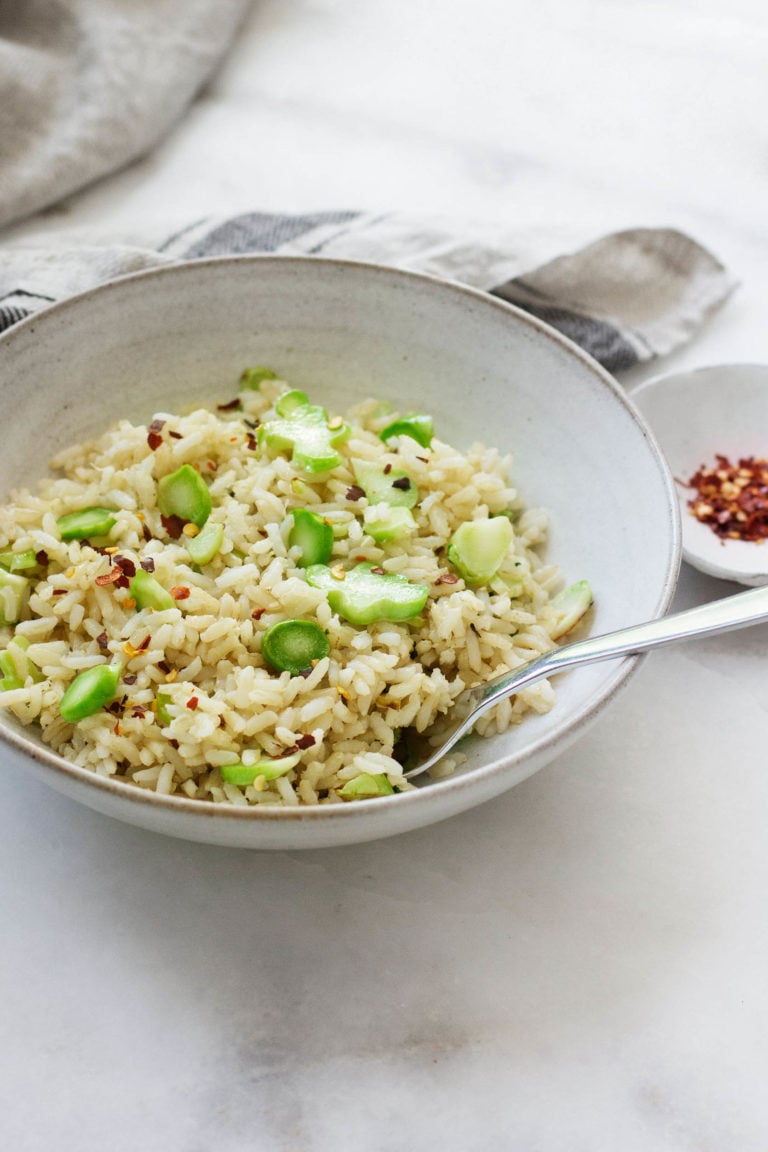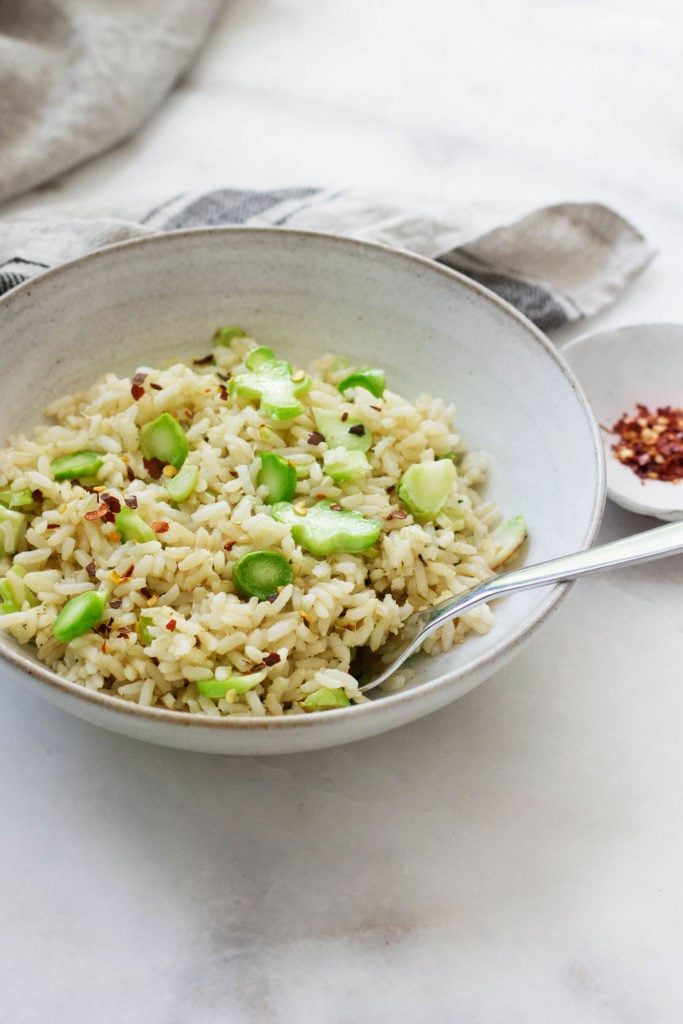 As far as economics go, the recipe certainly fit into the SNAP challenge. It came to about $1.15 per serving in the end (it helped that I found broccoli on sale when I did my haul). I paired it with an easy tofu scramble for dinner last night, and I'll be using the remaining two portions to pack up with lunch leftovers.
They say that necessity is the mother of invention. When it comes to cooking, I think it's definitely true that working with constraints of any kind–or alternately, having an ingredient that really needs to be used up–can lead to unexpectedly great things. Humble though it is, this stir fry is proof of that. I hope you'll give it a shot, make it your own, and let me know what you think!
xo