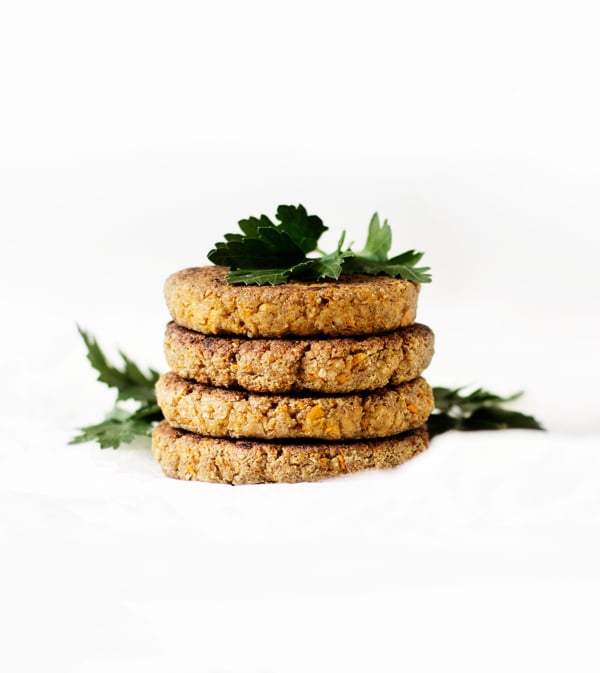 I had a something resembling a breakdown on the phone with Time Warner last night. There's nothing quite like internet problems to make one unravel, right? Fortunately, in the middle of a few days of spotty internet and other, associated tech problems, there are these simple, no fail tofu burgers. Which, as the recipe title suggests, are something you can count on.
Actually, the internet outage has given me some healthy perspective. After getting off the phone with Time Warner, I tidied up my little apartment, closed all of my books and manuscript pages, and went to bed at 9:57 pm. I woke up this morning, and for once I sipped my coffee without the distraction of emails and blog reading. Instead, I gazed out my window onto Columbus Avenue, and remembered that there was a time in my life (not so long ago, really) when my early morning ritual didn't involve frenetic internet activity. It involved a quiet appreciation of the sounds of New York City waking up.
It was really nice.
I'll never be a person who likes to "escape." I like being plugged into the action at every moment. Even when I travel, one of my favorite moments in the day is the moment when I have some time to write emails and check in at work. Still, this morning reminded me that I am capable of appreciating quiet, if not constitutionally suited to enjoy it for too long. So in a way, I'm grateful to my internet for momentarily abandoning me.
Anyway, this recipe originated when a reader sent me a request for "tofu burgers that won't crumble and fall apart on the grill." I'd never made tofu burgers before, but it sounded like an excellent challenge to me—especially since I've been on a burger kick lately (still haven't tried my sweet potato chickpea burgers? Do it!).
My goal was to find a way to bind the burgers together without making them too dense. My solution was to use a bit of whole grains (oats) and a bit of nut/seed butter (tahini). It worked better than I could have imagined. And the taste? Thanks to carrots, nutritional yeast, and a bit of tamari, these were delectable. And not even a little crumbly. Here's how it's all done.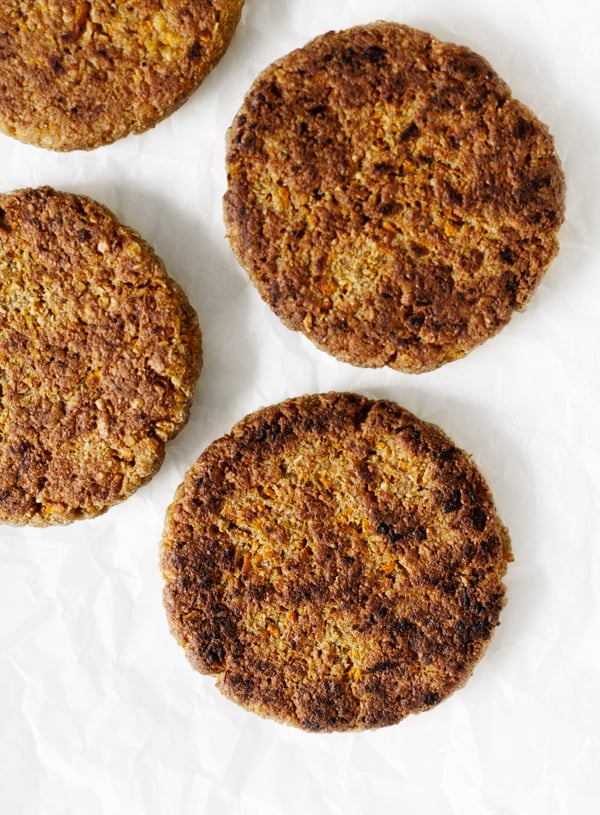 Simple, No Fail Tofu Burgers
Cuisine:
vegan, tree nut free, gluten free, no oil
Author:
Prep time:
Cook time:
Total time:
1 14 or 15-ounce block extra firm tofu, pressed for at least 1 hour if possible
2/3 cup rolled oats
2 tablespoons tahini
2 small carrots, grated
2 small stalks celery, finely chopped
1/2 teaspoon onion powder
1/4 teaspoon garlic powder
3 tablespoons nutritional yeast
1 tablespoon + 1 teaspoon tamari or soy sauce
If baking the burgers, preheat the oven to 375F and line a baking sheet with parchment.
Break the tofu apart into the bowl of a food processor fitted with the S blade. Pulse a few times. Add the remaining ingredients and continue pulsing until the mixture is evenly blended, but some texture from the oats and vegetables is still visible.
Shape the mixture into 4 patties. Either transfer the burgers to the baking sheet and bake for 30-35 minutes (or until lightly browning), flipping once through, or lightly oil a skillet and cook them on each side till crispy and golden brown (about 3-4 minutes per side).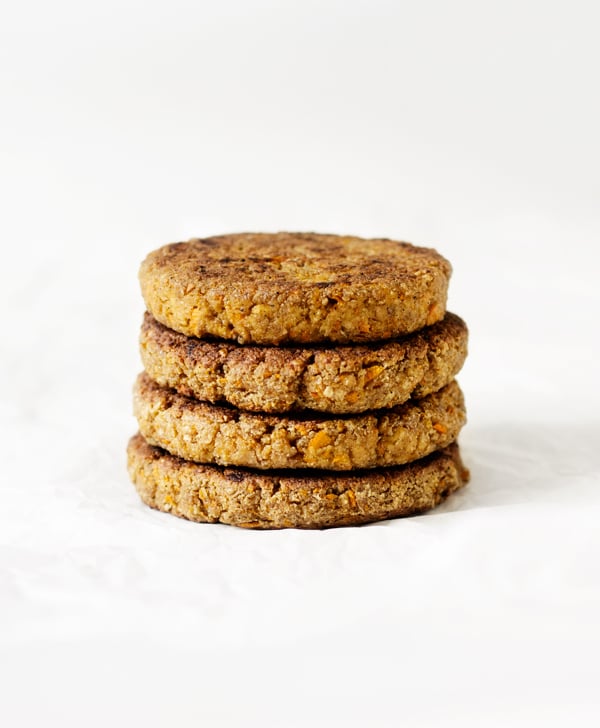 These burgers were a shining example of how wonderful it is that I have readers who write in with requests for food. I'd never have thought to make them–usually, if I want a burger, I'll make my herbed rice and sunflower seed burgers—but now that I have, I imagine they'll make a regular appearance in the CR kitchen. Thanks to all of you for continually challenging me to go outside of my routines!
And now, it's back to work I go. I ask you all to cross your fingers and hope that I'm the proud owner of a new modem very, very soon.
xo