At this time of year, as we all hunker down and settle back into a slightly fuller routine, I tend to get very concerned with making recipes that offer the most return on the time it takes to make them. In other words, I'm all about simple, efficient dinners that will give me lots of leftovers. Still, I tend to forget that a really great dip or spread or vegetable topping–like this simple, roasted sweet potato salsa–can be every bit as useful when it comes to weekly meal planning.
A great condiment can go so far in livening up simple dishes throughout the week. One batch of hummus can contribute to a bunch of sandwiches or wraps, liven up a week's worth of vegan lunch bowls, or even be stirred into savory oats for breakfast. A really awesome dressing can make or break a week's worth of salads and bowls. And lately, I'm learning that savory granola is a perfect way to add flavor, spice, and a little extra density to any simple meal.
This roasted sweet potato is such a simple idea–I can't believe I haven't made it already, honestly. The most annoying part of making the recipe is cutting the sweet potatoes into a small dice (at least 1/2-inch cubes, smaller if you have the patience for it), so that you can toss them into the salsa and have them in very bite-sized pieces. But once that's done, it's all just a matter of throwing them into the oven, roasting them till they're beautiful and browning at the edges, then tossing them with tomatoes, red onion, cilantro, and lime juice.
I used cherry tomatoes while I was preparing the dish, but chopped plum or beefsteak tomatoes would be fine, too. And once you've prepared the basic salsa, I highly recommend stirring in some cubed avocado (for creaminess–a guac/salsa hybrid!) or black beans for a little protein.
I love the way that the sweet, hearty texture of the roasted sweet potatoes contrasts with the crispy tomatoes and onion. I like salsa, but honestly, it's never been more than a topping for me. When I have it as a snack, with chips or whatnot, it always feels just a little too light to be satisfying. Think of this recipe as salsa with staying power.
You can do just about anything with the salsa, but what I've been doing with it all week long is adding it to breakfast tostadas: two corn tortillas, toasted quickly over my burner, topped with refried beans, and then plenty of the roasted sweet potato salsa on top. It's an easy, satisfying breakfast, and it seems like a perfect option for this time of year.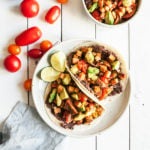 Simple Roasted Sweet Potato Salsa
Author -
1

pound

sweet potatoes

about 2 medium, cut into a small dice (1/2-inch cubes or smaller)

1

tablespoon

vegetable oil

such as safflower, grapeseed, or avocado

Coarse salt

1 1/2

cups

cherry tomatoes

halved or quartered

1/3

cup

finely diced red onion

or chopped green onion tops

1/2

cup

chopped cilantro leaves

2

tablespoons

lime juice

1

tablespoon

olive oil

you can omit if adding avocado

Crushed red pepper flakes

to taste

Optional additions: 1 Hass avocado

diced, or 1 1/2 cups cooked black beans (1 can, drained and rinsed)
Preheat your oven to 425F. Toss the sweet potatoes in the oil and transfer them to a parchment or foil lined baking sheet. Season the potatoes with salt. Roast for 20 minutes, or until the potatoes are tender and browning at the edges, stirring the potatoes gently halfway through roasting.

Allow the potatoes to cool for 10-15 minutes before transferring them to a mixing bowl. Add the tomatoes, red onion, cilantro, lime juice, and oil, if using. Mix ingredients well and season to taste with additional salt and red pepper flakes. Fold in avocado or black beans, if using. Serve.
Leftover salsa will keep in an airtight container in the fridge for up to 2 days.
This fall, I'd love to try the salsa with different root vegetables: I'm guessing carrots would be awesome, as would golden beets or even butternut squash. We'll see, but for now, I'm really enjoying this hearty, sweet savory snack.
Hope you enjoy it, too. Later this week, I'll be sharing some thoughts on the vegan product staples that help to carry me through busy weeks. See you soon.
xo