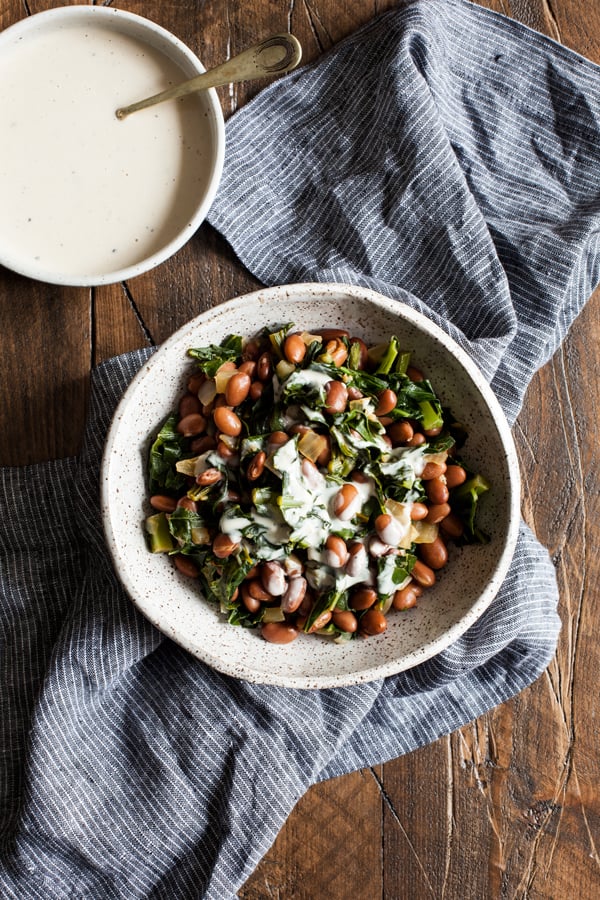 Thank you all so much for the wonderful comments, both here and on Facebook, about my calcium post! I was really happy to hear that so many of you found it helpful, and I look forward to possibly tackling other nutrients (like iron) with a similar, food-based approach.
Since we're focusing on calcium this week, I thought it would be an especially good time to share a calcium rich recipe. These simple stewed pinto beans and collard greens are smoky, savory, and oh-so delicious, and they also happen to deliver about 30% of your RDA of calcium in a single serving.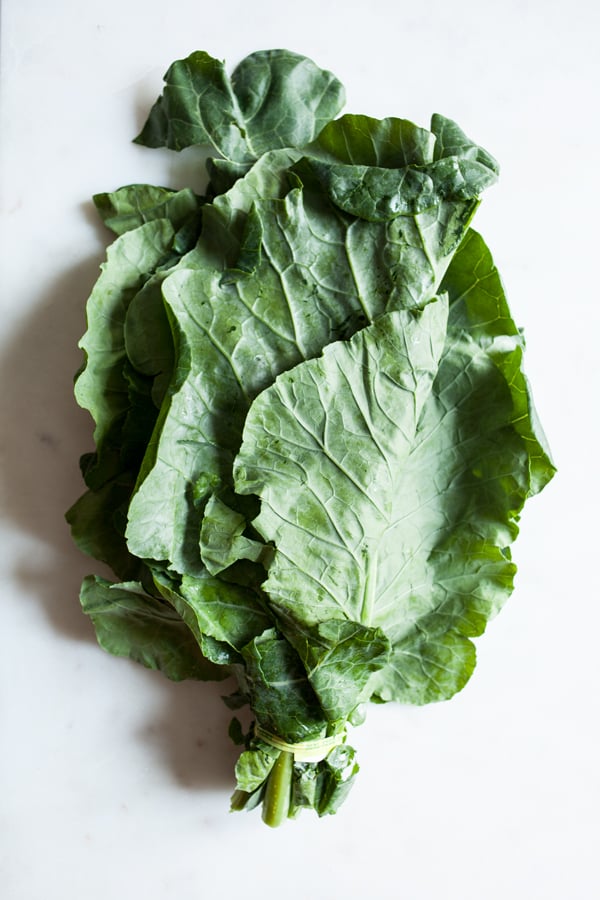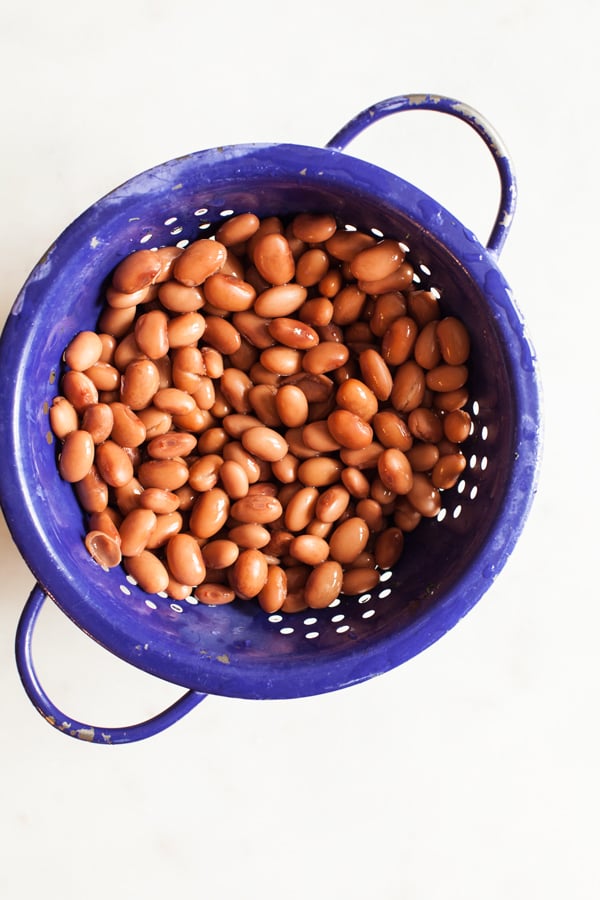 Collards are one of the most calcium rich leafy greens (1 cup of cooked collards provides about 270 milligrams calcium, which is 27% of the RDA of 1,000 milligrams), and pinto beans provide about 50 milligrams in a half cup. Together, these two ingredients offer bone-building calcium, along with tons of fiber, folate, potassium, magnesium, iron, and protein.
Not bad for one very simple, plant-based meal.
The secret of this recipe is to allow the onions to get nice and golden–almost caramelized–before adding the garlic and greens, and then to add smoked paprika (collards are often cooked with pork and bacon in traditional preparations, and the smoked paprika helps to evoke some of that flavor).
The result is a dish that's simultaneously smoky, salty, and sweet. In spite of all of the flavor, it features a pretty short ingredient list, and it comes together quickly enough that I was recently able to whip it up for a low-stress weekend lunch. The tahini drizzle is totally optional, but it provides a touch of bright acidity from the lemon, extra garlicky flavor, and just a bit of extra bone-building power (sesame seeds are relatively high in calcium).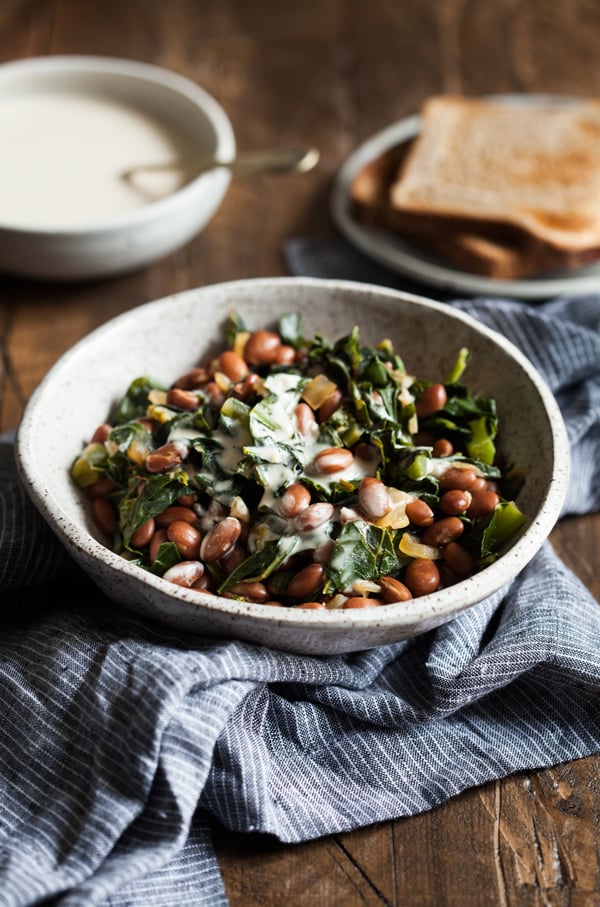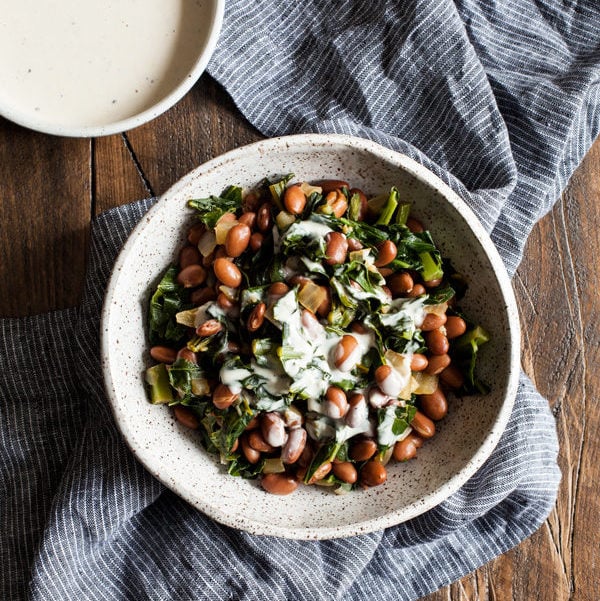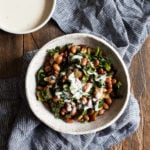 Simple Stewed Pinto Beans and Collard Greens
Author -
1

tablespoon

olive oil

1

onion

chopped

3

cloves

garlic

minced

1/2

teaspoon

smoked paprika

1/2

teaspoon

salt

plus a little extra for cooking the onions

1

cup

vegetable broth

1

pound

washed and dried collard greens

sliced into ribbons (about 1 large bunch)

3

cups

cooked pinto beans

2 cans pinto beans, drained and rinsed

Dash crushed red pepper
Tahini drizzle (optional):
1/4

cup

tahini

1/4

cup

water

2

tablespoons

lemon juice

1/4

teaspoon

salt

1

small garlic clove

finely minced

Black pepper to taste
Heat the olive oil in a large saute pan or skillet (ideally something with a lid) over medium heat. Add the onion and give it a little pinch of salt. Cook for 7-8 minutes, stirring frequently, or until the onion is soft, clear, and lightly golden. Add the garlic, paprika, and the 1/2 teaspoon salt. Cook for 2 more minutes.

Add the collards and broth. Cover the pan and allow the collards to wilt down (you might have to do this in batches). Reduce the heat to medium low, uncover the pan, and cook the collards, stirring every so often, for about 10 minutes. Stir in the pinto beans and a dash of red pepper. Season to taste.

If you'd like to make the tahini drizzle, whisk together all of the ingredients while the collards cook.

To serve, divide the greens and beans into bowls and drizzle with the tahini (if using). You can also scoop them onto a bed of cooked whole grains (brown rice is especially nice), or toast. Enjoy!
Leftovers will keep for up to 3 days in the fridge.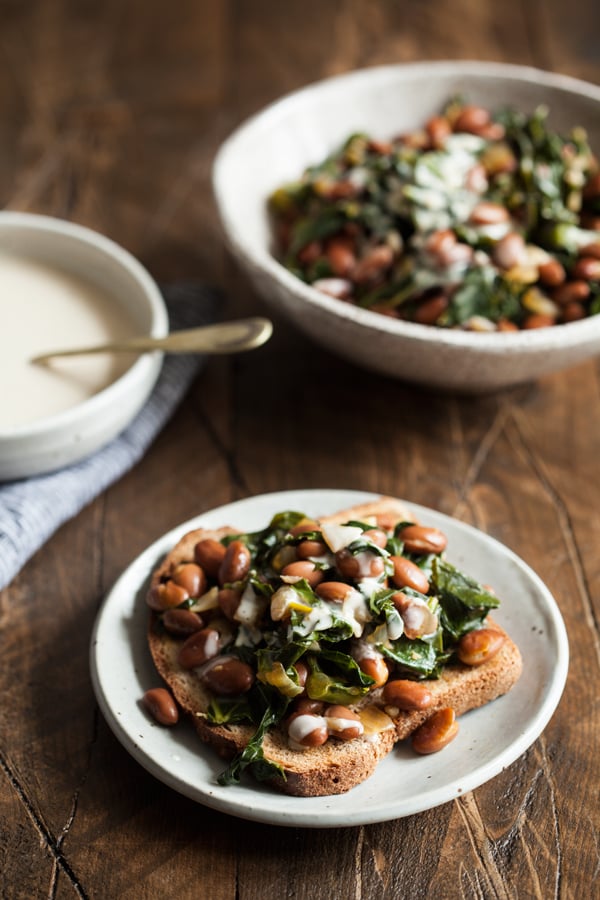 The greens and beans can be enjoyed just as they are, or you can choose to serve them over a cooked grain. Nutty brown rice is especially nice, as would be millet, bulgur, or quinoa. If you're having a busy day and you'd like to put together a very simple lunch, scooping the stewed greens on to some toast is absolutely delicious–especially with the tahini.
This really is one of those recipes that proves the "simple is best" maxim when it comes to cooking. It's so easy to make, but it gives you a batch of nutrient dense ingredients that you can use in different ways as the week goes on. I hope you'll enjoy it, and that you'll put some of your own touches on it.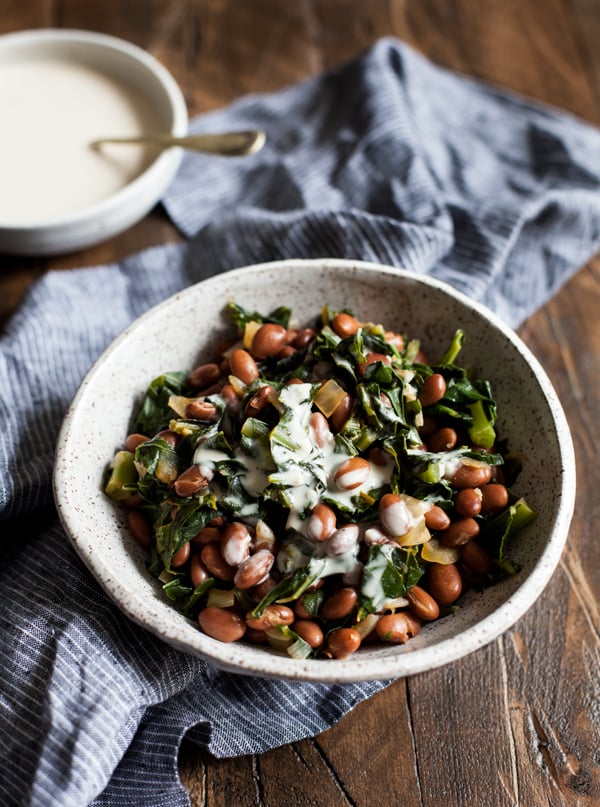 Have a lovely end of the week, everyone, and see you soon for weekend reading!
xo