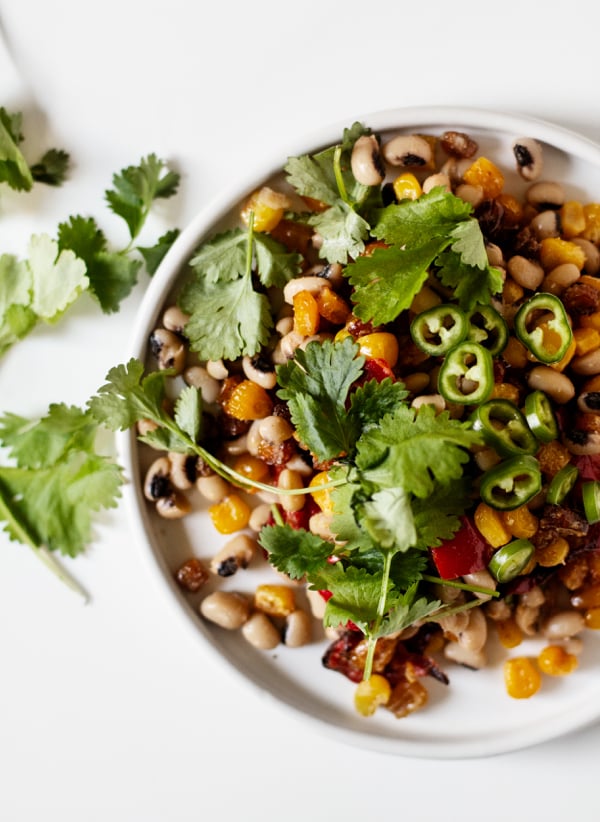 For the past few days, I've been posting lunch bowls on Instagram that feature Texas Caviar. If you have no idea what that is, rest assured that I had no idea until quite recently, when I spotted a recipe online. Traditional Texas caviar is essentially a cold black-eyed pea salad, often featuring corn, chilis, peppers, onions, and/or celery. It can be served on its own, or as a dip. The moment I read about the recipe, I imagined stuffing romaine leaves with Texas caviar, or serving it in easy breakfast tostadas, or piling it atop a bowl of rice. And I was intrigued.
Today, I'm presenting you with my version of Texas caviar. The twist I put on it was to roast the corn and peppers before tossing it all together. I really enjoy raw corn, but some time ago I tried a roasted corn salsa, and it. changed. everything.
It's hard to beat the sweetness of roasted corn, just as it's hard to beat the sweetness of roasted red bell peppers. Not roasting either ingredient for this Texas caviar would certainly save you time, but I love the depth of flavor that this step adds.
The recipe was made possible with a little culinary assistance from the Crisp™ cooking corn stripper. This handy tool serves two purposes: first, it removes dirt and silk from the corn itself, and then it easily strips the corn kernels from the cobb with a curved blade. It's easy to use, and it made prepping the three cups of corn for this recipe nice and easy. I also used the Crisp™ herb mincer, which makes quick work of chopping delicate herbs for recipes. At the end of this post, you can enter to win some of Crisp's innovative kitchen tools for yourself!
Back to that caviar. This is the sort of recipe you can return to all summer long, using it as a dip, tossing it into your salads, topping grain bowls, sprinkling over tostadas, or using it to garnish any dish with refried beans. After the roasting bit, it's super quick and easy to prepare, and it's full of bold flavor. If you don't happen to have fresh corn–it is early right now–you can use frozen and thawed sweet corn. Here's the recipe.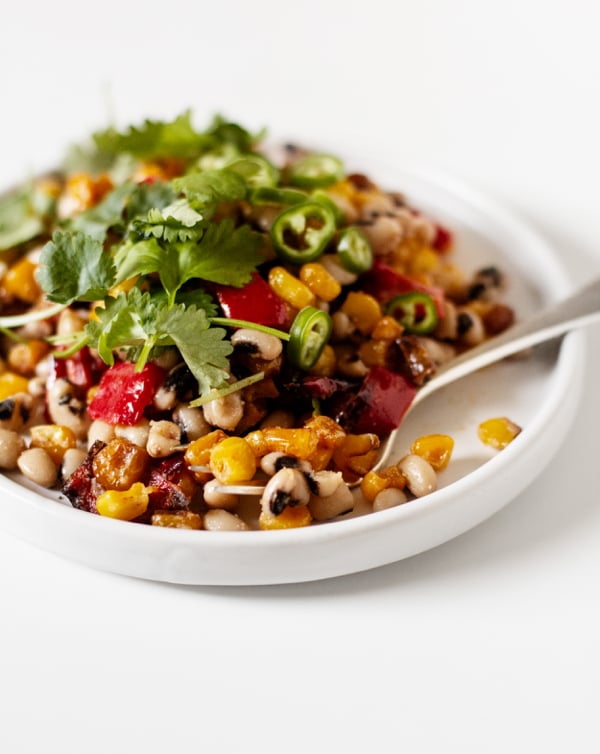 Simple Texas Caviar Recipe
Author -
3

cups

raw corn kernels or frozen sweet corn kernels

thawed till tender

2

red bell peppers

chopped (I did squares that were between 1/2 inch and 3/4 inch)

Salt and pepper

1

tablespoon

and 2 teaspoons olive oil

3

cups

or 2 cans cooked black-eyed peas

1 4-

ounce

can green chilis

I used Hatch green chilis, mild flavor

1/2

cup

finely diced red onion

2

teaspoons

red wine vinegar

1/2

tablespoon

lime juice

1/2

teaspoon

maple syrup

1/4

teaspoon

salt

1/2

teaspoon

ground cumin

Black pepper to taste

1/4

cup

chopped cilantro
Preheat the oven to 400F. Toss the corn and red bell peppers with the two teaspoons of olive oil, plus a generous sprinkle of salt and pepper. Roast the pepper and corn for 20 minutes, or until the peppers and corn are tender and just starting to brown.

Place the black-eyed peas, green chilis, and red onion in a large mixing bowl. Add the roasted corn and peppers.

Whisk together the red wine vinegar, lime juice, maple syrup, salt, cumin, and a dash of black pepper together in a small mixing bowl. Pour the dressing over the vegetables and mix well. Check for seasoning and add salt, pepper, and lime juice as needed. Fold in the cilantro and serve. Stored in an airtight container in the fridge, the caviar will keep for up to four days.
I love the brightness and the color of this recipe. It's worth making just to add vibrancy to your lunches! Hope you'll enjoy it. In the meantime, here's your chance to win:
●1 Crisp™ corn stripper
●ŸŸ1 set of 3 Crisp™ berry baskets
●1 Crisp™ herb mincer
The giveaway is open to US and Canadian residents, and it will run for two weeks.
I so hope that you enjoy these handy products, and that the recipe serves you well all summer long.
It's appropriate that I have Texas caviar recipe up on the blog today, because tomorrow I'm headed to Austin for the third Vida Vegan conference. It's a little bittersweet, as this is the last VVC, but I'm excited and fortunate to be able to experience it, see friends, and give a presentation. My topic is vegan avenues into the healthcare world; I'll be sharing my perspective on different healthcare options, the education and steps associated with each of them, and tips on how to create a successful and responsible counseling practice. Along the way, I'll be sampling tons of vegan products and sharing my adventures on Instagram, of course.
On Saturday, I'll be back here with a new cookbook giveaway, and on Sunday, I'll be back for weekend reading. Till soon!
xo
This giveaway is generously sponsored by Crisp™ Cooking. All opinions expressed are my own.