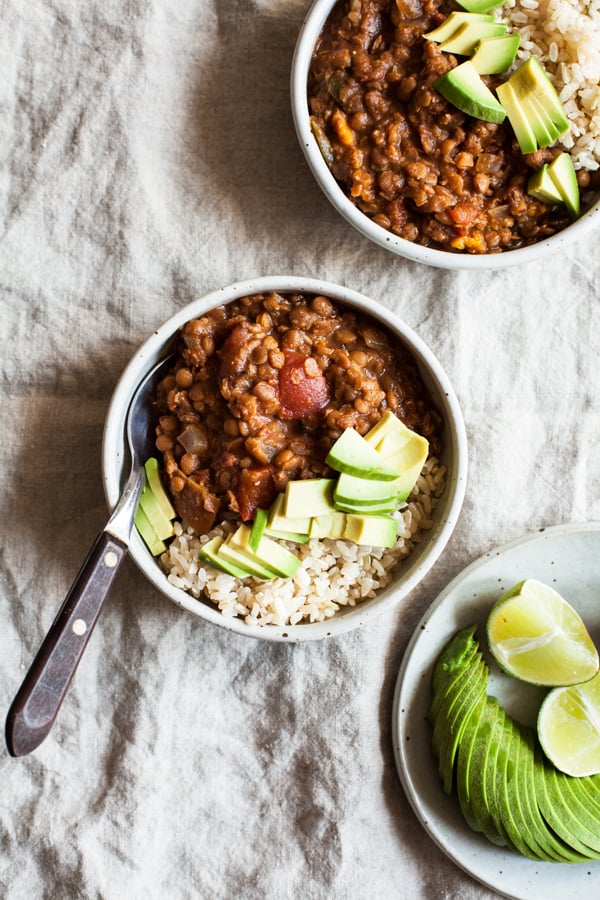 It's been a while since I used my slow cooker, but with the end of my summer term approaching and a lot of cooking to do, this past weekend seemed like the perfect time to step aside and let it work its magic. This hearty, flavorful two lentil chili is the result.
The recipe features both red and brown lentils, an idea that was inspired by this post from Susan and also by a recipe in Robin Robertson's book Fresh from the Vegan Slow Cooker (which is a terrific resource for vegan slow cooker recipes). The idea is that the red lentils seem to melt into the chili, adding thickness to the sauce, while the brown lentils hold their shape and provide a "meaty" texture. I always have a lot of different lentils at home, and I love chili, so when I thinking about vegan slow cooker recipes on Saturday night this seemed like a good bet.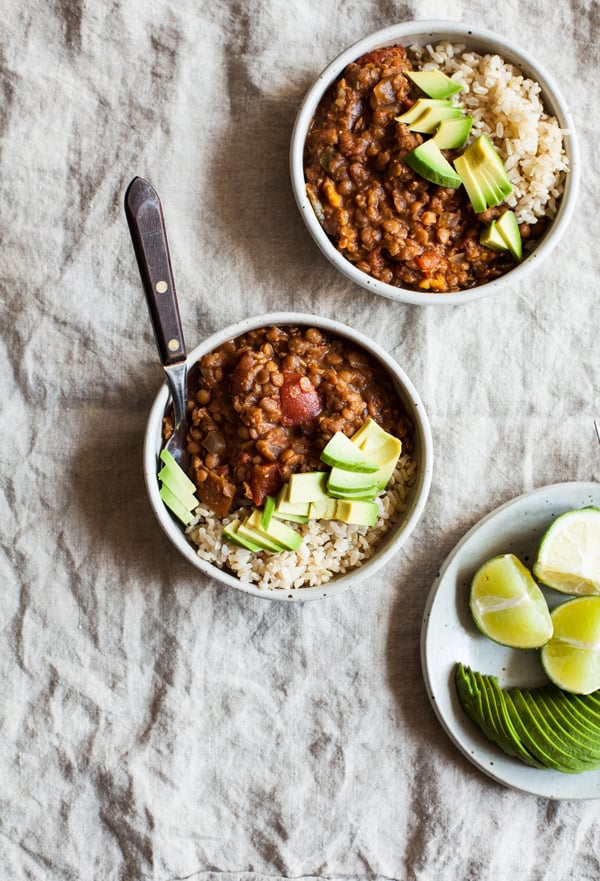 Aside from the near perfect texture and all of the smoky flavor (thanks to smoked paprika, one of my go-to seasonings), I love that this chili recipe is packed with iron, protein, and fiber. I also love how hands-off it is. Even if you don't make it in the slow cooker (I've given stovetop instructions), it's the kind of meal that you can allow to simmer while you take care of other things, and it makes a ton of food, so you can easily freeze half for future stress-free meals once it's done cooking.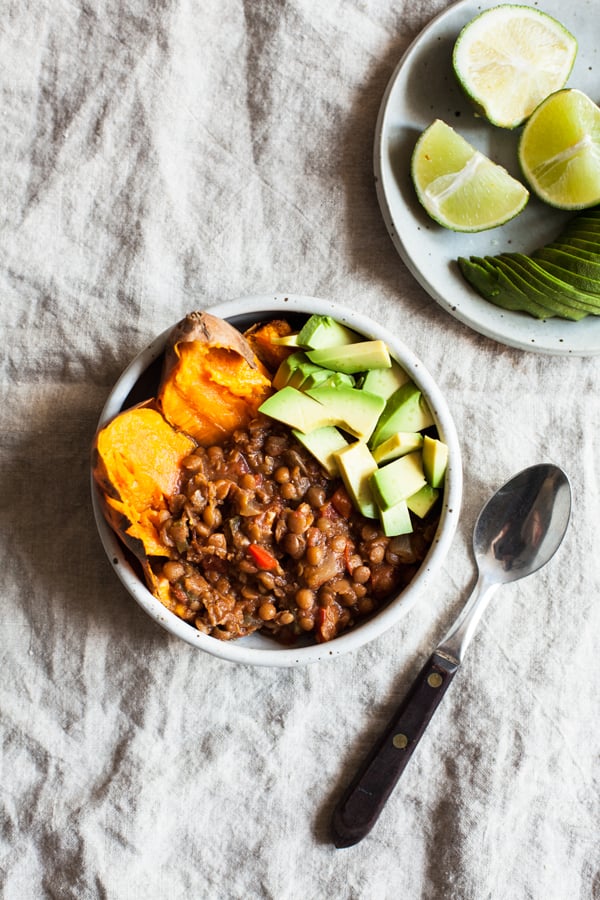 You can serve the meal over brown rice (my usual chili accompaniment) or cornbread (Steven's favorite). But I also tried scooping a portion over baked sweet potato, and I loved eating it this way. There's already some sweet potato in the recipe, and adding extra only heightens the dish's sweet notes.
As far as toppings go, hot sauce, pickled jalapeños, vegan sour cream (or cashew cream), Daiya pepperjack cheese, and vegan yogurt are all great ideas. I used a bunch of chopped avocado, and I loved the contrast of creamy, cool avocado with the richly spiced chili.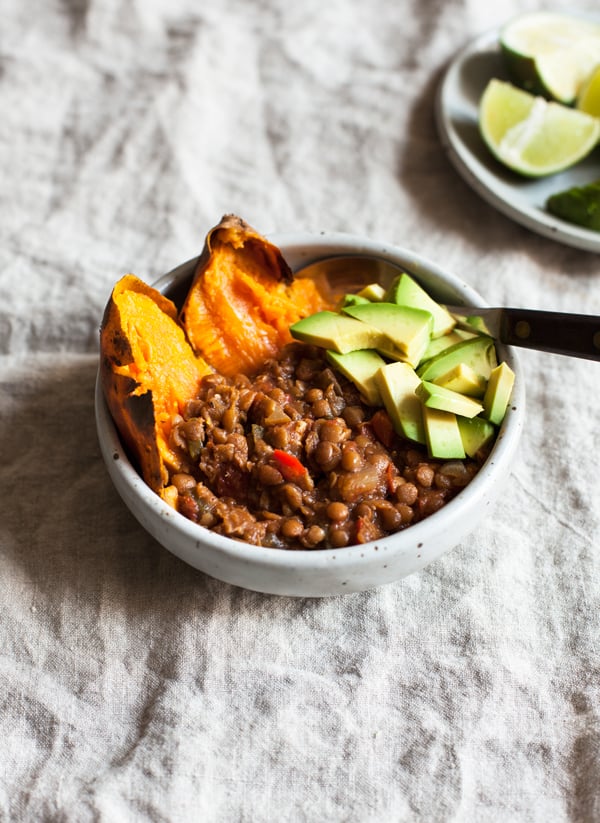 Slow Cooker Two Lentil Chili
Author -
1

white or yellow onion

chopped

2

jalapeno peppers

finely chopped

1

poblano pepper

chopped

1

red or yellow bell pepper

chopped

2

cloves

garlic

finely chopped

1

small sweet potato

cut into small cubes (1 - 1 1/2 cups)

2

teaspoons

chili powder

1

teaspoon

ground cumin

1

teaspoon

dried oregano

3/4

teaspoon

smoked paprika

1/2

teaspoon

salt

you can add more to taste once the chili is cooked

1

tablespoon

blackstrap molasses

optional

1 28-

ounce

can fire-roasted

diced tomatoes (or two 14-ounce cans)

1/4

cup

tomato paste

1

cup

red lentils

1

cup

brown

green or pardina lentils

4

cups

low sodium vegetable broth or water
Topping suggestions:
Avocado

hot sauce, Cashew cream, vegan shredded cheese, pickled peppers, etc.!
Place all ingredients in a 6-quart slow cooker. Cook on low heat for 8 hours. When the chili is finished, stir in a little extra water if it's too thick for your liking. Serve.

To prepare the chili over the stove, heat a tablespoon oil in a large soup pot over medium heat. Add the onions and peppers and sauté for five minutes, till the onions are clear and soft. Add the garlic and sauté the ingredients for another two minutes, adding a tablespoon or two of water if the mixture starts to stick to the bottom of the pot. Add all remaining ingredients and bring the chili to a boil. Cover, reduce heat to low, and simmer for 30-35 minutes, or until all of the lentils are tender. Serve.
Chili leftovers will keep for up to 5 days in an airtight container in the fridge. They can be frozen for up to 1 month.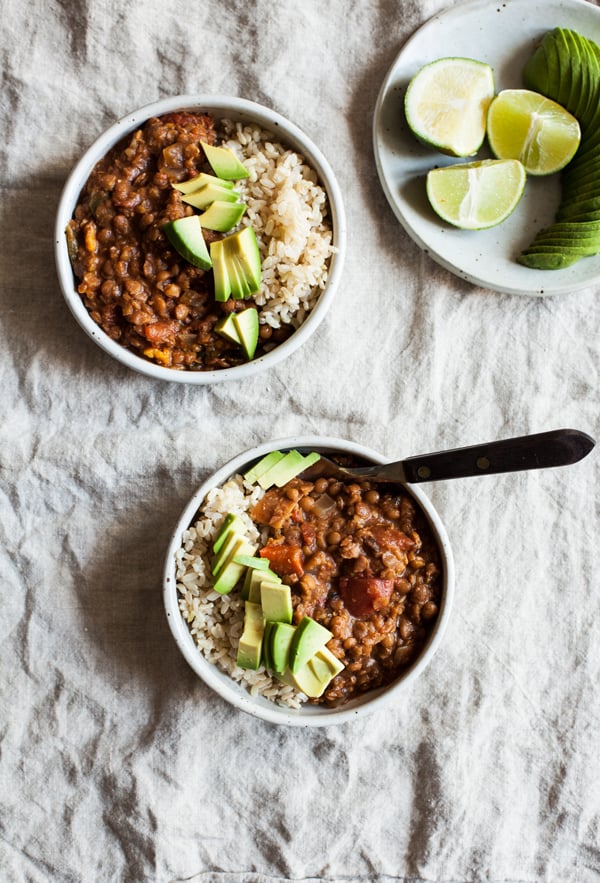 My plan is to finish about half of the batch this week (we already had leftovers last night for dinner, and chili's on my lunch menu today), and to freeze the rest for next week, so that we have at least one or two easy suppers before my MNT final. Can't say I'm not very happy to make this flavorful meal stretch.
Hope you'll give the recipe a try, and if you do, I hope you enjoy it. I'll be back this coming Thursday with a new, summery salad that I'm loving this week!
xo