Once upon a time, I knew chickpea salad as a wholesome vegan alternative to chicken salad, a plant-based mainstay for sandwiches and wraps. Nowadays chickpea salad is so popular that I've seen it on (omnivore) restaurant menus, not to mention all over the interwebs, and the other day my own mom announced to me that she had seen a recipe and wanted to try it.
My standard recipe for chickpea salad is pretty traditional; it's indeed reminiscent of the chicken salad I grew up with (vegan mayo, mustard, sometimes dill or parsley). Lately, though, I've been getting more creative and taking more liberties with how I prepare it. Just as with hummus, avocado toast, or oatmeal, there are tons of ways to approach this everyday staple. My latest favorite is a smashed kimchi chickpea salad that's a little salty, a little spicy, and all things tasty.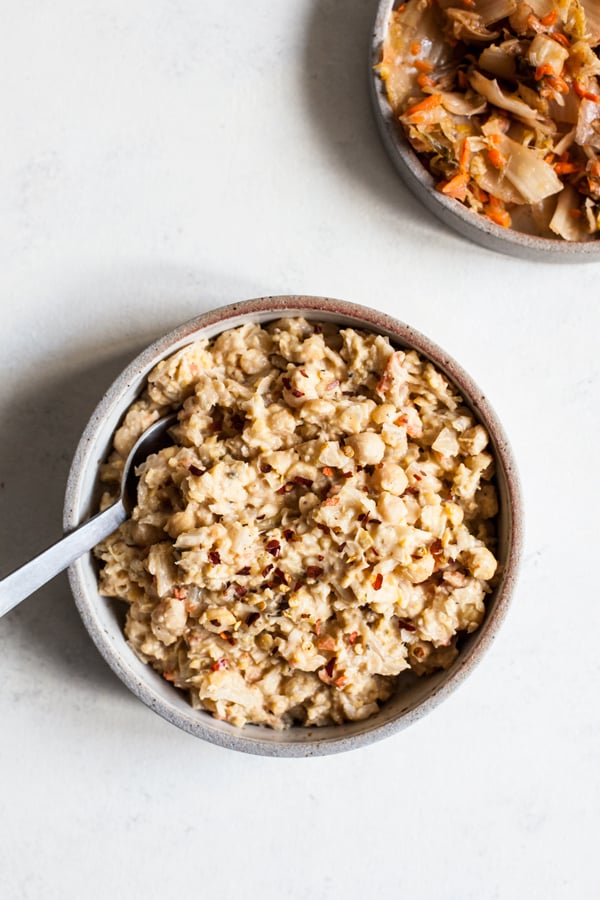 The recipe was inspired by Julia Turshen's kimchi avocado toast from Small Victories, which takes advantage of kimchi as a topping and also uses some of the brine for drizzling. What that recipe showed me is that the bold flavor of kimchi can go such a long way in flavoring a dish; once you add it, you don't really need to fuss around with much additional seasoning or flavor.
So, in this very simple recipe, you fold together smashed chickpeas, vegan mayo (or tahini), a squeeze of sriracha, and a dash of crushed red pepper. You can certainly get fancy with the addition of dulse, gomasio, sesame seeds, or something else for crunch; you could add herbs or grated carrot. But the kimchi does most of the work here. I found that I didn't even need to add additional salt to the dish once I'd incorporated it.
As far as serving goes, the salad is perfect with toast, crackers, or on a wrap, but it's also a nice topping for lunch bowls. The other day I mixed a big scoop of it together with a heaping cup of cooked rice and some steamed greens, then topped it all with a squeeze of sriracha and lime juice. It was random and messy, for sure, but it was so, so good.
Smashed Kimchi & Chickpea Salad
Author -
3

cups

cooked chickpeas

2 cans chickpeas, drained and rinsed

5-6

tablespoons

vegan mayonnaise or tahini

as needed

1

heaping cup finely chopped kimchi + 2 tablespoons kimchi brine

2

teaspoons

rice vinegar or apple cider vinegar

Sriracha

to taste

Crushed red pepper

to taste

Optional mix-ins: A few dashes of dulse or kelp flakes 1-2 tablespoons gomasio or toasted sesame seeds, finely chopped scallions, grated carrot
Place the chickpeas in a mixing bowl and add the mayonnaise or tahini. Use a potato masher or the back of a fork to mash the chickpeas up; they should be mostly mashed, but it's nice when a few of them remain whole. Start with 5 tablespoons of mayonnaise or tahini, then add a little more as needed for a creamy texture.

Fold in the kimchi, vinegar, sriracha, and pepper. Add any additional mix-ins you like, then taste and adjust seasoning as needed. Serve.
Leftover salad will keep in an airtight container in the fridge for up to 3 days.
Another way to make the salad even more versatile is to vary your toppings. You can use additional chopped kimchi, thinly sliced cucumber or radish, grated carrot or beets, greens, or herbs.
Throughout the last week or two I've been diving into more intense work and academic routine than I've had in a while, so toast has been a very comforting, simple lunchtime mainstay for me. No matter how many toast lunches I eat, I'm always happy to have a new favorite spread or topping to play with, and I have a feeling this one is destined to stick around. I hope you enjoy it, too—and I'll be checking in with some new reads this weekend.
xo